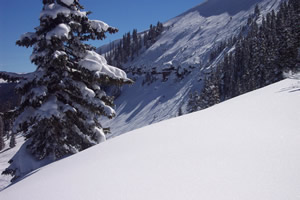 Marvin's Garden in the East Vail Chutes may look tempting on a huge powder day, but there's a reason there are no trees in the midst of the best lines.
Photos by Scott and Paulina Proper
Blog Tools
Comments
PermaLink
Curiosity and Vail's Backcountry Gates
By Scott Proper
February 4, 2008 — You've heard the chatter about Marvin's Garden, Mushroom Bowl and the East Vail Chutes. You've looked toward Mount of the Holy Cross while riding up Blue Sky Express and seen the ridge across Earl's Bowl with beautiful powder with ski tracks in it. Maybe you've wondered "what is that?" or maybe you've been jealous.


Curiosity can kill the cat. This past Saturday (Jan. 26), which was a fabulous, sunny, 30-degree day, we were skiing Grand Review and a group of four stopped us to ask, "Where is the backcountry gate?"


They were referring to the backcountry gate that allows people to exit the ski area and ski the aspect that's east of the north-south ridge Grand Review follows. It's marked as "Wildlife Habitat - No Access" on trail maps because it was identified as lynx habitat when the environmental impact study was done to assess the feasibility of Blue Sky Basin.


"You missed it," I replied, because they were indeed about a half mile past the gate.


"Oh, so it's up higher?" one of the folks said with a British accent. He turned to his group and said, "Let's try again!"


"Has any one of you gone through that gate and skied the terrain before?" I asked.


"No."


"I humbly suggest that unless you've gone there before or have someone to guide you, don't go there," I said.
I then went on to elaborate about the different skiable lines beyond the gate, which vary from reasonably challenging terrain with tight trees to lines that lead you to getting cliffed out (i.e., you are in such a position that you must either huck, hike back up to escape hucking, or stay put, dial 911, and hope you're in range).


I also mentioned the avalanche deaths that have happened this season (Jan. 4 and 12 in the East Vail Chutes) and how they indicate a particularly unstable snowpack. Furthermore, through that particular gate it's easy to get lost.


The group appeared to get the gist and decided to avoid the gate, only after asking us whether we would take them through the gate and guide them if they paid us. The answer was an easy "no." No, because I'm not taking responsibility for you. No, because you're probably going to hurt yourself.


There are a number of backcountry areas adjacent to virtually all aspects of Vail Mountain and Blue Sky Basin that are a short hike at most from the top of a lift. You've heard of some: the Minturn Mile, Mushroom Bowl, the East Vail Chutes.


If you know how to get there, great, and if not, I ain't tellin'. Neither are most other locals, apparently. Most screen their audience in a manner similar to how I responded to the group on Jan. 26.


Furthermore, there is basically no information available on the Internet (I looked) about these areas. While supporting the concept of freedom of information, I speculate that there is no information out there because locals intentionally withhold it. Kind of like how you don't post instructions on how to make dynamite, even if you know how.


Most locals I've talked to about the two deaths (so far) this season in Marvin's Garden, a giant, spectacular, steep, north-facing bowl "easily" accessible through a backcountry gate atop Outer Mongolia Bowl, have generally said the same thing: "I'm surprised it doesn't happen more often."


They feel this way because of the increased traffic in the area and the increased risk those who go there incur. Marvin's Garden's upper two-thirds basically has no trees, although the entire area is well below timberline. This is of course because the terrain was burned by the same fire that made the legendary Back Bowls, and because the snow avalanches regularly.


In the summertime, the saplings that are visible are very small at best and generally no higher than three feet tall. That's because anything higher, on average, gets mowed down by an avalanche soon after busting that three-foot ceiling.


Preparation for heading through a backcountry gate, in my opinion, requires equipment, experience, skill, education, and a good deal of humility. Matt Gustafson, who died Jan. 12 skiing a very thrilling, aggressive, and exposed line in Marvin's Garden, was probably among the most experienced and accomplished East Vail Chutes skiers ever.


He was also our neighbor for the past two and a half years. He was a regular in the Chutes over the past couple years, and already had about 25 days in this season skiing the various lines offered by Marvin's Garden and the Chutes. He had the training, the knowledge, the experience, and the proper gear. He had the humility but sadly flipped the wrong side of the coin.


That is part of the reality of going out of bounds, or of even staying in bounds, as the tree well deaths this season at Steamboat attest. Nobody wants to think about the wrong side of the coin. Folks may romanticize the East Vail Chutes as an area of endless powder and big air, which in general they are, but the Chutes don't care whether you have the best ski day of the year on them or whether you die.


Following the two deaths in the East Vail Chutes, there has been plenty of hullabaloo about closing access to the backcountry. Big Brother knows best, apparently. Fortunately, the Forest Service has done nothing other than say that there are no plans to close the backcountry and that users go there at their own risk.


I feel that the freedom to live life to its fullest involves incurring calculated risk, whether you're simply crossing the street, driving your car, or skiing avalanche-prone terrain in the backcountry.


Accidents are that unexpected side of the probability coin rearing his ugly head. Humility doesn't stop him from rearing it. Humility means you acknowledge and respect him and recognize he's always lingering.


— By Scott Proper

2 Comments on "Curiosity and Vail's Backcountry Gates"