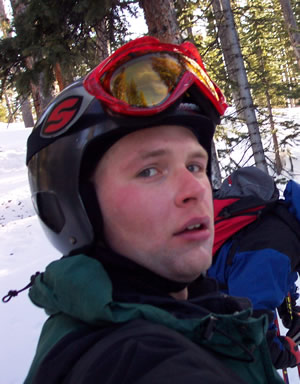 Blog Tools
Comments
PermaLink
A bad day in the chutes
Hearing deafening cracks in Racquet Club Chute, skiing for our lives
By Scott Proper
February 21, 2008 — On Jan. 22, 2005, I skied Racquet Club Chute with a good friend of mine. By the time we got to the bottom, I had literally pissed my pants and he and I hugged each other, feeling lucky to be alive.


At the end of the ski day, we took last "chair" up the Mongolia surface lift. We then hiked up to the backcountry gate as we normally would and skied along the top of Marvin's Garden to the "saddle" at the top of Racquet Club Chute.


Racquet Club Chute is the northern aspect that leads down into East Vail from the ridge that separates East Vail and Mushroom bowl. This northern chute takes you past Racquet Club Falls and to the Vail Racquet Club. The southern aspect from this saddle in the ridge takes you into the thick trees of Mushroom Bowl and eventually the bottom of Chair 10.


At the top of Racquet Club Chute, we saw a snow pit that had been dug very recently. The tracks from the snow pit indicated that the group had opted to stay in the trees and avoid snowfields. We snooped around in the pit a bit and dug back the snow; the snowpack was absolutely awful.

It was completely obvious why the folks who had dug the snow pit stuck to the trees. The snow pit revealed that a number of hard layers, firm enough to snap in half, were separated by sugary layers, and all were atop a giant layer of sugary snow. When snow feels like sugar, it's "faceted," and it basically acts like ball bearings upon which snow layers will readily slide.


To say we were no longer psyched about our decision to ski the chutes is an understatement. We were flat-out scared at that point. It was too late to escape via Mushroom Bowl. We would have been in those trees for hours, and it was almost dark. Dumb, dumb, dumb!


For some reason, just before we entered the chute, I took a photo. From there on down, the camera stayed in my pocket. My expression in that photo is humbling to me.


We entered the chute and things were going fine for the first few turns. My buddy and I were alternating and skiing one to a line at a time, and we were moving methodically and surgically, but very quickly. We had plenty of experience doing this together before, having skied the chutes and Marvin's Garden together many times.
That experience, combined with the stress of the snow conditions, led us to be particularly efficient and smooth this time, I felt.


About 20 turns in, I started to hear loud cracks. I yelled to my buddy, "What the hell are you doing?" The cracks were deafening and sounded like gunfire, and I honestly felt relieved for a second because I concluded there were obviously people ahead of us who had avalanche grenades and were using them clearing the terrain. After all, what else could be that loud?


"Those are the trees, we gotta get outta here!" is what I remember my buddy saying.


The loud explosions we were hearing were, unfortunately, NOT avalanche grenades. They were coming from the settling and shifting snow we were skiing on, and from the 3-foot-diameter lodgepole pines whose trunks were cracking under the pressure of the snow creep.


My buddy and I had talked many times before about the plan when things get really hairy, and we both executed professionally. The plan was simple: point 'em. We pointed our skis down the fall line and took off. We abandoned alternating lines. We were doing the skiing equivalent of running for our lives.


About all I remember is gunning it. Fortunately, neither of us fell. The fast skiing through the tight trees and surprise cliffs was probably something I could not duplicate ever again, because the adrenaline commanded more of my body than I did. The experience was surreal; I felt more like a spectator than a participant. And I thought that this is exactly the kind of out-of-body experience people have before they die.


We got to the top of Racquet Club Falls, which is about 1,800 vertical feet below the top of the chute, and I simply collapsed. The adrenaline level had dropped and my mind got a hold of things. My legs were absolutely fried. I couldn't move. I had basically sweated through everything I was wearing. My pants were particularly sweaty.
My buddy and I had nothing to talk about and just looked at each other. It was over. Or at least, we felt it was over enough to take a break for a minute.


I got back up and we hucked the western side of Racquet Club Falls and skied to Meadow Drive. At the time, I lived at Vail Racquet Club condos so we had basically skied right home. A beer was in order.


We popped our skis off upon reaching Meadow Drive just as a group of people were exiting the town bus at the Vail Racquet Club bus stop. It was one of those sublime moments for me, as I thought that while we were just up there in that chute staring at death among the cracking, faceted snow and exploding lodgepole trunks, these people had been on the bus home and were thinking about what to have for dinner.


On the road, we celebrated a bit. I jumped up and down and screamed in celebration, subsequently scaring the folks walking past us who had just exited the bus. My buddy and I high-fived and immediately began recounting what we had experienced. It had been absolutely crazy, and as primed to slide as it possibly could have.


Thanks to luck and sticking to lines in tightly packed, albeit exploding trees, we had made it out. I told him that I at first thought that the cracking and trees were avalanche grenades exploding downhill from us. His response was something to the tune of, "Yeah, you thought that at first because you're a stupid New York transplant."


Point taken, I thought. I had and still have a lot to learn. We're not in Kansas anymore, Toto.


4 Comments on "A bad day in the chutes"