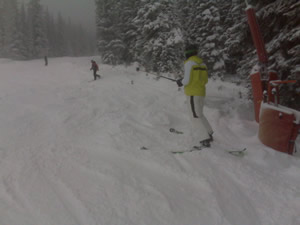 The blogger makes a point of guarding against uphill ski traffic coming too close on Vail Mountain.
Photo courtesy of Scott Proper
Blog Tools
Comments
PermaLink
How not to get run over by some idiot
Tips to guard yourself against an on-mountain collision
By Scott Proper
December 2, 2008 — If you ski or snowboard, then you've probably had to stop and wait along the side (not the middle, clueless gaper!) of a trail for whatever reason. While waiting along the side, you have probably had an instance when someone uphill headed towards you at a great rate of speed, then dodged you at the last second, as if you were a slalom gate.

This kind of flyby buzzing is not fun, and can be dangerous if the idiot winds up plowing into you. I have found a humble (and effective) solution to protect myself from incoming bogeys, and in the interest of your health and safety, I figured it's only courteous to share.

First of all, defense is the best offense, so I am very aware of where I stop on a trail. I always stop as close to the side of a trail as possible, and use my skis to block the gap between myself and the trees so no one gets the idea that they can cut between me and the trees.

Before I stop, I look around and ask myself, "if I stop here, can people uphill see me clearly, or am I basically invisible (because, for instance, I am on the blind side of a roller)?" I look to see whether I am standing in the middle of an entry point from the trees, where tree skiers exit the woods and join back up to a trail. As you undoubtedly have noticed, self-awareness is really important, especially when the holiday hordes descend on the mountain.

However, for some reason, no matter how strategically I select where to stop, incoming bogeys regularly engage missile lock and head towards me as if I were a target laser-lit by Navy SEALs.

In such instances, I take my poles and point them toward said incoming bogey. One positive that usually happens in result is that the bogey makes eye contact with me. Sometimes, this alone is enough for the bogey to steer clear. If the bogey gets close enough, I can usually see the disapproving look of "what the hell are you doing?" on said bogey's face.

I keep my poles pointed toward the incoming bogey until it's passed and the threat rate has dropped to orange. All the while, I dynamically scout uphill to identify other potential threats, keeping my poles pointed at those bogeys that pose the highest threat (and hoping my buddies will hurry up so we can get going again!)

The look of disapproval probably is an expression of the bogey's awareness of the potential for self-injury. Theoretically, if an incoming bogey skied towards me without successfully dodging me, and I execute the pole-point professionally, the bogey would impale itself on my pole(s).

This is kind of similar to what might happen if a person ran, in an all-out sprint, into a knight's static jousting spear. Fortunately, since I am downhill of the incoming bogey, I have the right of way. Check your "Know the Skier's Code" napkin over lunch at the Smokehouse if you're skeptical of this.

At the very least, this technique is a great way to meet new people. In about five instances (so far), incoming bogeys have stopped downhill from me. That they stop downhill from me instead of uphill, where they can fall down onto me and impale themselves on my jousting spears, er, ski poles, is a testament to the effectiveness of the technique.

A few have asked "what are you doing?" One even yelled, "you shouldn't do that, you could hurt someone!" To those who have asked me what I am doing, I have answered anything from "making sure I have your attention" to "calibrating the bionic GPS that is mounted in my anus." It all depends on my mood.

The one sucka who didactically declared that "I could hurt some one" set himself up in pretty special manner, as I had been practicing my response: "I am passively standing here along the side of the trail. I have the right of way.

In order to discourage people like you from treating me like a slalom gate, I passively hold my poles toward incoming bogeys to protect myself. The bogeys can impale themselves on my poles if they wish." Believe it or not, the guy responded by saying, "That's a great idea, I hate it when out-of-control people buzz past me and my kids." I told him he owed me $5 for the lesson.

For your safety, I've included a photo illustration of myself engaged in the technique.


10 Comments on "How not to get run over by some idiot"