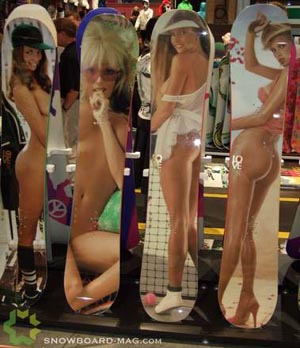 Blog Tools
Comments
PermaLink
Burton 'Love' snowboard line points out America's puritanical hypocrisy
By Scott Proper
January 23, 2009 — I am more psyched about riding the chairlift this season than I have ever been. The reason? Burton's new "Love" snowboard line!

Burton's new line features large graphics of vintage, nude Playboy centerfolds. Nipples and genitalia are strategically placed or cropped out of view.

When the line was introduced, there was some whining amongst soccer moms, prudes, and puritans. Or, more likely, there wasn't, but the press has just decided to grab onto it and present it as if it's a big deal because they were tired of reporting the financial meltdown.

Some consider the snowboards offensive, blah, blah, blah. Well I, like most men, dig looking at hot chicks. More importantly, I think that the tolerance of violence but disgust towards nudity in the United States is stupid.

Don't get me wrong, I was instilled with the mindless perspective that sex is bad and secret, and that nudity is shameful. Thanks for that, misinterpreted Christianity. I am glad to have overcome it.

I lived in Germany as an exchange student for a year when I was in high school. There, I had the privilege of answering questions such as, "Why are Americans such prudes about nudity and sex, but they embrace violence so much?"

That is a good question. While watching soft porn one evening on public TV in Germany, I realized that being naked and having sex is natural and something everyone does. Shooting or stabbing someone is not natural and is something very few do. And when those select few do it, they wind up with PTSD. Yet what gets you the PG-13 rating? Blood and gore? Heck, no! Showing a little too much skin is what gets you it.

Cheers to Burton for having the guts to come out with this line of snowboards and then stick to it amidst the emotional responses by sexually repressed puritans. Burton appears to be the biggest winner amidst the controversy, because they have gotten many millions worth of public relations exposure.

Folks who don't like the images on these snowboards, do yourself a favor and simply look away. There you go, that wasn't that hard, now, was it? Getting all riled up achieves nothing but an end that is the opposite of what you seek.

More importantly, looking away will help ensure that you are not in the way when I want to sneak a quick glance. Nothing more than that, though, because anything more would be shameful.


4 Comments on "Burton 'Love' snowboard line points out America's puritanical hypocrisy"