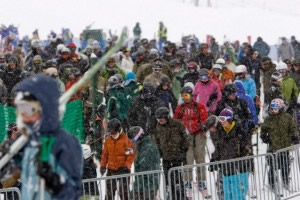 Lift-line etiquette has many subtle -- and not-so-subtle -- nuances, but the bottom line is that cutting in line gets you nowhere in life ... except on the road to bad karma.
Blog Tools
Comments
PermaLink
Amazed by the mayhem in the maze: dissecting the finer points of lift-line etiquette
By Scott Proper
February 6, 2009 — It seems to me that it's becoming harder and harder to find any semblance of order in lift lines.

Let's preface this blog post with some perspective, though. Lift line Tetris, in the grand scheme of life, is no big deal. If I wind up on the chair a few minutes later than I might have been if I had gone out of my way to optimize lift line utility, well, who cares. Except on a powder day. Just kidding.

However, there are three specific behavior patterns that I feel I come upon with much more regularity than in the past, and I think they are reflective of bad manners at best and are dangerous at worst.

These are much more subtle than things like cutting in line. Cutting in line is simply juvenile. I still see it happen plenty, particularly by belligerent young males. This blog entry is about the more refined, Grey Poupon echelon violations.

The first is the person who gets in the lift line without his entire party. He's almost to the chair and yells "Scott, come on up here and join me!" as if it's OK for me to cut off the 60 people in the maze between me and him. I personally don't respond to these kind of invitations and just get in the singles line instead.

I appear to be an outlier, though, because I regularly see the invitee simply romp through maze, catching a ski tip here or there on someone. That is stupid.

These situations get even dumber when the buddy waits is almost next in line for the chair. The buddy does his best to step out of the way and wait for the invitee. Inevitably, the buddy can't get quite enough out of the way, and is a giant, selfish roadblock until the invitee can join him.

The tendency of the average person to do basically everything imaginable to avoid confrontation (haven't you seen Fight Club?!)
generally seems to prevent annoyed people from calling out the
roadblock, or pointing out to the invitee that he's cutting in line. However, that doesn't make it right.

The second issue is when people ski at or near full speed all the way up into the maze and then stop at the last second. It's just a matter of time until some 5-year-old gets mowed down and killed by some person who can't stop fast enough, or who crashes.

There are too many ruts and other obstacles in the way in the actual maze to safely ski fast into it and then stop at the last second. The appropriate and courteous thing to do is to come to a full stop before the maze, and then manually make one's way on in through the maze and onto the chairlift. Downward-sloping mazes, such as the notorious Blue Sky Express maze, complicate things even more.

The last issue is when people poach the ski school line. While I
despise the "do you mind if we alternate in?" euphemism (talk straight, call it like it is, and say "do you mind if we cut in front of you", and I'd appreciate your honesty!) used by ski school instructors, I am fine with yielding. I get the idea; it's like yielding to an ambulance. Somebody will do me the same favor someday.

However, when folks simply treat the ski school line as if it were any other line, well that's cutting in line (aka juvenile). Again, the theme that people will do their best to avoid confrontation usually plays out when I see this happen, and the line cutters are simply allowed in, perhaps awkwardly, but ultimately without issue.

Every once in a while, though, I am in the right spot in line when this happens, and I don't hesitate to ask the person what he thinks he is doing. Once, a guy responded, "I'm with ski school, but I'm off duty." I asked him his name, and he decided to excuse himself from the line without answering.

Usually, the person in line behind me simply lets the ski school line cutter in, which totally undermines the time and energy I spent to reject the ski school line poacher. So why bother?

Like I said, ultimately, who cares? More time to enjoy the view and smell the pine trees. Especially at Chair 11. On a sunny day, the forest smells absolutely fantastic there.

1 Comment on "Amazed by the mayhem in the maze: dissecting the finer points of lift-line etiquette "