On The Home Front
Vail Valley Real Estate Blog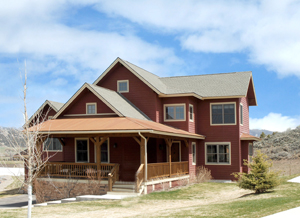 Sales of homes under $1 million have dropped off more than 52 percent over the past year.
Photo courtesey Prudential Colorado Properties
Blog Tools
Comments
Permalink
By Michael Slevin
June 24, 2008 — There is a saying that "all real estate is local." That has never been truer than now, however, it does not mean that the Eagle County (or any other part of the country) is immune to the effects of nation-wide consumer confidence, credit markets, oil prices or foreclosures.

At first blush our market appears to be relatively healthy during this time with dollar volume down approximately 3 percent from the average over the past three years. Looking at market segments reveals a different perspective. The year-to-date sale of homes in Eagle County under $1 million has declined more than 52 percent from the average of the past years. Under $500,000 sales have declined by more than 63 percent. This is dramatic in any market and particularly in the resort communities of Eagle County.

Prudential Buying Seminar
Wednesday, June 25 from 5 - 8:00pm at the Brush Creek Pavilion in Eagle Ranch.

A number of contributing factors are at work n the market. There is a supply-demand imbalance with more than 35 percent more homes on the market in Eagle County than a year ago. Asking prices have remained strong which, coupled with tighter lending programs and macro-economic effects, has created a stalemate between buyers and sellers. It will be interesting to see what tips the market activity and how long that will take - stay tuned.

In an effort to answer questions, address concerns and educate the local community, Prudential Colorado Properties is sponsoring a home Buying Seminar. Free and open to the public, a panel of local real estate brokers, government housing authorities and local mortgage lenders will be available to answer questions about the current real estate market in Eagle County and provide ideas and strategies to make home ownership possible.

In addition to the seminar, Prudential Colorado Properties will also be hosting an Open House Extravaganza on Saturday, June 28 when it will open more than 90 homes for sale in the area for home shoppers to tour. The event, from noon until 6 p.m., will incorporate homes from East Vail to Gypsum and priced under $1.2 million (with the majority priced between $300,00 and $800,000).

For more information on these events, please contact Michael Slevin, Vice President of Prudential Colorado properties or Jaime Walker, Director of Business Development at (970) 949-5355.

Michael Slevin is Vice President of Prudential Colorado Properties and writes about Real Estate for realvail.com.


Submit a comment on "Prudential Colorado Properties hosts buying seminar, open house"
---
Read More Blog Entries

Blog entry 1 through 1 of 1 total entries
Bloggers Profile and Information