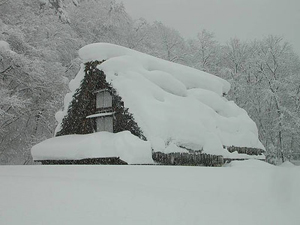 An A-frame house like this one used to sit at the base of Arosa Drive - but rumor has it that haunting plagued the building, and it was torn down in 2000.

A call for stories of Vail's ghosts and haunted houses
By realvail.com
June 9, 2009 — A new housing project in West Vail has raised old rumors about a haunted house which used to sit at 2657 Arosa Drive. The old A-frame home was creaky, drafty, and emanated gloom from its eye-like windows.

The Town of Vail bought the property in 1995 for employee housing, but had trouble renting the place – partly because of the condition of the house – but also because rumors of its haunting grew so strong that few could tolerate living there.

As I wrote about in a recent column, stories of haunting at the old A-frame were once ubiquitous, but those stories have faded away since the place was torn down in 2000.

So realvail is on a hunt to find folks who lived in that old A-frame and can share their stories of what it was like living there … if you lived there or know someone who did, please contact us or comment on this story so we can hear tales from the darkside of life on Arosa Drive.

It always amazes me how many folks have ghost stories to share … often times people are shy about telling them for fear of being ridiculed or laughed at, or perhaps being labeled as crazy, but each time I share my encounters with the supernatural there are always a few other folks out there who know exactly what I'm talking about.

We want to use this page as a space for the community to share their stories of the weird and whacky, the paranormal or the supernatural.

So please, take a moment to comment on this story and tell us your stories of the Vail Valley's haunted houses, from Arosa Drive and beyond. Just click "comment" below.



3 Comments on "A call for stories of Vail's ghosts and haunted houses"