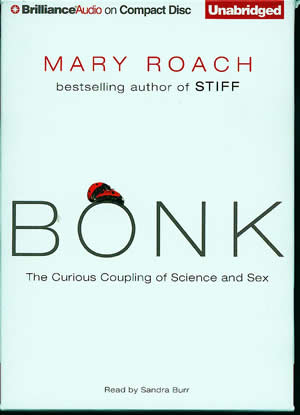 Bookworm Sez review: "Bonk: The Curious Coupling of Science and Sex," by Mary Roach
c.2008, Brilliance Audio, read by Sandra Burr, $34.95, 8 CDs / appx 10 hours
Blog Tools
Comments
PermaLink
Book review: "Bonk: The Curious Coupling of Science and Sex"
By Terri Schlichenmeyer
June 23, 2008 — Remember the time you asked Mom or Dad about the "birds and the bees"?

Chances are, they hemmed and hawed. Got all red-faced. Mumbled something about men and women that sounded kind of icky. Pointed in another direction and said "Go ask your Mom/Dad."

Or maybe you didn't even go to them. Maybe you already knew "Everything You Ever Wanted to Know…" because you swiped a copy of that book from your best friend's mother's bedside table.

But how do we know what we know about sex? In the new audiobook "Bonk: The Curious Coupling of Science and Sex" by Mary Roach (c.2008, Brilliance Audio, read by Sandra Burr, $34.95, 8 CDs / appx 10 hours), you'll see that the road to the birds and the bees wasn't just paved with feathers and honey. Very odd inventions and eccentric minds were involved, too.

Ever since the first caveman saw deer dirty-dancing on the horizon, gazed over at his partner and thought "Hey...", mankind has wondered about the waterbed waltz. Over the years, many erroneous beliefs about erogenous zones were held, including that the essence of life came from a man and that women had little to contribute to the system, and that impotence could be cured or caused by a witch. Even Leonardo da Vinci sketched some dubious theories about "Doing It."

Pruriently or not but definitely quietly, early scientists spent lots of time watching the wild thang, ostensibly to gather information. Odd contraptions popped up in bedroom laboratories, including a mechanical phallus and see-through camera tubes that were invented in the name of learning. Famous researcher Alfred Kinsey interviewed 18,000 Americans about their sex lives, including gay men, prostitutes, heterosexual couples, and staff members. Masters and Johnson came along and disproved some of Kinsey's theories with a little poking around of their own. Pigs, dogs, and hamsters were… uh, guinea pigs for gettin' it on; scientists forgetting, obviously, that animals are a bit different than humans.

These days, laboratories are still fascinated by the featherbed fandango. Researchers have given us Viagra, MRI images of active couples, and implants so we can all have a ball in the bedroom. We can get jiggy artificially, alone, or with help from surgery. We know what the old in-and-out does for upbeat moods, all because a few intrepid souls got into someone's pants.

Getting horizontal in the hammock this weekend? Then grab this audiobook and get ready to nail some laughs.

Author Mary Roach is one of the most subtly funny journalists you'll ever have the pleasure of hearing; her asides are hilarious and the situations she puts herself (and her ever-patient husband) in are straight out of a for-grown-ups-only sitcom. Roach is a sneaky writer, in that her humor comes when you least expect it. I promise you, though, that you can expect to enjoy "Bonk".

Although obviously not an audiobook you want to hear while driving the kids to swim class, this is a don't-miss for the curious. If you've ever done the deed and wondered who studies that kind of thing, "Bonk" will make you positively vibrate with happiness.

Terri Schlichenmeyer reviewed books for the Vail Trail and now works with RealVail.com.


Comment on "Book review: "Bonk: The Curious Coupling of Science and Sex"" using the form below