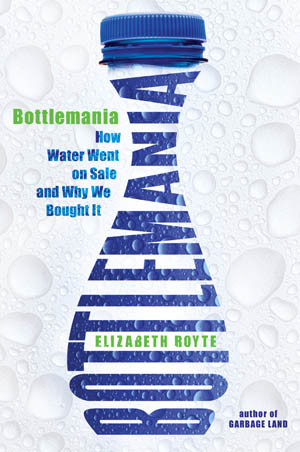 The new book "Bottlemania" by Elizabeth Royte may make you think twice before reaching to the fridge for a bottle of water.
Blog Tools
Comments
PermaLink
Book review: "Bottlemania" by Elizabeth Royte
You may think twice before reaching to the fridge for that bottle of water
By Terri Schlichenmeyer
July 15, 2008 — It is summer, and the thermometer reads somewhere in the 70s or Hades.

Pavement shimmies, shade is at a premium, and you can almost see the air. Every movement is an effort; even using your brain sends another river of sweat along the back of your neck.

And on top of it all, you're thirsty. So what do you want to drink?

Read the new book "Bottlemania" by Elizabeth Royte (c.2008, Bloomsbury, $24.99, 248 pages, includes notes and index) and you'll think twice before you reach in the fridge for a bottle of agua. Instead, you might rather tap into what comes through your kitchen faucet.

Or not.

When you grab a bottle of water from a store cooler, you expect liquid made of hydrogen and oxygen, right? Yes, says Royte, but not all water is the same. And yes, sometimes the two bucks you plunk down is money spent on pretty much the same stuff you can get from your bathroom sink.

But what does all that bottled water do to us? More importantly, what does it do to the environment? Is tap water really safer? To answer those questions isn't easy.

In a small town in Vermont, Royte found a flood of controversy. A big corporation is piping up and trucking out hundreds of millions of gallons of water a year from New England aquifers, processing it into bottled water, and sending it to other parts of the country – for profit. Some residents and environmentalists are concerned about the effects of all this water removal on their lakes, wells, and flora nearby.

And, Royte says, townspeople may have reason to worry. Droughts are big news, and we're seeing the environmental impacts of what goes into (and out of) our rivers and marshes, and what all that plastic (85 percent of it unrecycled) does to our land.

"We want convenience, cheap food… bigger houses, and faster gadgets," says Royte. "Whether it's building a second home or manufacturing meat, magazines, or mopeds, it all takes a toll on our water."

Tap water, however, could be less-than-pristine. Worse, it could be a few short, quick steps from sewage, although officials deny that's a problem.

So what can be done? Are those ubiquitous water bottles here to stay? Royte admits that the solution isn't easy and it's multi-layered. It starts with good old-fashioned conservation at home.

Occasionally a bit dry but dripping with timeliness, "Bottlemania" is a must-read for anyone who buys water, fills a re-useable bottle from the tap, or wonders what's in that ice-cold glass of goodness at the restaurant.

Author Elizabeth Royte isn't preachy; in fact, she seems to want to get to the bottom of the well on this controversy but obviously leans toward green. I appreciated the information she presents here, mostly because I think it will spur readers to debate personal habits and check the health of their own towns' water supply.

Before you head to the store for more water or turn on the tap for a drink, read "Bottlemania". It might make that sip of water seem like H2-uh-oh.


Comment on "Book review: "Bottlemania" by Elizabeth Royte" using the form below