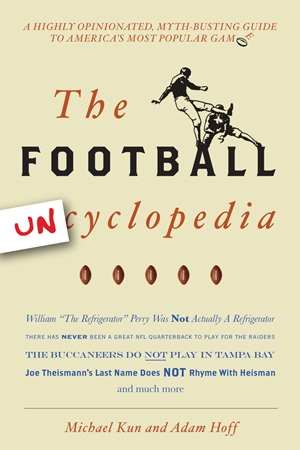 Blog Tools
Comments
PermaLink
Book review: "The Football Uncyclopedia" by Michael Kun and Adam Hoff
By Terri Schlichenmeyer
September 8, 2008 — Duck – for a few weeks each year, your friends and family get good at that.

It's not that you're a violent person. Really, it's not that at all.

The thing is, at some point, your team will do something boneheaded. A coach will make a bad decision. A ref will make a bad call and there you are, yelling and throwing peanuts or popcorn, foam bricks or crumpled paper at the TV. Nobody wants in the way, so they all DUCK.

This football season, distract yourself from a frustrating game with "The Football Uncyclopedia", a new book by Michael Kun and Adam Hoff (c.2008, Clerisy Pres; $15.95 / $17.50 Canada; 256 pages) Keep it by your elbow, and you won't throw anything at the TV. You'll be too busy laughing.

So the game's in progress and you're sitting there, smug. You know everything there is to know about football because you've been a fan since the womb. Nobody can tell you anything you haven't already repeated twice.

But let's take, for instance, Tom Dempsey. Did Dempsey's handicap help him break a record that has been equaled once but never surpassed? Argue amongst yourselves, then read what Kun and Hoff say.

And you know that guy in the old soft drink commercial, the one with the little boy? Would you believe that guy's name is not "Mean Joe Greene"? No, seriously. It's in there, go look.

Okay, how 'bout this: Kun and Hoff say the last player selected in the NFL draft is not a bad player. They also say that all football players are not bad actors. And Raiders fans are not like other fans. Ditto for the Packers. And why – with the humungous population it has – can't Los Angeles keep a team?

Do you snicker about the name of the Bears great linebacker? Check out the "F" entries to see if there's a funnier name than his. Look at the "P" entries to see what your dad wants for Christmas. Oh, and don't forget to read the footnotes. How else would you learn who almost made a Terminator movie or what Playboy magazine has in common with the game?

If you're not watching football in your favorite TV-viewing spot, chances are you're catching it at your favorite watering hole. And if you're not watching football this weekend, you should be reading this book.

Browsing "The Football Uncyclopedia" is a little like spending pre-game at the bar with two fellow fans who love to argue football and talk trash. It's like watching a cable-sports show with a couple of average wiseguys as co-hosts. It's like football fact one-upmanship in book form.

Authors Michael Kun and Adam Hoff good-naturedly rib one another and they poke fun at plenty of players. They lay some myths to rest and add fire to a few others. You'll agree sometimes and sometimes not, but you'll laugh for sure.

If you're not a football fan, you won't like this book. Go find another one and leave this to the people who live for the game. "The Football Uncyclopedia" will quack them up.


Comment on "Book review: "The Football Uncyclopedia" by Michael Kun and Adam Hoff" using the form below