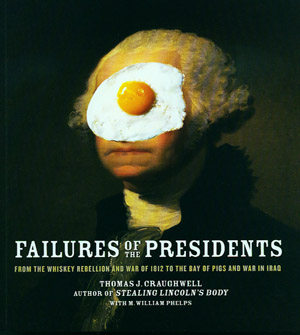 Blog Tools
Comments
PermaLink
Book review: "Failures of the Presidents" by Thomas J. Craghtwell with M. William Phelps
By Terri Schlichenmeyer
October 5, 2008 — "Failures of the Presidents" by Thomas J. Craughwell with M. William Phelps

Why is it that you only spill, fall, splat, or otherwise make a fool of yourself when everyone in the world is looking?

When things are perfect, of course, nobody's ever around to notice. But capture the eyes of just one person (particularly one with a big mouth) and you fumble, flounder, flub, and fail for all to see.

With that in mind, it's no surprise that the guy who lives in the big White House on Pennsylvania Avenue is under a microscope, and his gaffes are there for everyone to point at. In the new book "Failures of the Presidents" by Thomas J. Craughwell with M. William Phelps, you'll read about many a prez faux pas (c.2008, Fair Winds Press/Quayside Publishing, $19.95/$21.95 Canada, 320 pages)

From the Bay of Pigs to lipstick on a pig, our presidents (and presidential candidates) have surely presented their share of political bloopers.

Take, for instance, The Father of Our Country. As if being the first President wasn't pressure enough, George Washington agreed to a tax on whiskey which led to unrest in the backwoods of the newborn United States. Citizens were literally up in arms over a fee on their booze, and they rebelled. Though the wildly unpopular law was on the books until Thomas Jefferson's presidency, it was common knowledge that anyone who tried to collect the tax would meet with violence. Men, in fact, who attempted collection found themselves covered in tar and feathers. Understandably, nobody wanted to venture forth with his hand open.

Oopsie on Mr. Washington.

In the early years of the Depression, when homeless, unemployed families pitched tents on the grass in Washington D.C., President Herbert Hoover authorized Major General Douglas MacArthur to clear out the squatters. Almost immediately after the orders were sent, Hoover had second thoughts and tried to pull MacArthur back.

Whoops. It didn't work. Tear gas flew, tents burned, and in the end, Hoover was blamed for the melee.

George Santayana said that those who can't learn from history are doomed to repeat it, so future presidents should observe Lyndon Johnson's lesson: never lie. Johnson and Secretary of Defense Robert McNamara fabricated a story they knew would escalate conflict in Vietnam. You know what happened next, but you might not know that it changed the way a president can wage war.

Judging from the funny, irreverent cover here, you'd perhaps expect a light-hearted book filled with plenty of laughs, right?

Nope.

"Failures of the Presidents" is much deeper and drier than you'd anticipate by just picking this book up. Authors Thomas J. Craughwell and M. William Phelps include many very serious presidential losses and lack of successes that altered history, changed laws, and redirected the way Americans perceived the office and the men in it. Although I would have appreciated a smidge more humor here, this isn't a bad book. It's just more somber and serious than not.

Still, if you're fascinated with politics in this historically-political year, "Failures of the Presidents" is a definite must-have for your bookshelf. For you, missing this book is a big boo-boo.


Comment on "Book review: "Failures of the Presidents" by Thomas J. Craghtwell with M. William Phelps" using the form below