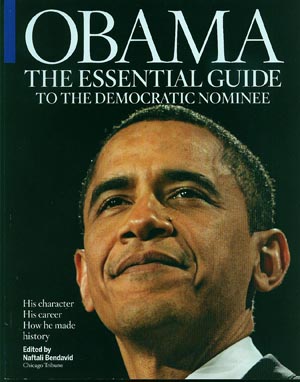 Blog Tools
Comments
PermaLink
Book reviews: McCain and Obama, the essential guides
By Terri Schlichenmeyer
November 3, 2008 — Got change?

If you're undecided this November, you'll need it. Heads, you vote for this duo. Tails, you vote for that one. Both candidates have talked about "change" at one point or another, and you're glad you've got a pocketful of it.

So what does a thinking adult do in an election year like this one? First, you find a copy each of "McCain: The Essential Guide to the Republican Nominee" by Mark Silva and "Obama: The Essential Guide to the Democratic Nominee" by Naftali Bendavid (c.2008, Triumph Books, $14.95 each).

Then, you settle in and get educated.

As the son and grandson of Navy men, it wasn't hard for John Sidney McCain III to choose a career in the service. Long before his years as a Navy pilot, though, McCain was known as a rebel who would fight with anyone who provoked him. His tenacious personality served him well when he was shot down over Vietnam in 1967 and imprisoned in a POW camp. When beaten for information, he reportedly gave his captors highly important data: the names of the Green Bay Packers line-up.

Released from captivity in 1973, McCain continued with his Navy career. In 1982, a year after his retirement, he ran for Congress for the first time.

McCain maintains a commitment to the War on Terror. He wants to see federal taxes simplified. He hates "pork-barrel spending" and he pledges to fix Social Security and the housing crisis.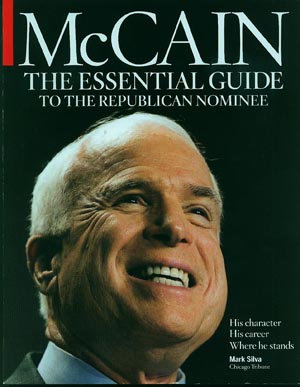 'McCain: The Essential Guide to the Republican Nominee,' can help undecided voters make their choice.

When Stanley Ann Dunham (born in Kansas) fell in love with Barack Obama, Sr. (born in Kenya), everyone was surprised. Stanley Ann never seemed interested in marriage or motherhood, but within a year of meeting Barack, Sr., their son Barack Hussein Obama, Jr. was born in Hawaii.

Raised in different cultures on different continents, Barack Obama started his career as an activist working for Chicago's South Side community. Wanting to do more, he attended Harvard, then returned to Chicago with an eye toward a "dream job" as governor of Illinois. Instead, in 1997, Obama entered the Illinois State Senate.


Obama wants to increase the size of the Army and the Marines, and he calls for a time-table for withdrawal of troops from Iraq. He pledges to create new jobs through cleaner energy. He's promised to crack down on mortgage fraud.

Written by Chicago Tribune staff members, both Essential Guides include biographies of the candidates, their careers and platforms. What's most interesting about these books, though, is that they include scandals and controversies in which the candidates have been embroiled and the struggles they've had. Also interesting are the chapters about the candidates' wives and families. All this information makes both these books comprehensive overviews for any voter who's undecided, confused, or just wants to know more before heading to the polls.

With that in mind, pick up "McCain: The Essential Guide to the Republican Nominee" and "Obama: The Essential Guide to the Democratic Nominee" and leave the coins at home. With these two books in hand, the change you'll need is the one you'll get by voting.


Comment on "Book reviews: McCain and Obama, the essential guides" using the form below