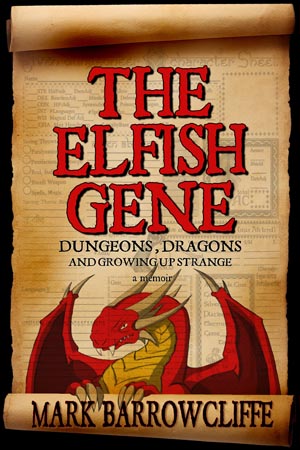 'The Elfish Gene' is designed for those who are familiar with the creative world of role-playing games.
Blog Tools
Comments
PermaLink
Book review: 'The Elfish Gene'
Growing up with Dungeons and Dragons
By Terri Schlichenmeyer
November 3, 2008 — They are the three words that cause panic and excitement. Three words that drive young humans to amazing depths of desperation. Words that strike fear in the hearts of parents, causing them stand in long lines during the holidays: "Collect Them All".

Scientists say that the urge to collect is biological. Our ancient ancestors did it to feed their brood, but since we no longer forage, we collect for fun.

And some of us take it to the extreme. In the new book "The Elfish Gene" by Mark Barrowcliffe, you'll read about one man's adolescent addiction and the way it shaped his entire life (c.2008, Soho Press, $25.00 / $27.50 Canada, 288 pages).

As a very young man, Mark Barrowcliffe often fancied himself as intelligent, and a bit of a sardonic rake. The reality, he now admits, was that the things he said were annoying and often made people roll their eyes and scurry away.

Usually, that "something said" was about dragons or wizards.

By age eleven, Barrowcliffe had fallen in love with the role-playing fantasy game, Dungeons & Dragons. At first, he played with older, fourth-year students at his school in Coventry, England, but the fourth-year boys thought Barrowcliffe's theatrics were a bit too much. The fourth-years brutally barred him from playing.

\Undaunted, Barrowcliffe found a larger group of D&D players, this one run by a gaming adult and populated with boys from another social class. There, realism in the fantasy games was of the utmost importance; Barrowcliffe says that, instead of a game that lasted an afternoon, the group could spend hours looking for an imaginary rivet for make-believe armor. Still, it was in this group that Barrowcliffe felt most accepted.

From age eleven to age sixteen, Barrowcliffe was obsessed with dungeons, dragons, wizards, and orcs. His every conversation - even those he had with his patiently loving "nan" - led back to his fantasy world.

But somewhere toward the end of his adolescence, D&D didn't seem like so much fun any more. Girls were more appealing, and spending time in the disco was more fun than time in a room with gassy adolescent boys and miniature wizard figures. On the night he left his beloved gamebook in the living room of a prankster, Barrowcliffe knew he'd left his fantasy world behind.

Or did he?

Part of me liked this book. Author Mark Barrowcliffe can be scathingly funny at times, and his descriptive memories will cast a spell on your funnybone. On the other hand, he admits he must've bored many people to tears with his incessant dragon talk, and in that, he hasn't changed much. Perhaps his on-and-on-and-on about the game, his fellow players, and their characters was meant to illustrate his earlier obsession, but it made me want to breathe fire on this book for good.

If you were (or are) heavily immersed in fantasy gaming, "The Elfish Gene" will make a lot of sense to you, and you'll enjoy completely. If you don't understand those kinds of role-playing games, though, be dragon yourself away to find another book.



Comment on "Book review: 'The Elfish Gene'" using the form below