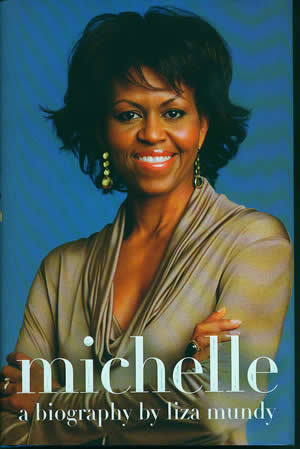 Blog Tools
Comments
PermaLink
Book Review: 'Michelle: A Biography'
By Terri Schlichenmeyer
November 17, 2008 — They say that behind every great man is a woman who's willing to give him a goose in the posterior when he needs it most.

Marc Antony had his Cleopatra. Henry VIII had his Catherine, Kathryn, Katherine, two Annes and a Jane. Harry would have been lost without Bess. Martin had his Coretta.

And Barack has Michelle.

By now, we know a lot about our future leader, but what do we know about the woman behind the office? You'll find out when you read "Michelle" by Liza Mundy. (c.2008, Simon & Schuster $25.00 / $28.99 217 pages, includes notes)

To truly know Michelle Robinson Obama, says Mundy, you need to understand where she came from. Born in a then-segregated area on the South Side of Chicago in 1964, Michelle Robinson was the second child of parents who raised her to be independent and strong-minded.

As a teen, Michelle Robinson attended a magnet school with other high-achievers, including the daughter of Jesse Jackson, Sr. Because the Robinsons encouraged their children to get the best education, Michelle chose Princeton, then went to Harvard and set her sights on becoming a lawyer.

Michelle's family claims that she was always hard on her suitors. When she brought Barack Obama home for the first time, her brother Craig said, "I was thinking, 'Nice guy. Too bad he won't last.'" But last Obama did. They were married in 1992.

Friends and former colleagues say that it was obvious that Obama was meant for a political career; in fact, he told several people that he aspired to high office. His new wife was an asset to that ideal because she introduced him to people who would further his career, politically. Conversely, he helped her find jobs that made a difference in their neighborhood.

So what can we look forward to when the new Presidential family moves into the White House? Mundy says that Michelle Obama has vowed to help families. She loves children and has always strived to make her life meaningful. Breaking down self-segregation is important to her, as is bringing people together.

Reading "Michelle" is a mixed bag. There's an awful lot in here that you already know, and a lot you probably won't care about.

Author Liza Mundy admits that she wrote this book without the help of Obama's political team (who discouraged close friends from talking), and without access to Michelle Obama. She eventually found a few people who would talk, but based on her vast notes, much of this book was put together from magazines, newspapers, and other articles written on the future First Lady.

On the other hand, there are enough "AHA!" nuggets in this book to keep your interest and to keep you turning pages. The interviews seem fresh. Some of the stories weren't overly familiar. And this book seems to dig a little deeper than you'd get in a fluff-piece magazine article.

If you've followed politics for the last twelve months but need to know more about the President-elect's family, this is a decent place to start. "Michelle" is a good book to get behind.

Comment on "Book Review: 'Michelle: A Biography'" using the form below