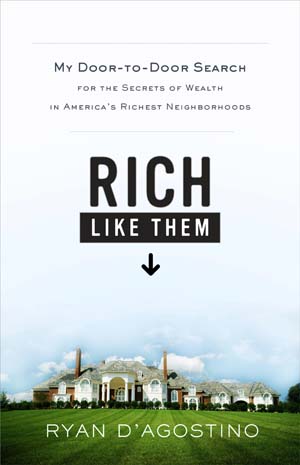 A new book by Ryan D'Agostino explores what it would be like to live in the largest homes in America.
Blog Tools
Comments
PermaLink
Book review: Rich Like Them by Ryan D'Agostino
By Terri Schlichenmeyer
January 10, 2009 — The sign said "Open Today!" and you couldn't resist. So what possessed you to go through a for-sale house that you could never afford?

Curiosity, sure. But maybe it was a little bit of what-iffing that led you to peek into cavernous closets and run your fingers over marble baths, rare-wood mantles, and imported countertops.

What if? What would it be like to live there? To have money like that?

Author Ryan D'Agostino wondered the same thing, and in his new book "Rich Like Them", (c.2008, Little, Brown, $25.99 / $28.99 Canada, 256 pages) he knocked on a few doors – literally - and asked.

Whenever he and his wife went out of town, Ryan D'Agostino says they made a point of taking walks into luxurious neighborhoods. They loved looking at the immaculate grounds and imagining the lives of those who lived there.

One day, curiosity got the better of D'Agostino, an editor at Esquire magazine. He purchased a list of the 100 wealthiest ZIP codes in the U.S., based on median household income, net worth, and home value. Then, with his trusty reporter's notebook in his pocket, and comfortable shoes on his feet, he stepped into some of the richest enclaves in America.

Not everyone agreed to speak to him. D'Agostino says he was sometimes met with silence, and security guards often turned him aside. But when he found people who would talk, he learned lessons of a lifetime.

Always – always – keep your eyes on your goal, even when on vacation. Never miss a chance for opportunity. Remember that you have to see the dots to connect them. Follow through with your connections. Understand that there are risks in everything, study the risk before leaping, and know that sometimes doing nothing is a risk itself. Stick to your plans but know when something isn't working. Never let failure be an option. Remember that you can't do business with yourself. Work hard, and if you look forward to going to work, that's even better. Be humble.

What a refreshing business book!

Author Ryan D'Agostino took a simple concept (find people with money and ask them how they got it) and created something that seems like a blueprint for wealth, not only of the monetary kind but of that for the soul.

I was struck by several things here: first, in this wacky world, that D'Agostino found so many people who invited him, a stranger, into their fabulous homes.

Secondly, he often steps aside to let stories speak for themselves. The titles of the mini-chapters practically beg you to read further, and D'Agostino is quick to refresh your memory if he refers to someone from another chapter.

Thirdly, I loved how D'Agostino conveyed a sense of contentment. While almost every one of the subjects in this book admitted to working hard, they all seemed so Zen-like with their lives now. Just reading these stories inspired me.

If you're ready for a new start in the New Year, pick up this book and get energized. "Rich Like Them" is filled with a wealth of great motivation for you.


Comment on "Book review: Rich Like Them by Ryan D'Agostino" using the form below