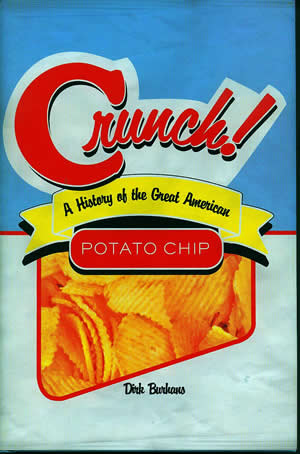 Blog Tools
Comments
PermaLink
Book Review: Crunch! A History of the Great American Potato Chip by Dirk Burhans
By Terri Schlichenmeyer
January 13, 2009 — You've been practicing.

Ever since the playoffs began, you've been working out, making sure you're in tip-top shape for the Super Bowl. Really, you wouldn't want to sprain anything doing the high-five. It's best to warm up before any sort of victory dance or prayer stance on behalf of your favorite team. There'll be no spotter needed as you raise your finger to point at a funny commercial.

But that hand-to-mouth motion you use during the game? You need lots more practice on that little maneuver. But just to be sure you're doing things right, read "Crunch! A History of the Great American Potato Chip" by Dirk Burhans. c.2008, Terrace – Books $26.95 / $32.00 Canada – 203 pages, includes index

Legend has it that George Crum, in a fit of anger in 1853, sliced potatoes paper-thin and fried them in response to a complaint from a customer (some say Cornelius Vanderbilt) alleging that Crum's potatoes weren't crispy enough. The legend, though, may be a myth: Crum's sister may have been the original Potato Potentate.

Potatoes themselves have been around for centuries; archaeological evidence shows that they may date back to 11,000 BC. Most species originated in South and Central America, although hardier potato types were found slightly north. In Europe, it's thought that the potato made its debut via Spain in the late 1500s. Because they were easy to grow, the spud spread.

Early in the last century, most potato chips were manufactured locally and sold from barrels, boxes, or in paper bags. Chips were made slowly and required quick selling lest humidity turn them stale, which could happen within hours. Oil fires in potato chip factories were common.

By the 1930s, all that changed. New technology made it possible to quickly (and more safely) mass-produce potato chips, and later, to seal the bags so they could be transported farther away from the factory. Suddenly, the snack was out of the bag.

Over the years, potato chips have been the object of lawsuits and takeovers, mergers and name-changes. They've been influenced by television and have influenced pop-culture. You can get chips in a cylinder, a bag, or a box in plain, baked or ridged, and in lots of flavors including jalapeno, dill pickle, and barbecue. You can buy Goth chips, organic chips, and believe it or not, if party-planning time is running out, you can buy chips online.

Can you pass the bag over here, please?

While "Crunch!" sometimes is a little heavy on local history – particularly, but not entirely, that of the Midwest and Ohio Valley area – it's basically a very fun book. Author Dirk Burhans says that he wrote this book because he never knew there were so many brands of chips, and he was amazed to find that each chipper made a different-tasting product. His gee-whiz willingness to examine the industry right down to the crumbs is what makes this book such a tasty one.
Before you stuff a handful of crispy goodness in your mouth during the game, read "Crunch!" For fans of potato chips and other gotta-have-it snacks, this book is worth its salt.


Comment on "Book Review: Crunch! A History of the Great American Potato Chip by Dirk Burhans" using the form below