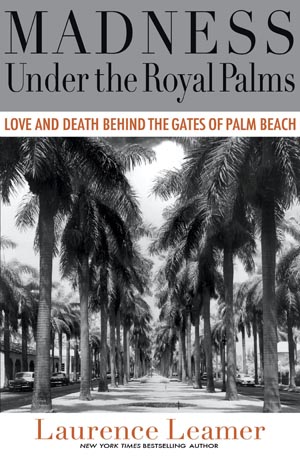 Blog Tools
Comments
PermaLink
Book Review: Madness Under the Royal Palms
Love and Death Behind the Gates of Palm Beach
By Terri Schlichenmeyer
February 11, 2009 — You're not allowed.

For most of your life, you've been under constrictions of allowance. Not allowed to cross the street by yourself. No staying up late on a weeknight.

And school? Well, that brought a whole new set of "not allowed". No running in the halls, no talking out-of-turn, no gum-chewing. It just wasn't allowed.

These days, you're given a little more freedom, but you're still not allowed. You're not allowed to speed, steal, or slander, and most of us are not allowed into the fancy parties or private clubs of upper society. But after reading "Madness Under the Royal Palms" by Laurence Leamer, (c.2009, Hyperion – $25.95 / $27.95 Canada – 368 pages) would you want in there anyhow?

Wanting to find a warm-weather spot to write his books, Leamer says that he was drawn to Palm Beach, a small island just off the coast of South Florida. It was beautiful there, and though Leamer says he and his wife didn't feel welcome on their first visit, they bought a duplex in 1994.

Fifteen years later, the welcome mat is still relatively absent.

A hundred forty years ago, Florida was mostly wild and sparsely populated. Henry Flagler, co-founder of Standard Oil, came to the region and built railways, ships, and hotels. Luxury was also a Flagler standard, and Palm Beach personified it.

For years, there were two main clubs on the island, and Jews weren't allowed to join either one. They still aren't, no matter how much scheming is done to present oneself as socially worthy.

But no matter. Donald Trump bought Mar-A-Lago, a fabulous mansion, and created a club that accepts all comers – as long as they have the mid-six-figure membership fee and can pay five-figure annual dues.

Palm Beach is where someone purchases property and tears down a 16,200-square-foot home (with two wine-tasting rooms; one for red wine, one for white wine) in order to build a mansion of nearly 85,000-square-feet, a "home" that takes an hour to walk through.

It's a place where weddings are preceded by prenuptial contracts ("It was fifteen pages of different ways of saying no."). Where stepmothers hate their late husband's children so much that they order the dead man's wardrobe shredded to keep heirs from having mementoes.

A place where the law often looks the other way, except in cases of murder.

Author Laurence Leamer is a factual writer, often given to wry understatement and only occasionally editorializing. When he does offer his observations, they're deliciously dead-on and oh-so-wonderfully snarky, the kind of comments that make you want to take the phone off the hook so you can read more. This made "Madness Under the Royal Palms" like peeking at a supermarket tabloid or watching a daytime talk show, only twice as much guilty-pleasure fun. I love a good scandal and I loved this book.

If you've often wondered what goes on behind the gates at those areas you're not allowed to visit, pick up this book and allow yourself a few hours with it. "Madness Under the Royal Palms" is one you won't want to put down.



Comment on "Book Review: Madness Under the Royal Palms" using the form below