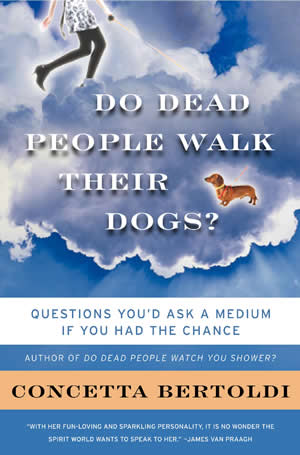 "Do Dead People Walk Their Dogs?" (c.2009, Harper – $13.99 / $17.99 Canada – 244 pages)
Photo courtesy of Harper
Blog Tools
Comments
PermaLink
Book Review: Do Dead People Walk Their Dogs?
By Terri Schlichenmeyer
May 25, 2009 — You know the feeling: you'd been in that room before. You remembered it. But it was different then.

The walls were once floral, and the windows had wispy curtains. A big tree shaded the front sidewalk. There was a desk in the corner, and you could recall a drawer filled with pencils.

It somehow wasn't your first time in that room, even though you'd never been to that house before in your life.

But which life?

In the new book "Do Dead People Walk Their Dogs?" (c.2009, Harper – $13.99 / $17.99 Canada – 244 pages) author and medium Concetta Bertoldi has answers to eerie questions about déjà vu, reincarnation, and more that you've wondered about, but never asked. Or have you?

Ever since she was small, Concetta Bertoldi has been able to see and speak with the dead.

Although she's "booked out" for the next two years at her New Jersey practice, Bertoldi knows that most people are curious about what happens when "passing over". This book will put your mind to rest about The Big Rest.

It's true that, when we die, we see everything, says Bertoldi. Dead people can watch you sleep, eat dinner, and take a shower (Bertoldi's previous book addressed that unsavory thought), but they don't do the Peeping Tom bit with prurient interests. Your loved ones are curious about your life, but they're not judgmental. That means that, although you hid them from her when she was alive, "Grandma Over There" doesn't care about your piercings or your tattoos.

The interesting thing is that "Grandma Over There" may come back over here at some point. Bertoldi says that we all have past lives – some more than others - and many of us will get a (new) life after we're gone from this one. We'll also see our loved ones in Heaven, and possibly again in another existence.

And speaking of Heaven, Bertoldi has lots to say about God and religion. The ability to speak to the Dead is God-given, she says. People who've done bad things may try to make it up to you from the Other Side. And all pets go to Heaven but since there are no leash laws, there's no need for Walkies.

Having read author Concetta Bertoldi's last book (which was very lighthearted), I was a bit surprised at the heavy-handedness of this one. "Do Dead People Walk Their Dogs" delves into religion much more than I expected.

Bertoldi does, indeed, answer some of those burning questions you've always wondered about. Why, for instance, don't psychics "play the ponies"? (It's a matter of using a gift responsibly, says Bertoldi). She dishes about the oddest place a Dead Person visited her, and she recounts dozens of eerie events that happened to her clients.

But occasionally, Bertoldi loses her sense of fun. The questions get deeper, the answers more faith-based, and the book sinks more into comfort for the grieving than how-cool-is-that for the curious.

Still, you got questions, Bertoldi got answers, so go ahead and read this book.

Of course, unless you already did, in another life.

1 Comment on "Book Review: Do Dead People Walk Their Dogs?"