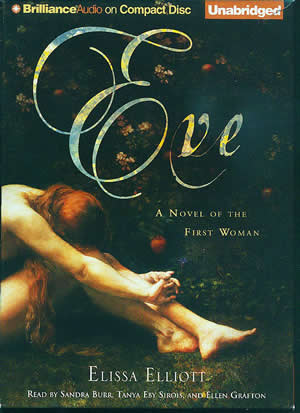 "Eve: A Novel of the First Woman" by Elissa Elliott – d c.2009, Brilliance Audio – $38.99 – 13 CDs / approx. 16 hours
Blog Tools
Comments
PermaLink
Book Review: Eve: A Novel of the First Woman
By Terri Schlichenmeyer
May 31, 2009 — Imagine that an anonymous benefactor just bestowed upon you an unexpected gift: a new home with everything you could ever want in it.

The temperature in this home is always just right; the furniture, comfortable. You're never hungry when meals magically appear at your table. Exploring this magnificent home becomes more entertaining than anything you've ever seen on TV, and the landscaping astounds you.

The cost? Not a penny.

But then, one little mistake – one very human error – and you're booted from this home and out on the streets. How would you live with the memories of time spent in Paradise? In the new audiobook "Eve" by Elissa Elliott, (d c.2009, Brilliance Audio – $38.99 – 13 CDs / approx. 16 hours) you'll hear a woman's epic story of loss and love.

Once upon a time, there was Eden and it was beautiful. Animals roamed, flowers bloomed, and Elohim was there. But that was then, and now, pregnant with her latest child, Eve struggles with memories of a happier time.

She recalls innocent days when she could spend hours in the Garden, just listening to Elohim. Now, when she speaks to Him, He never answers. She wonders if He still loves her. She wonders if He will ever forgive her.

Eve remembers learning to know Adam, and the delight they had in naming the animals. She remembers the joy of newness. She also remembers how the serpent tricked her, and how Elohim was hurt by her betrayal.

It had been a struggle since their banishment, but Eve's family is surviving: Cain, headstrong and angry over nothing. Sensitive Abel, now a shepherd. Naava, on the verge of womanhood and reaching for independence. Aya, smart and resourceful despite her handicap. And the twins - double gifts - Dara and Jaken.

But everything changed when the People from the City came to visit. Taken aback by the sight of the women, Eve reluctantly gave them what they wanted. Though it hurt her heart, she let them take something precious to her, never knowing that it would set her family down a path of destruction, loss of faith, violence, and death.

Do you have a patient boss? You'd better hope so, because listening to "Eve" on your commute is going to make you late. You'll want to hear "just one more minute" of this positively beautiful novel.

Spinning a tale that's both lush and lyrical, author Elissa Elliott gives Eve a complex humanity as a mother worried about her children and as a wife who sees her husband slipping away. She feels bereft and abandoned, powerless to stop the changes she sees. Elliott's story sticks pretty close to the Biblical version, though still making Eve seem familiarly, comfortingly contemporary.

What I liked best about this audiobook is that it's read by three different performers. Sandra Burr, Tanya Eby Sirois, and Ellen Grafton bring their characters to life, which gives "Eve" even more listenability.

Take this audiobook to work with you. Take it home, take it on vacation, but don't miss it. If you crave a novel experience, "Eve" will be Paradise to you.


Comment on "Book Review: Eve: A Novel of the First Woman" using the form below