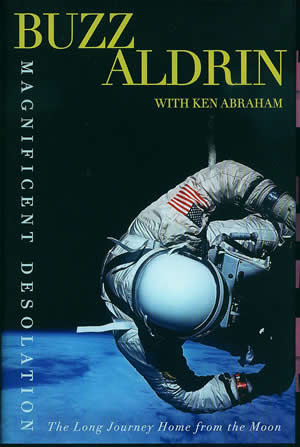 "Magnificent Desolation" by Buzz Aldrin with Ken Abraham (c.2009, Harmony Books - $27.00 / $33.00 Canada - 326 pages, includes index)
Blog Tools
Comments
PermaLink
Book Review: Magnificent Desolation
The Long Journey Home from the Moon
By Terri Schlichenmeyer
July 3, 2009 — Imagine that you went to work one day and changed the world.

Becoming a celebrity, you knew, was inevitable but you didn't fully anticipate the extent: parades, TV appearances, crowds of fans intent on touching your sleeve. Meals interrupted by paparazzi. Privacy and quiet, a memory.

And while your family wasn't exactly thrilled with this attention and it got pretty tiresome, one thing bothered you more than anything. It was a question you couldn't stop asking yourself.

What do I do next?

In the new book "Magnificent Desolation" by Buzz Aldrin (with Ken Abraham) (c.2009, Harmony Books – $27.00 / $33.00 Canada – 326 pages, includes index), you'll read an account of the first historic moon landing and its effect on the life of the second man on the moon.

Forty years ago this July, much of the entire world was mesmerized by what they saw on TV. From a short ladder attached to a spider-like capsule, two men, one after the other, stepped onto the moon. Neil Armstrong, because he was closer to the door, was first to set foot on the lunar surface. Buzz Aldrin, who outranked Armstrong but sat farthest from the module's opening, went next.

This was, Aldrin remembers, a very scientific journey. Though their mission was to collect specimens from the moon's surface, Aldrin says he wanted to experiment further but frivolity wasn't the reason for being in space. That lack of opportunity bothered him for many years to come.

The moonwalk made Aldrin, Armstrong and fellow astronaut Michael Collins instantly, wildly famous. After a month-long quarantine, the three were whisked away for celebratory parades, meetings with heads of state, and visits abroad. The frenzy appears, in this book, to have boggled Aldrin's mind.

But once the adoration died down, Aldrin began to ask himself, "What next?" NASA "pretty much closed the door…" and a job at the USAF Test Pilot School didn't work out. His small salary from the government wasn't enough to live on and Aldrin "dabbled" with inventions based on his space walk. Soon, he fell into a deep depression and began drinking. His first wife left him and a second marriage didn't last long.

Finally, with the help of friends and the "love of [my] life", Aldrin pulled himself out of the black space he'd fallen into.

For millions of kids and former kids, being an astronaut always sounds so exciting. But before you run out and get fitted for a flight suit, read this eye-opening book first.

Author Buzz Aldrin doesn't brag about his place in history, but he has a few complaints about it. He's open about his past and his problems, and he takes responsibility. He discusses his efforts for space tourism and more exploratory ideas for the future of NASA. And he bluntly (and quite angrily) addresses conspiracy theorists who think the whole moon landing was a sham.

If you, too, were glued to the TV on that night forty years ago, or if you always wanted to do a real moonwalk, read this book. For historians and astronaut wannabe's, "Magnificent Desolation" is out of this world.



Comment on "Book Review: Magnificent Desolation" using the form below