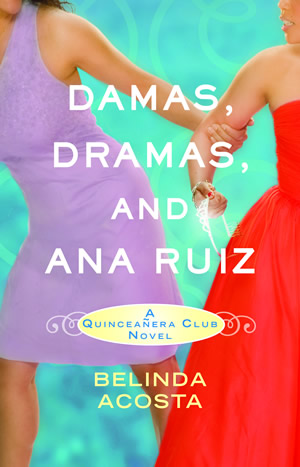 "Damas, Dramas, and Ana Ruiz" by Belinda Acosta c.2009, Grand Central Publishing - $13.99 / $15.50 Canada - 336 pages
Blog Tools
Comments
PermaLink
Book Review: Damas, Dramas and Ana Ruiz
By Terri Schlichenmeyer
August 9, 2009 — Once upon a time, your baby girl was a snuggly little sweetheart.

She was a charmer, that's for sure, "helping" around the house and wanting to be exactly like Mami. She knew how to get what she wanted from her Papi, too. No matter how big she got, she'd always be your little girl.

And then came the day she transformed. Sullenness was sudden. You were lucky to get fifteen words from her in a 48-hour period. In her eyes, you went from hero to zero, a bubbly font of knowledge to a bumbling fool.

Ana Ruiz can sympathize. Her daughter, Carmen, is about to turn fifteen, and in the new book "Damas, Dramas, and Ana Ruiz" by Belinda Acosta, (c.2009, Grand Central Publishing – $13.99 / $15.50 Canada – 336 pages) things at the Ruiz casa are about to explode.

Where did the time go? More importantly, where did her marriage go? Ana Ruiz hurts with those questions. It seemed like yesterday that she was falling in love with Esteban, his dark curls, his gentle demeanor.

But that was two children and a lifetime ago, and now Esteban has moved out. Marcos, Ana's brother, says Esteban felt as if Ana didn't "need him" because she had a good education and a job at the college. He didn't feel like un hombre anymore.

Ana just wished he'd come home – if not for her sake, then for the kids. Seventeen-year-old Diego, a quiet and introspective boy, was ready to get his driver's license and he had a mad crush on his best friend's sister. He needed his father as a young man does.

But fourteen-year-old Carmen was taking Esteban's absence the hardest. Carmen was a Daddy's Girl and she blamed her mother for her father's departure. When she spoke to Ana, it was cargado with attitude, which made for a todo chilly household.

Thinking she might pull her daughter closer, Ana decided that Carmen needed a quinceañera. With the help of her sobrina, Bianca, Ana gently pushed Carmen to pick a dress, a court, and a theme. But Daddy's Girl dug in her heels, acting todo chiflada, begging Esteban to come home.

Which is what Ana wanted, too – or did she? It had been a long time since she had been admired by a man, and the smolderingly-actractivo artist-in-resident at the college was muy tempting.

Told from the point-of-view of a narrator with a flair for gossip, "Damas, Dramas, and Ana Ruiz" is one of those really delightful books that you want to read slowly, to savor the flair and the people in it. Author Belinda Acosta captures this dramatico event in a family's life, and both Ana and Carmen are perfectly-written examples of typical mother-daughter conflict. Anyone who has a teen girl should read this book, as should any single or almost-single mom.

Be aware that you'll want at least a small familiarity of Spanish (or at least have a Spanish dictionary handy) to fully enjoy this book. For you – and for anyone who wants a great end-of-summer read - "Damas, Dramas, and Ana Ruiz" is really quite excelente.


2 Comments on "Book Review: Damas, Dramas and Ana Ruiz"