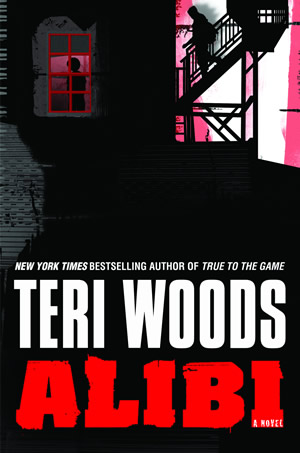 Blog Tools
Comments
PermaLink
Book Review: Alibi
By Terri Schlichenmeyer
August 31, 2009 — What would you do if an old friend asked you to lie?

Just a little white lie – who would know? One tiny fib is nothing, and it won't hurt anybody. A little voice in your head says "Go ahead. Do it. "

But something stops you. You know it isn't the last you'll hear of this story. This time, you've got your friend's back… but it might mean a knife in yours later.

And that's what happened to Daisy Fothergill. One lie is all it took, and in the new book "Alibi" by Teri Woods, the cover-up made Daisy go undercover.

The break-in was supposed to be quick and simple; the pay-off, thousands of dollars and several pounds of cocaine. It should've been an in-and-out job but when the smoke cleared, three men lay dead on the floor and Nard was holding the last gun. He saw big trouble coming.

Sticks was supposed to have been there, watching the window, but he wasn't so he felt duty-bound to help Nard out. Nard was a good soldier, and it wouldn't make the boss happy if one of his best runners sat in prison. Sticks knew a girl who would lie for him, and Nard needed an alibi.

When Sticks offered Daisy two grand to meet with an investigator, she couldn't believe her luck. Two thousand dollars to say Nard was with her that night? That was more money than she made dancing at the Honey Dipper.

Unfortunately, it was almost the exact amount needed to bury her mother. It was back to the Honey Dipper for Daisy.

Detective Tommy Delgado felt sorry for the stripper when he and his partner, Merva Ross, questioned her. Even though he never frequented places like the Honey Dipper, this Daisy looked familiar. Ross thought he was getting soft, but Delgado knew this girl was lying and he knew she needed compassion, not jail time.

But one small lie needs an even bigger one to back it up and Daisy took notice of the people who were dying to hide the truth. So when $47,000 showed up in her dead mother's bank account, she took it to cover her backside, and ran for her life.
I sat down with this book at 8 o'clock on a Monday night.

I was still reading at midnight. Bedtime could wait; I had to know what happened in this fast-paced, can't-stop-reading book.

"Alibi" is one of those street-smart novels that really gets in your face. Focusing more on the criminals than on the cops charged with catching them, author Teri Woods builds the story at just the right pace, never letting us know how things are going to end for the one character we've oddly come to care about. Add in a couple of well-turned plot lines, and you've got a book that will keep you up all night, too.

Pick up a copy of "Alibi" and hang on to your blankets. This is one novel you'll want to read in one sitting, cover to cover.


Comment on "Book Review: Alibi" using the form below