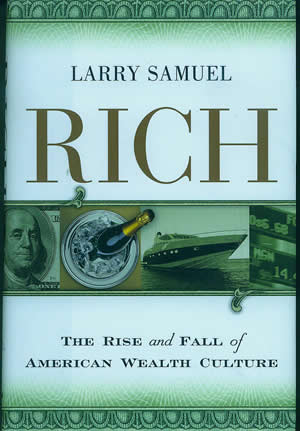 "Rich: The Rise and Fall of American Wealth Culture" by Larry Samuel (c.2009, Amacom – $24.95 / $32.50 Canada – 308 pages, includes notes)
Blog Tools
Comments
PermaLink
Rich: The Rise and Fall of American Wealth Culture
By Terri Schlichenmeyer
October 13, 2009 — A million bucks.

That's all you'd need to be happy. A measly million… no, wait, TWO million dollars. Imagine all the great things you'd be able to do with those kind of bucks.

But the problem is, believe it or not, that million or two doesn't go very far anymore, as you'll see in "Rich: The Rise and Fall of American Wealth Culture" by Larry Samuel (c.2009, Amacom – $24.95 / $32.50 Canada – 308 pages, includes notes). Sometimes, big money isn't big enough.

Barely 150 years ago, being a millionaire was rare: not only were there just three of them in the U.S. in 1861, but the word itself was brand-new.

Within three generations, wealthy Americans were firmly ensconced in industry, philanthropy, and society. The Have-Nots (meaning, most of the country) were quite fascinated by the European servants, hundred-room mansions, furs and jewelry of the Vanderbilts, Rockefellers, Astors, and their peers.

But then the stock market collapsed, which brought vilification upon the rich. Influential religious leaders spoke against flamboyant displays of wealth, which caused more than a few rich citizens to downsize their homes (or the number of homes). In Washington, a "wealth confiscation bill", designed to seize and re-distribute big money, actually passed in the Senate (but, obviously, didn't go into effect).

Post-Depression, a curious shift took place: millionaires were suddenly showing up, not in New York, Boston, and Washington, but in Appalachia and Texas, due to a nation-wide change in energy needs. Following World War II, luxury became something Everyman could have, and the distinction between "Old Money" (wealth from a long line of rich forebears) and "New Money" (fortunes made more recently) became a sticking point within the wealthy class. It was obvious, through attitudes about money, to figure out who was Old and who was New.

In 1966, more than five hundred Americans were millionaires. By 1968, over 100,000 people belonged in that income level. That number doubled by 1970, and for the first time, women, gays, and African Americans were in that category. The introduction of wide-spread lotteries in 1974 made easy millionaires. By the time Forbes magazine introduced "The Forbes Four Hundred" in 1982, there were a dozen billionaires on the list.

Do you scratch your head at the excess of the wealthy? Look askance at those who have "too much much"? Believe it or not, "Rich: The Rise and Fall of American Wealth Culture" puts a lot into perspective.

Author Larry Samuel shows how the average citizen's perception has changed the way the Rich and Famous behave (and vice versa), and how both have actually altered society and policy. Along the way, Samuel muses about over-the-top ostentation, wealth in politics, and the finer things money can (or can't) buy. He also gives his readers a subtle clue: most millionaires made their money through stocks and real estate, not by scrimping and saving.

If the Lives of the Definitely Haves have always fascinated you, pick up "Rich: The Rise and Fall of American Wealth Culture". For historians, cash collectors, upper-crusters, and wanna-be's, this book is right on the money.


Comment on "Rich: The Rise and Fall of American Wealth Culture" using the form below