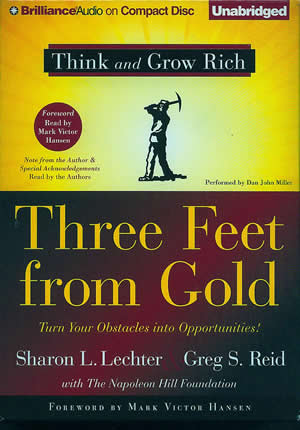 "Three Feet from Gold" by Sharon L. Lechter & Greg S. Reid with the Napoleon Hill Foundation, performed by Dan John Miller c.2009, Brilliance Audio - $24.99 / $30.99 Canada 5 CDs / 5-1/2 hours
Blog Tools
Comments
PermaLink
Book Review: Three feet from Gold
By Terri Schlichenmeyer
November 9, 2009 — You're sick to death of this economy.

You're sick of beating your head against closed doors. Sick of hearing "no" everywhere you try to sell. Tired of making goals and falling short of them. You're sick to absolute death of working harder than you've ever worked before and getting nowhere faster than usual.

And you're about to quit. Plain and simple.

But in the new audiobook "Three Feet from Gold" by Sharon L. Lechter and Greg S. Reid (with the Napoleon Hill Foundation)( Sharon L. Lechter & Greg S. Reid with the Napoleon Hill Foundation, performed by Dan John Miller – c.2009, Brilliance Audio – $24.99 / $30.99 Canada – 5 CDs / 5-1/2 hours), you'll see that it might not be time to quit. It might, in fact, be the best time ever to fearlessly move forward.

Nobody would have ever accused Greg of being a nice young man. Unhappy, brash, brusque, and impatient, Greg only thought of himself and it showed: he was irritated by every little thing and was rude to everyone in his path.

And he was not always honest: when Greg was accidentally given the wrong jacket at a coat-check – which turned out to be a better jacket than his own – he thought briefly of keeping it.

Then he read the card that was in the pocket. The jacket belonged to business tycoon Jonathan Buckland, whom Greg longed to meet. Under the guise of returning the jacket, Greg called Buckland's office and made an appointment.

Though Greg was typically rude from the start, Buckland saw something in the young man, a "diamond in the rough" in business, and he decided to take Greg under his wing. With a few phone calls, Buckland sent Greg on a journey of self-discovery and business learning that went around the world.

From banker Don Greene, Greg learned that before success comes, one will meet with great defeat. From businessman Ron Glosser, he learned that never to make a major decision in a valley. Motivational speaker John St. Augustine said that to garner success, people should replace wishbone with backbone. Athlete Ruben Gonzalez told Greg that great people have two courageous moments: the courage to get started and courage to persevere. And throughout his journey, many reminded Greg of the story of a miner who quit digging in his claim, just three feet from gold.

I hate fables.

So let's cut to the chase, because you're a busy person: "Three Feet from Gold" seems to be a thinly-veiled, very long commercial for the Napoleon Hill Foundation and Hill's "Think and Grow Rich". Based on a "real life experience" in which "some license has been taken", it's a tale of a young man's Forrest-Gump-like adventures with (mostly male, mostly white) movers and shakers of business around the world. Yes, there are some motivational nuggets buried within, but you have to wallow through a silly "fable" to get them.

I think story-time is for kids, not businesspeople and entrepreneurs who have mortgage-as-motivation. Give me facts, not fable.

If you can possibly keep your eyes from rolling and you're desperate for motivation, give "Three Feet from Gold" a listen. But if you're serious about business, dig up another book instead.


Comment on "Book Review: Three feet from Gold" using the form below