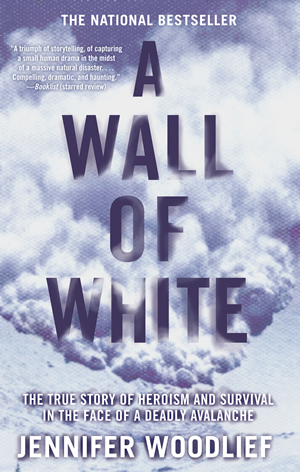 Blog Tools
Comments
PermaLink
Book Review: A Wall of White
By Terri Schlichenmeyer
March 13, 2010 — For two solid weeks, you were practically attached to your television.

You couldn't get enough of the winter Olympics – snowboarding, speed skating, figure skating, bobsledding, luge…

And the skiing! Those athletes made it look easier than you know it is, with their jumps and mid-air twists, leaps and landings. You were treated to excitement every night, and (admit it) you even stayed up late to watch.

Fans of winter know that, while snow can be something to play in, it also calls for caution and extreme awareness. In the book "A Wall of White" by Jennifer Woodlief (c.2009, Atria Books - $15.00 / $19.99 Canada - 243 pages), you'll see how too much of a good thing can be very bad.

Just over the mountain from Squaw Valley, Lake Tahoe's Alpine Meadows has been a popular skiing destination since its establishment in 1961. Despite a Class A avalanche status (the "highest possible hazard designation"), Alpine Meadows offers easy slopes as well as challenging courses for skiers who love "extreme sports."

Each morning, long before most skiers awaken, patrol teams set out along the ridge near the resort to scout for dangerous conditions.

In 1982, the (mostly male) patrollers working at Alpine Meadow each loved the outdoors and skiing, and they loved blowing things up. Using dynamite to disarm avalanches was a major perk of the job for many of them, and when dynamite didn't work back then, a military-issue Howitzer was used.

But on the afternoon of March 31, 1982, nature took over the job.

It had been snowing heavily for four days. Because of the geography of the valley, the storm roiled, unmoving, and by that morning, over seven feet of snow had fallen on an existing 89-inch base. The snow came down horizontally. Visibility was measured in inches.

Below the mountain, employees of Alpine Meadows milled around, waiting for confirmation of a closing, waiting for the storm to end. In nearby condos, snow-bound-weary resort guests carefully emerged for food, fresh air, and information.

And then, from one of the patrollers via radio, came a string of communication. It was mostly unintelligible, but one word was clear.

"Avalanche."

Despite that I'm the kind of person who thinks "fireplace" when I hear the word "snow", my heart was pounding as I read "A Wall of White".

Author Jennifer Woodlief has a way of building up her narrative, and even though we know what happens, she makes it feel like an edge-of-the-seat, fresh shock. Readers will come to genuinely care about the people involved, and will experience sadness and jubilation at their outcomes.

The detailed explanations of avalanche-forming spoke to the science geek in me, which I completely enjoyed. Oh, and go ahead and sneak a peek at the pictures: there are spoilers, but not anything that ruins the tenseness of this well-done book.

Whether you're an outdoor enthusiast or you believe snow is best enjoyed from a cozy chair, "A Wall of White" is going to give you a new appreciation for white fluffy stuff. Now in paperback, this is a book you'll plow through in no time.



1 Comment on "Book Review: A Wall of White"