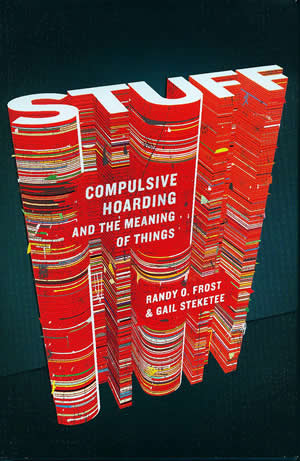 "Stuff: Compulsive Hoarding and the Meaning of Things" by Randy O. Frost & Gail Steketee c.2010, Houghton Mifflin Harcourt - $27.00 / $33.95 Canada - 291 pages
Blog Tools
Comments
PermaLink
Book Review: Stuff - Compulsive Hoarding and the Meaning of Things
By Terri Schlichenmeyer
April 21, 2010 — You've been looking for something for days. The last time you had it, you put it down here. Right over here, and now you can't find it.

But that's no surprise. You're always shifting a pile of something from table to counter to desk and back, and things get lost. As soon as you get some of those plastic bins, you'll get organized. A little mess is normal, right?

That depends on how much is "a little". In the fascinating new book "Stuff: Compulsive Hoarding and the Meaning of Things" by Randy O. Frost & Gail Steketee, you'll see how possessions could make a mess of your life.

It seems like we all know somebody who fits the description of packrat: recent studies show that between 2 and 5 percent of our population hoards. Take, for instance, the friend who never throws away paper, ever. The relative who can't pass up a dumpster. The local "cat lady". The neighbor whose yard is worse than the town dump.

Maybe the packrat is you.

No matter where the mess is or how it got there, Frost and Steketee indicate that most hoarders are embarrassed and ashamed about their messes. Many decide to seek help from psychiatrists and professional organizers because their families are suffering or frustrated (or both). Online, there is a chatroom specifically for hoarders; only a limited number of members are accepted and the waiting list is hundreds long. In this book, the authors profile several of their most memorable cases.

Frost and Steketee say that hoarding is a facet of Obsessive Compulsive Disorder, or OCD. Generally speaking, people who have hoarding problems hate to think of anything being wasted. They sometimes keep objects because of memories attached to them, and though elaborate stories are often linked to the objects, hoarders are often afraid of losing those memories if they lose the objects. Hoarders are often perfectionists, they never pass up a chance to add to their "collection", many are seriously in debt because of their inability to stop shopping, and some can't stop "shopping" in a dumpster. And if they truly want to change, there's help for them all.

Hooked on hoarding shows? Yeah, me too, and I was equally mesmerized by this irresistible book.

Authors Randy O. Frost & Gail Steketee are extremely respectful of the hoarders they mention in their book, but they likewise manage to convey their own fascination and intrigue with their subjects. Along the way, they sprinkle info-tidbits like dust, including the fact that 90% of children collect, hoarding may be hereditary, and that researchers believe they can pinpoint where the tendency to hoard resides in the brain. I was chair-bound as I read this amazing book and I mourned when I finished it because I didn't want it to end.

If you're up for a riveting read, sweep into your bookstore or library and snatch a copy of "Stuff". Whether you're a messy or a neatnik or somewhere in between, this book leaves all others in the dirt.

Comment on "Book Review: Stuff - Compulsive Hoarding and the Meaning of Things" using the form below