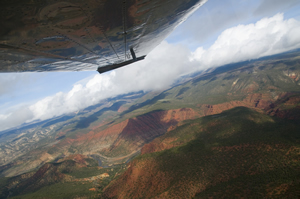 An aerial view of Eagle County and part of the proposed Hidden Gems wilderness plan.
EcoFlight photo courtesy of Dan Davis
trekkerphoto.com
Blog Tools
Comments
PermaLink
Hidden Gems brings out backwoods Tea Partiers, Birkenstock Boulderites, everyone in between
By David O. Williams
June 17, 2010 — So who spends more when they're out recreating in the woods, Carhartt-clad "sled-necks" or Lycra-encased cross-country skiers?

According to one study being used to back the controversial Hidden Gems wilderness proposal, skinny skiers (who are allowed to flit about in wilderness-protected woods) definitely drop more coin when indulging in their favorite pastime.

Snowmobilers and all-terrain vehicles enthusiasts (who are barred from wilderness areas) spend less – presumably after their initial cash outlay to Honda and Kawasaki. The study resulted from off-roaders claiming the wilderness plan would kill the outdoor recreation industry.

The Hidden Gems proposal would add 342,000 acres in Eagle, Pitkin, Summit and Gunnison counties to the state's current wilderness inventory. U.S. Rep. Jared Polis, whose 2nd Congressional District includes much of the proposed new wilderness, including the Vail Valley, has been listening to input at well-attended and contentious town-hall-style meetings and is crafting a wilderness bill.

The debate would seem to have all the classic elements ripe for a Tea Party lynch mob: conservative, anti-government, Second Amendment fans of motorized travel versus crunchy, bird-watching Boulderites bent on treading lightly on Colorado's last wild places.

But the real debate is falling more along the lines of how best to navigate the woods, Coloradans' inherent right to love their national forests to death and the need to develop and protect water storage from wildfire. These arguments have been going on on the state's Western Slope for decades – exacerbated by an influx of residential growth in mountain valleys.

Gypsum officials, for instance, recently voiced their concerns about the proposal because they fear wilderness protection will prohibit firefighters from getting deep into the woods to douse any future forest fire threatening the town's water supply.

That's a practical concern – one that makes sense to fully explore as Polis embarks on his "trail-by-trail" examination of the Hidden Gems proposal. Meanwhile, it makes for a much better sound bite to simply condemn the plan as a government "land grab," ala Senate candidate Jane Norton, even though it's already technically government land to begin with.

The issue is so charged that Polis's office issued the following statement about an apparently erroneous Associated Press story on the topic Wednesday. The story reportedly indicated Polis had already made up his mind:

"The AP story misleadingly implied that I made a decision regarding legislation on the Hidden Gems wilderness proposal. This is completely false. The article implied that I have made the decision to not move forward, when in fact I am actively working to see where consensus exists - these things take time.

"I am continuing to review the Hidden Gems Wilderness proposal, and will continue to work with all interested parties to go over the proposal, trail by trail. While nothing has been finalized or a timeline set, after meeting with over 1,000 area residents earlier this month, I am more optimistic than ever that a consensus can be reached.

"I am confident that after a thorough review and public input process, we will build a solid basis of public support for additional protections of our wild areas."

But whether that process happens this congressional session remains to be seen. Proponents are obviously holding out hope, but it sounds like such a careful going over means Hidden Gems will likely be pushed to next year.



Comment on "Hidden Gems brings out backwoods Tea Partiers, Birkenstock Boulderites, everyone in between" using the form below