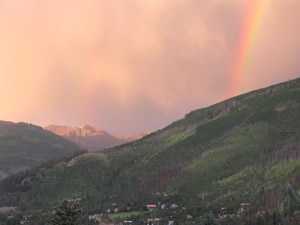 Many of the lodgepole pines in the sunset shot from West Vail are dead or dying. An innovative biomass power plant proposal to deal with the situation may be in trouble because of a lack of federal funding.
By David O. Williams
Blog Tools
Comments
Permalink
By David O. Williams
July 4, 2010 — In the end, it may not be NIMBYism or environmentalist objections to producing power by burning trees that dooms Vail's proposed biomass power plant. It may just be a simple lack of funding.

Reportedly on a short list of projects being eyed for Department of Energy funding, the Vail project - which would produce up to 28 megawatts of hot-water heat and eight megawatts of electricity by gasifying beetle-killed pine trees - came up short last week in its bid for a DOE grant to offset $46 million in startup costs.

The town of Vail Friday issued a release saying six projects using natural gas as a fuel source were awarded $21 million in grants under the DOE's "Combined Heat and Power Systems Technology Development and Demonstration" program, leaving the Vail project unfunded.

Some saw the Vail project as a way to start coping with the mountain pine bark beetle that has ravaged area forests, killing millions of acres of lodgepole pine trees and presenting significant wildfire risks for mountain dwellers, ski resorts and water storage facilities for Front Range cities.

Efforts to mitigate the wildfire risk by creating defensible space for firefighters around mountain communities have led to enormous amounts of slash and dead wood clogging local landfills. European countries such as Austria, where national forests are managed more intensively, have been utilizing woody biomass for power and heat for years.

But in Colorado there have been questions about access to the fuel source, how long it will last and whether the plant in East Vail would create a steady stream of trucks hauling trees to a wood chipping facility and back to the power plant. In other parts of the country, there has been a rising tide of protest over using trees to produce power and just how much carbon is produced by the process.

Proponents argue the emissions, which are lowered by the high-heat gasification process, more than offset either the amount of carbon that would be spewed into the atmosphere by a wildfire or even natural biodegrading of a forest ravaged by pine beetles.

Vail Town Manager Stan Zemler said in the release that the U.S. Forest Service is conducting a biomass supply study to determine if there is enough beetle-killed wood in the area to sustain a Vail-sized power plant over the long haul. Results of that study are expected in September.

Meanwhile, Andrew King of Hayden, Cary, & King, who submitted the grant request, said he will keep working with the Forest Service, town and Holy Cross Energy – the local electric co-op - to find different funding sources, including other federal grants and U.S. Department of Agriculture guaranteed loans.

In the original grant application, Zemler talked about offsetting the costs of mitigating wildfire risks by creating a market for regional waste wood and positioning Vail as an eco-tourism destination. Vail Resorts, which operates several local ski areas, including Vail and Beaver Creek, was mentioned as a potential buyer for the power that would be produced.

Last week, Vail Resorts, which has positioned itself as a ski industry leader in purchasing renewable energy offsets, restoring watersheds impacted by wildfire and promoting conservation and green building, announced a new website to market those achievements. The new site is called "Echo."




Submit a comment on "Vail's biomass power plant dealt serious federal funding blow"
---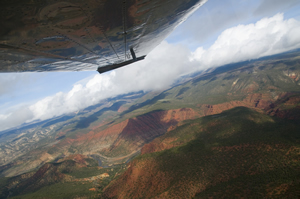 An aerial view of Eagle County and part of the proposed Hidden Gems wilderness plan.
EcoFlight photo courtesy of Dan Davis
trekkerphoto.com
Blog Tools
Comments
Permalink
By David O. Williams
June 17, 2010 — So who spends more when they're out recreating in the woods, Carhartt-clad "sled-necks" or Lycra-encased cross-country skiers?

According to one study being used to back the controversial Hidden Gems wilderness proposal, skinny skiers (who are allowed to flit about in wilderness-protected woods) definitely drop more coin when indulging in their favorite pastime.

Snowmobilers and all-terrain vehicles enthusiasts (who are barred from wilderness areas) spend less – presumably after their initial cash outlay to Honda and Kawasaki. The study resulted from off-roaders claiming the wilderness plan would kill the outdoor recreation industry.

The Hidden Gems proposal would add 342,000 acres in Eagle, Pitkin, Summit and Gunnison counties to the state's current wilderness inventory. U.S. Rep. Jared Polis, whose 2nd Congressional District includes much of the proposed new wilderness, including the Vail Valley, has been listening to input at well-attended and contentious town-hall-style meetings and is crafting a wilderness bill.

The debate would seem to have all the classic elements ripe for a Tea Party lynch mob: conservative, anti-government, Second Amendment fans of motorized travel versus crunchy, bird-watching Boulderites bent on treading lightly on Colorado's last wild places.

But the real debate is falling more along the lines of how best to navigate the woods, Coloradans' inherent right to love their national forests to death and the need to develop and protect water storage from wildfire. These arguments have been going on on the state's Western Slope for decades – exacerbated by an influx of residential growth in mountain valleys.

Gypsum officials, for instance, recently voiced their concerns about the proposal because they fear wilderness protection will prohibit firefighters from getting deep into the woods to douse any future forest fire threatening the town's water supply.

That's a practical concern – one that makes sense to fully explore as Polis embarks on his "trail-by-trail" examination of the Hidden Gems proposal. Meanwhile, it makes for a much better sound bite to simply condemn the plan as a government "land grab," ala Senate candidate Jane Norton, even though it's already technically government land to begin with.

The issue is so charged that Polis's office issued the following statement about an apparently erroneous Associated Press story on the topic Wednesday. The story reportedly indicated Polis had already made up his mind:

"The AP story misleadingly implied that I made a decision regarding legislation on the Hidden Gems wilderness proposal. This is completely false. The article implied that I have made the decision to not move forward, when in fact I am actively working to see where consensus exists - these things take time.

"I am continuing to review the Hidden Gems Wilderness proposal, and will continue to work with all interested parties to go over the proposal, trail by trail. While nothing has been finalized or a timeline set, after meeting with over 1,000 area residents earlier this month, I am more optimistic than ever that a consensus can be reached.

"I am confident that after a thorough review and public input process, we will build a solid basis of public support for additional protections of our wild areas."

But whether that process happens this congressional session remains to be seen. Proponents are obviously holding out hope, but it sounds like such a careful going over means Hidden Gems will likely be pushed to next year.



Submit a comment on "Hidden Gems brings out backwoods Tea Partiers, Birkenstock Boulderites, everyone in between"
---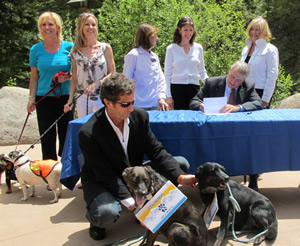 Gov. Bill Ritter signs House Bill 1214 Wednesday at Vail's Donovan Pavilion - a bill that creates a new fund to help offset costs for spaying and neutering animals and creates a new Adopt a Shelter license plate.
Blog Tools
Comments
Permalink
By David O. Williams
June 10, 2010 — Gov. Bill Ritter Wednesday was in Vail – sometimes derided as an I-70 truck stop with a ski area (mostly by snooty Aspenites) – to sign a so-called "Roadkill Bill" meant to improve safety and reduce wildlife carnage along Colorado roadways. The bill-signing ceremony was held at Donovan Pavilion right off the interstate that's surrounded by red and dead beetle-killed pine trees.

So Ritter also signed a bill sponsored by another mountain lawmaker that's meant to provide tax incentives to companies removing and disposing of lodgepole pine trees killed in a massive and ongoing mountain pine bark beetle epidemic.

State Rep. Christine Scanlan, D-Dillon, has become the bug queen, battling hard for state and federal dollars to mitigate the impact of the beetle epidemic, which has hit particularly hard in her Summit County home. Ritter's choice of locales was no coincidence.


Tuesday night, the U.S. Forest Service and town of Vail officials held an open house to tout a proposed biomass power plant that would use extremely high heat to gasify chipped-up beetle kill wood and produce 26 to 28 megawatts of heat and 6 to 8 megawatts of electricity.

The proposal made the final cut of three projects eligible for a U.S. Department of Energy grant and has wide-ranging support from Vail Resorts, the local electrical cooperative, Holy Cross Energy, and state and federal lawmakers. But there are still a lot of tough questions swirling in the community, such as the noise, traffic and air-quality impacts.

Biomass power plants in the Northwest have been met with community and environmental resistance to using trees and wood products to produce power. In Vail, though, many view the project as a logical way to consume trees that will either fall and burn in a wildfire, biodegrade or have to be removed and disposed of in landfills at great expense.

Also signed Wednesday was state Sen. Gail Schwartz's "Roadkill Bill," which she hopes will cut down on the number of dead deer, elk, bears and other critters killed along mountain roadways in her sprawling and scenic Senate District 5, which includes Aspen and its so-called "Killer 82" stretch of state highway.

Ritter couldn't have chosen a better spot. Wildlife officials call I-70 the "Berlin Wall" for animals looking to move from northern Colorado to the southern part of the state or vice versa. Several reintroduced Canada lynx have been struck and killed along I-70 near Vail Pass. The bill provides for significantly more wildlife crossing signage as well.

Also on Wednesday, Holy Cross Energy, which supports the biomass plant proposal and is making strides toward increasing its overall renewable energy portfolio, saw a partial remaking of its board of directors.

The board of directors of the rural electric cooperative with more than 40,000 members between Vail and Aspen, has officially "flipped" from old-school conventional-energy conservatives to a majority of progressive directors favoring a greater mix of renewable energy.

Green candidate David Munk defeated incumbent Robert Starodoj 2,115 votes to 1,292 in the co-ops's Southern District, and incumbent Michael Glass - a moderate, green-leaning Vail banker - turned back two challengers in the Northern District. Glass got 1,683 votes to 1,179 for environmental engineer Erik Lundquist and 589 for retired telecommunications CEO Bill Maxwell. Four of the seven co-op board members now could be considered progressive.

However, the board president is still Carbondale rancher Tom Turnbull, who gets some credit for nudging Holy Cross down the "New Energy Economy" road but also is criticized by environmentalists for the co-op's $100 million investment in the Comanche 3 coal-fired power plant and for some of his comments on climate change and his support of incumbents in the most recent board election.

In what some observers say was a blatant bid to dilute the "Aspen-ization" of the board, Holy Cross asked members if they favored a by-law change to make voting in-district only instead of across the entire service area. The very vocally environmental Aspen Skiing Company has backed several green candidates in recent elections.

Members voted 1,849 to 1,709 not to recommend a bylaw change.






Submit a comment on "Ritter signs biomass bill in Vail; Holy Cross Energy co-op flips to majority green board"
---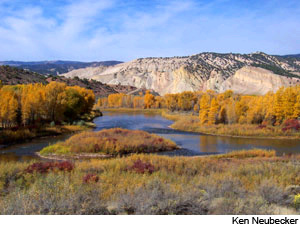 Blog Tools
Comments
Permalink
By David O. Williams
June 4, 2010 — Virtually everyone who lives in Eagle County knows the value of the Colorado River. Lacking any major lakes or reservoirs, it's basically our primary water feature – our beachfront if you will.

But the scenic Upper Colorado River between its headwaters in Rocky Mountain National Park and its confluence with the Roaring Fork River in Glenwood has landed the sixth spot on the America's Most Endangered Rivers list.

Threatened by two major diversion projects that would suck even more of its flow from the Western Slope to the middle-of-the-day, Kentucky-bluegrass, sidewalks-and-street-watering environs of the Front Range, the once-mighty Colorado is in big trouble, according to a report by American Rivers.

The national nonprofit group, in concert with other conservation groups such Colorado Trout Unlimited, is calling on the U.S. Army Corps of Engineers and the Bureau of Reclamation to require conservation and efficiency measures in the Final Environmental Impact Statements (FEIS) for both the Moffat Tunnel Collection System Project and the Windy Gap Firming Project.

"We can't continue to take and take water from the Upper Colorado without accounting for the serious impacts to fish and wildlife habitat," Colorado Trout Unlimited's Ken Neubecker said in a release. "This is a river on the brink. A vibrant, healthy river system in the Upper Colorado is every bit as important to the future of Colorado as the water it supplies to our farms and cities."

Recent media coverage has also focused on the growing demands on the Colorado for energy production, including hydroelectric in Glenwood Canyon and oil and gas development further downstream in Garfield and Mesa counties.

The Upper Colorado, though, is a recreational paradise, with world-class whitewater and gold-medal trout fishing. It runs through the heart of the state's most popular mountain resorts from Grand County to Glenwood Springs, with its tributaries supplying water to ski towns like Breckenridge and Vail. It's a perennial candidate for federal Wild and Scenic River designation.

Other groups have cropped up in recent weeks to help stem the tide of diversion projects pulling more and more water from the Colorado and reducing its overall quality and aquatic habitat value. Spearheaded by New Belgium Brewing and the Clean Water Fund, Save the Colorado is donating funds to environmental non-profits in the Colorado River basin promoting water conservation. Save the Colorado is accepting grant applications throughout June.

But a pair of articles on the future of two very different Colorado rivers last week in the Grand Junction Daily Sentinel and the Denver Post surfed right past the very real environmental concerns presented by ongoing energy development.

The Sentinel looked at how Xcel Energy's Shoshone 14-megawatt hydroelectric power plant on the Colorado River in Glenwood Canyon could become a bargaining chip in the seemingly endless tug of war between Front Range and Western Slope water users.

Denver Water and Xcel control the senior right pumping Colorado River water through Shoshone's turbines, but Western Slope stakeholders, in the form of the Colorado River Water Conservation District, would love to have more say in how the facility is managed. Denver Water wants more certainty in terms of future water supplies for residential growth.

The elephant in the room is all the conflicting uses along the high-profile Colorado River – the main source of water for much of the southwestern United States. Energy companies for decades have been buying up senior rights along the river, planning for increased development of natural gas and someday maybe oil shale.

But those are very thirsty endeavors that don't jibe well with increasing demands for residential growth along the Front Range and on the Western Slope, agricultural needs, or outdoor recreation demand in the form of fishing, boating and snowmaking for winter sports.

The ongoing water wars are putting more and more pressure on the Colorado and its headwater tributaries, with trickle-down water-quality and riparian habitat impacts all the way to the Gulf of California – the currently less-notorious gulf on the other side of Mexico.

The Denver Post last week explored the little-known Dolores River, where water diversion for agricultural and industrial purposes in the Cortez area has reduced flows on the 250-mile river by about 40 percent, or 100,000 acre-feet a year.

Flowing out of Colorado's scenic San Juan Mountains in the southwestern corner of the state, the Dolores joins the Colorado in eastern Utah northwest of Moab. That area for years has been a hotbed for the mining of uranium and other toxic metals, and given the promise of a new "nuclear renaissance" to reduce fossil-fuel consumption, uranium speculation in the Dolores basin is on the rise. Environmental groups are battling in court to slow those impacts to what the Post dubs the state's "forgotten river."


Submit a comment on "Upper Colorado River lands sixth spot on America's Most Endangered Rivers list"
---
Read More Blog Entries

Next
Last
Blog entry 1 through 4 of 327 total entries
Bloggers Profile and Information