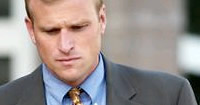 Blog Tools
Comments
Permalink
By David O. Williams
May 26, 2010 — Mark Hurlbert, who will forever be known in these parts as the "Kobe DA" for his unsuccessful prosecution of NBA superstar Kobe Bryant on sexual assault charges in Eagle County in 2003, had a really bad weekend.

The 5th Judicial District Republican DA was trounced 71 percent to 29 percent by the Tea Partier Tim Leonard in his bid to reach the primary ballot for state Senate District 16, meaning Hurlbert has until May 27 to collect 1,000 valid registered Republican signatures if he goes the petition route.

That's a process he apparently started Monday at the Frisco Safeway, according to the Ex-Pat Ex-Lawyer blog, which purports to have an email from Hurlbert soliciting support and rallying people to come out to the Safeway again on Tuesday.

Hurlbert is portrayed as a RINO (Republican In Name Only) on that blog and was painted an anti-gun, anti-Second-Amendment career politician at the SD 16 assembly in Loveland Friday. His resounding defeat at the hands of former American Constitution Party member Leonard prompted SD 8 state Sen. Al White to tell Hurlbert, "I'm sorry Mark," according to the Denver Post.

White, a moderate himself, and the state senator for our district, was clearly lamenting the fact that Hurlbert would have been electable in the independent-minded mountain communities of Summit County, where Hurlbert lives in Breckenridge. Now the Dems would appear to have a leg up holding onto the seat now occupied by Dan Gibbs, who's quitting to run for Summit County commissioner.

Former public health nurse and Gilpin County Commissioner Jeanne Nicholson, who lives in Gilpin County just outside of Golden Gate State Park, is the Democratic pick. Leonard, whose 11-year-old son is his campaign manager, lives in Jefferson County.

Lately, Hurlbert has been taking heat for his handling of bib-swapping case in last year's Leadville 100 mountain bike race. He issued felony charges to two Vail women, one of whom wound up pleading guilty to a misdemeanor Tuesday. He also was embroiled in some small-town controversy in Leadville swirling around a sheriff's deputy who Tasered high school students at their request.

Meanwhile, the teacher tenure bill crafted by Vail native Mike Johnston, a state senator down in Denver, may cost our state House Rep., Democrat Christine Scanlan of Dillon, a shot at Speaker of the House, according to the Denver Post.

The paper reports Democrats who voted for the controversial bill, which makes it easier to get rid of teachers who under-perform, could elicit some political payback from the teacher's union.



Submit a comment on "Mountain politicians feeling heat from Tea Party candidates, teacher-tenure bill"
---
A small but furious wildfire in West Vail last summer sparked serious concern among residents. The Vail Fire Department breaks ground on a new West Vail fire station on the old Wendy's site tonight at 5:30. Free barbecue will be served.
By Tom Boyd
Blog Tools
Comments
Permalink
By David O. Williams
May 24, 2010 — The seemingly endless series of weekend spring snowstorms finally gave way to something resembling warmer, drier, more seasonal weather this past weekend in the Vail Valley. But then came the hurricane-force winds.

I exaggerate only slightly. I've never seen a more sustained wind event in the Colorado Rockies than what rolled through beginning Friday and continues to nail as I write this Monday morning (in fact, it's actually freaking snowing again).

A camping trip with the boys in the Fruita area over the weekend turned into a monumental struggle for survival (again, I'm engaging in a little hyperbole for dramatic effect) that involved lashing down everything in camp, including small children, and enduring two days of sand and grit in every orifice.

The frightening thing is how fast the landscape dried out after so much moisture beginning in April. Fire season is upon us almost instantly, with a major blaze raging in San Miguel Canyon near Telluride.

Good timing then for some fire-related news. First, the West Vail fire station, which has been in discussions since I moved to town in 1991 but dates back even further (at one point a judge even weighed in that the town desperately needed one there) is finally breaking ground today.

The whole odyssey of the Wendy's condemnation finally comes to a close with the town at long last spending the money to build a fire station in my neighborhood. Needless to say, I'm psyched, especially with wind whipping through the valley and drying everything out virtually overnight. The station should be up and running by December or January.

And the best part is you can get a free meal out of the deal. Firefighters will be on hand at the old Wendy's site on North Frontage Road serving up barbecue beginning at 5:30 this evening. Stop on by and show some support.

In other statewide fire new, Gov. Bill Ritter Friday, after a briefing with the state forester, said Colorado is headed for an average wildfire season thanks to a wet spring and near-normal winter for snowfall. But the governor warned the northwest part of the state could be an exception.

Forecasts call for hot, dry weather in northwest Colorado in July and August, and that factor – coupled with ongoing mountain pine bark beetle epidemic – could make that part of the state a hotspot after a relatively quiet 2009 fire season statewide.

Ritter pointed to a $40 million injection of U.S. Forest Service funds to thin dead and dying forests in Colorado and throughout the beetle-ravaged Rocky Mountain region, but he added the state needs to do more to offset mitigation costs.

"We need to aggressively seek out economic opportunities that will reduce the cost of this work, such as converting some of our beetle-killed trees into biofuels and then into electricity," Ritter said in release.

Vail officials are working to secure U.S. Department of Energy funding for a 28-megawatt biomass power plant that would generate heat and electricity by gasifying chipped-up, beetle-killed lodgepole pine trees.

Colorado State Forest Service Director Jeff Jahnke said people living in fire-prone areas like the foothills and the state's Western Slope have an obligation to reduce fire risk around their homes by clearing brush and cutting down dead trees on their property.

Some scientists have questioned Ritter's Colorado Roadless Rule as it relates to logging to reduce forest fire danger, saying the beetle epidemic doesn't necessarily increase overall fire danger.

But there's been a growing push to reduce fuel loads in close proximity to mountain towns and ski resorts in the worst-hit areas like Summit, Eagle, Routt and Grand counties.


Submit a comment on "West Vail fire station breaking ground as wildfire season blows in with powerful wind event"
---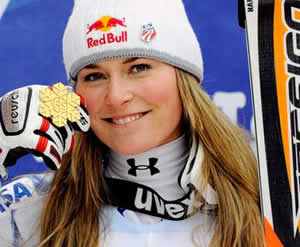 Blog Tools
Comments
Permalink
By David O. Williams
May 20, 2010 — Lindsey Vonn was 5 years old when NBC's iconic crime drama "Law & Order" debuted in September of 1990. Now she's trying to save the show from cancellation with a Facebook page while appearing on the final broadcast network episode on this coming Monday.

Some may be sick of the Ski and Snowboard Club Vail product's overexposure in the wake of her gold- and bronze-medal-winning performances at the 2010 Winter Olympics in Vancouver, but no one can deny she is absolutely making the most of her 15 minutes of fame and fortune.

A World Cup ski racer in the U.S. has to do that since Americans tune the sport out for four years and only pay attention during the Olympics. Vonn has made herself into a multi-media star - one who happens to be a spokeswoman for Vail Resorts – so every red-carpet appearance is an impression for our local ski company. Gotta love her from that standpoint.

And given the quality of her performance on "Law & Order" – check out Access Hollywood (below) for a sneak preview – you've gotta love her as a budding thespian. Seriously, she questioned her own performance in a U.S. Ski Team press release, but I thought she was a real pro playing an administrative assistant at a teacher's union.

"I was supposed to be a serious character that is ratting out her boss, and I just couldn't stop smiling. I think the producer was scratching his head a little bit," Vonn said. "All the other actors were able to joke around between takes and then as soon as they called 'Action' they were serious. I was still just smiling. I don't know if I did a great job."

Don't worry, Lindsey, you were spot-on. Much better than your somewhat embarrassing appearance on "The Colbert Report" during the Olympics, a giggle-fest that was understandable given the dead-pan comic's "probing" yet ridiculous questions.

In fact, someone needs to start a Facebook page to advocate for Vonn replacing Sharon Stone on "Law & Order: Special Victims Unit." Stone is bloody awful on SUV, which unfortunately is surviving at NBC while the flagship show gets the axe. Stone is wooden as an actress and plays her DA role as a shrill, shouting hard-ass who has that show rapidly jumping the proverbial shark.

Vonn also did decently throwing out the first pitch and singing "Take Me Out to the Ballgame" at a recent Colorado Rockies, Chicago Cubs game at Wrigley Field. She could have given the Rocks a little more love during her in-game booth time with Fox Sports Rocky Mountain – and her winning ways didn't rub off on the Colorado squad – but still, for a ski racer she continues to shine off-piste this off-season.

And her passion for "Law & Order" earns her even more points in my book. The show and its minimalist, clanking theme-music intro have been the background noise for the majority of my adult life: marriage, three kids and a healthy obsession with televised mayhem and murder.

My wife Kristin – a closet forensic pathologist wannabe – turned me onto the show in about its third season, when it was at its absolute height with Chris Noth as detective Mike Logan, the late Jerry Orbach as Lennie Briscoe, Sam Waterston as ADA Jack McCoy and Jill Hennessy as his sidekick Claire Kincaid.

The show goes out tied with "Gunsmoke" as the longest running TV drama, and I hope it does land somewhere on cable. It deserves a better fate.

As for Vonn, her whirlwind tour of Hollywood and New York appears to be winding down and it's back to the training grind of six to eight hours in the gym six days a week for the three-time defending overall World Cup champion.

A few malcontents in Vail actually protested the renaming of Vail Mountain's "International" ski run "Lindsey's" in honor of arguably the greatest American ski racer of all time. I personally think some of that was a reaction to just how many media opportunities Vonn has seized on post-Olympic.

I think she's been brilliant in taking virtually any chance she gets to make more money, get more exposure for the sport (and Vail) and secure her future beyond racing – which can end in a flash at 80 mph on an icy downhill course.

I talked a little bit with former racing great Phil Mahre about how the Olympics have changed since his medal-winning performances in 1980 and 1984. He decried the cult of personality and the NBC hype machine that focuses too much on individual athletes and fringe, judged X-Games-style sports instead of the traditional events.

"I remember a day when the Olympics were about the Games and the events and the performances," Mahre said. "Now it seems it's all hype and about individual athletes. New events, mostly Gen X and judged – subjective at best - have taken some luster away from the Olympics. It starts to get watered down - marketing maybe?

"[Lindsey's] medals will be meaningful to her and those interested in skiing, but beyond that, one can only guess. The problem we have today is everyone has to have an image. Some made-up, hyped-up persona that sells oneself to the media and public. Boring! Like being yourself isn't good enough."

Mahre made his comments before the Games, and he wasn't suggesting Vonn is a phony, but he makes an interesting point about the ridiculous overemphasis on individual stories even as the races themselves were edited down to half-hour, pre-recorded clips. Through no fault of her own, Vonn was the overhyped face of the "Vonn-couver" Olympics, but she's the rare athlete who didn't wilt under the pressure.

Now she's taking advantage of the opportunities to appear everywhere from Letterman to "Law & Order," and I for one think it's awesome. Anybody seen Bode these days?




Submit a comment on "Vail's Vonn shines on 'Law & Order,' continues to cash in on post-Olympic hype"
---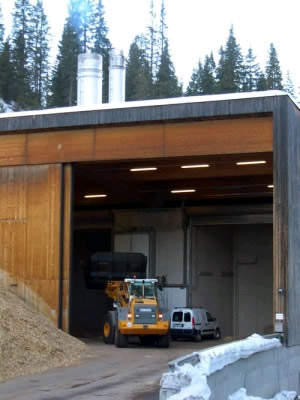 A biomass power plant like this one in Lech, Austria, sister resort of Beaver Creek, is being proposed in Vail. Holy Cross Energy, which currently backs the proposal, is in the midst of a key board election.
Courtesy of Brian Sipes
Blog Tools
Comments
Permalink
By David O. Williams
May 18, 2010 — A very important piece of mail showed up in my box on Monday - my Holy Cross Energy board election ballot. You probably already tossed yours in the trash.

Do yourself a favor if you're a Holy Cross member (customer) living in the rural electric co-op's service territory that stretches from East Vail to Aspen: go out to the garage, sift through the egg shells and coffee grounds in your trash can and find that ballot.

You may think you're already pretty damn civic-minded. You voted in the last town council election – later asking yourself, what's the point since they never seem to get anything done? – and you may have even taken the time to vote in recent water district or recreation district elections.

But nothing is more critical in this day and age than determining how we generate and distribute electricity, and rural electric associations (REAs) like Holy Cross have a huge say in that debate.

Electric co-ops started in the 1930s to push the power grid out to rural areas that otherwise couldn't afford the transmission lines. They are member-owned and controlled and largely unregulated by the state. But for decades co-ops operated as the personal fiefdoms of a good-old-boy's network of farmers, ranchers and miners whose sole purpose was to keep rates as low as humanly possible.

We now know there are environmental and economic consequences associated with overreliance on one type of energy source, particularly sources that foul our air and water, adversely impact wildlife habitat and otherwise encroach on our outdoor recreation lifestyle here in the Rocky Mountains.

Holy Cross has seen a steady transformation in recent years, with more progressive board members replacing longtime incumbents, but not before the co-op rather quietly invested $100 million of ratepayer funds in Xcel's new Comanche 3 coal-fired power plant in Pueblo. On the surface that may have seemed like a safe bet.

Coal is cheap, coal is plentiful, but coal is also the dirtiest way to generate power. Colorado, despite Gov. Bill Ritter's "New Energy Economy," gets about 70 percent of its electric power from coal-fired plants. That could have severe economic consequences if cap-and-trade or a carbon cap is passed in pending federal climate change legislation

Tiered electrical rates, percentages of the co-op's load generated by renewable sources, smart-grid technology – these all critical issues shaping the current election. The two newly elected board members – to be determined by that mail-in ballot or in person at the co-op's June 5 annual meeting in Glenwood Springs – will help make those key decisions.

For instance, the latest version of a Vail biomass power plant, which would convert chipped-up, beetle-killed pine trees into electricity and heat, reportedly made the final cut for a $26 million U.S. Department of Energy grant.

First reported by RealVail.com in 2009, Vail's currently proposed biomass plant would use high-heat wood gasification to power boilers that would then pump hot water to lodges, hotels, snow-melt systems beneath streets and sidewalks and public buildings throughout the town of Vail. It would also generate some amount of electricity for the overall grid.

Widely used in some European countries such as Austria and Denmark, the wood gasification concept in Vail has the backing of Sen. Mark Udall, the Denver Water Board, Vail Resorts and Holy Cross Energy.

According to a recent story in the Vail Daily, the grant request made the final cut of three potential projects out of a total of 80 applications. The $26 million DOE grant would fund a 28-megawatt biomass power plant likely located on town-owned land in East Vail.

The project is seen as a green way to deal with the ongoing mountain pine bark beetle epidemic, which is expected to kill more than 90 percent of the mature lodgepole pine trees in the Vail Valley. Denver Water is concerned that massive forest fires resulting from the epidemic will adversely impact reservoirs and other infrastructure around the state.

But not everyone is convinced a biomass plant is the best way to deal with the epidemic. Even some environmentalists are worried about the impacts of harvesting dead and dying trees from the national forests. And there are concerns about road building, access to fuel supplies in steep and daunting terrain and truck traffic to and from the plant from an off-site wood-chipping facility.

Candidates in the Holy Cross Energy board election all say they have serious questions about the Vail biomass power plant.

The rural electric coop would most likely serve as a guaranteed customer for the power generated from the facility, but could also be asked to contribute funding for either the initial capital costs or running and maintaining the facility.

The current Holy Cross election pits progressive green engineer Erik Lundquist and more conservative former telecommunications and automotive executive Bill Maxwell against incumbent banker Michael Glass in the Northern District, which includes most of the Vail Valley. Glass, likely the more moderate of the three candidates, is the president at Alpine Bank in Vail and currently serves as the Holy Cross treasurer.

I've talked to all three and will do a story in the coming days detailing where each of them stands on the biomass plant and other key issues facing the co-op in the coming years.

In another race for the Southern District, progressive David Munk is taking on incumbent Robert Starodoj. Munk has the backing of the Aspen Skiing Company, which has lobbied hard for climate change legislation and alternative energy and conservation measure at both the state and federal level.

And the co-op is also seeking voter member input on whether the bylaws should be changed so that members only vote for board candidates in their own geographic district rather than at-large in the entire service area, even though board members make decisions that have impacts for the whole co-op.

Giving yourself less voting power and say in how the co-op is run doesn't make much sense to me. Tossing your ballot in the trash (only 6 percent of co-op member bother to vote) makes even less sense.

Go to the Holy Cross website and click on the Annual Meeting and Report Edition of the newsletter (pdf) for more information on the board election. And check back with RealVail.com for interviews with the candidates.



Submit a comment on "Colorado's energy future in hands of electric co-ops like Holy Cross, which faces key board election"
---
Read More Blog Entries
Previous
Next
Last
Blog entry 5 through 8 of 327 total entries
Bloggers Profile and Information