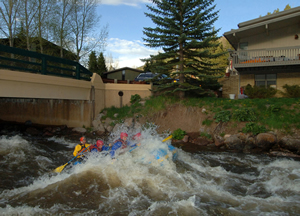 A dispute over rafting access on the Taylor River was hotly contested in the Colorado Legislature this session. A ballot measure may be in the offing, with wide-ranging implications for boaters here in the Vail Valley (Gore Creek run pictured here).
Blog Tools
Comments
Permalink
By David O. Williams
May 15, 2010 — The company that prompted one of the more hotly contested bills of the recently completed legislative session – House Bill 1188 dealing with commercial river rafting – announced Friday it would allow two outfitters to float the Taylor River through its property this summer.

Officials for Jackson-Shaw, owner of the Wilder on the Taylor fishing reserve, said they will continue mediation efforts with Three Rivers Outfitting and Scenic River Tours while allowing the two companies to continue navigating the river through the private property.

Independent state Rep. Kathleen Curry, a former Democrat from Gunnison, introduced the rafting-rights bill this session after Jackson-Shaw shut down boating through the property last summer. HB 1188, which would have allowed commercial boaters to land on private property in emergency situations, died earlier this week in the waning days of the session.

Rafters say a 1979 Colorado Supreme Court ruling gives them the right to float rivers crossing private land, but some landowners have interpreted it to mean their property rights extend out into the river. Curry's bill sought to clarify the confusion and end the legal wrangling.

Jackson-Shaw won't allow rafters to fish the Taylor through the preserve, but they can portage a bridge (go around on land) as long they are "respectful" of the property, and the boaters must also limit the number of trips and stick to certain times and dates.

"We believe that these rules are reasonable and will allow the rafting companies to meet demand, operate profitable businesses, and conduct far more commercial trips through the property this summer than last summer," Jackson-Shaw Chairman and CEO Lewis Shaw said in a release.

Curry told RealVail.com before she introduced the bill in January that she expected some serious resistance.

"The private landowners on those commercial stretches are still going to have serious reservations because [the bill] might not be what they want, but on the other hand it's not right to be able to shut down a business that has been in operation for over 20 years with the necessary permits from the Forest Service for access," Curry said. "That's the conundrum we have."

But she also felt there was something in the bill for landowners in that it would have clarified they would not be liable if a boater or angler was injured on their property.

"The bill defines incidental contact and portaging and limits [those activities] to just when necessary for safety reasons," Curry said. "[The definition] doesn't include stops to eat or go to the bathroom or anything like that– that would still be trespassing– but what would not be trespassing is if there's a low bridge and it's too dangerous to go under it and you have to portage [carry a raft on shore] around it."

The Colorado River Outfitters Association (CROA) backed the bill as well. Rafting and kayaking is big business in Colorado, with more than 50 licensed outfitters pulling in $142 million in revenues statewide in 2008, according to CROA.

Gov. Bill Ritter Thursday said he will work with landowner groups and the commercial rafting industry to resolve differences and avoid a looming ballot measure on the contentious issue.

"I think that there is still a need for the outfitting community, the rafting community and the landowners to find a way to sit down at a table and agree on how manage this resource," Ritter said at a press conference in Denver. "And I am going to convene the parties in the very near future and start having a discussion.

"My hope quite frankly at the end of the day is that this does not go to the ballot. Our rivers are a great national resources for the state. The landowners have a stake in the conversation, a significant stake in the situation. We think that there is a path forward and we are going to work on that this summer."


Submit a comment on "Unresolved by lawmakers, rafting rights issue could be headed to statewide ballot"
---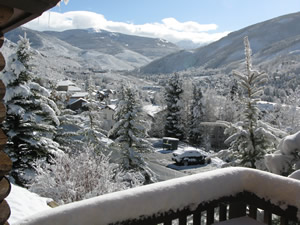 The West Vail Deck Cam revealed this snowy scene looking east toward Vail proper on Wednesday morning. Sources close to where actual snow falls divulged that nearly 170 inches of snow have fallen since April 1.
Blog Tools
Comments
Permalink
By David O. Williams
May 12, 2010 — I heard an unofficial report over the weekend that Vail Mountain received 117 inches of snow (nearly 10 feet) in April and has already had more than 50 inches so far in May, including the 7 or 8 that dropped overnight Tuesday into Wednesday.

I will not complain about the weather. I choose to live at 8,000 feet in the central Rockies, and there are some huge benefits that accrue from that lifestyle choice. Slogging around in the mud during an endlessly snowy spring – nearly a full month after the chairlifts shut down – is not one of them.

The upside? Rafting companies and river outfitters in general are ecstatic that the high mountains are actually still loading up with snow instead of melting rapidly under the intense Colorado sun in an overly rapid runoff that ends the boating season before it really even begins. That won't be the case this year, unless something really ridiculous happens.

There's also the fact that we're not talking about fire danger yet, or worried about water supplies in river drainages that were all well below average at the end of March. The 170 inches or so of snow Vail has seen since April 1 is nearly half of the seasonal average. It's just too bad it didn't all drop in January, February and March when we could have blown off our jobs and powder skied 30 or 40 straight days.

Speaking of skiing (you can still actually do it inbounds at A-Basin, which reported a scant 2 new this morning), kudos to local Marker Völkl rep extraordinaire Todd Rash, who reportedly flew to Austria to help land the most decorated American female ski racer of all time, Julia Mancuso.

While Mancuso (one Olympic gold in 2006, two silvers and a bronze in 2010) is a California girl, she has a connection to the Vail Valley that goes beyond Rash. Dr. Marc Philippon, of Vail's world-renowned Steadman Clinic, got Mancuso back on skis with hip surgery a couple of years back.

Just 26, Mancuso looks poised to extend her Olympic and World Championship (three career medals) success to the regular World Cup circuit this season, especially if she's riding Völkls. I'm not just saying this to get a good deal this coming season, but Völkl really doesn't make a bad ski.

As for the three-time World Cup champion with the much more concrete Vail connection, Lindsey Vonn, she has been on what can only be described as the red-carpet tour, dropping the Vail name in some very high places indeed. But I'll let U.S. Ski Team spokesman Tom Kelly describe Vonn's travels in the release he sent out Sunday:

NEW YORK (May 9) – Olympic gold medalist and World Champion alpine skier Lindsey Vonn (Vail, CO) kept her red carpet streak alive last week at the 2010 Met Costume Institute Gala Exhibition in New York, one of the Big Apple's most exclusive events.

Post Vancouver, she's presented at the Academy of Country Music Awards and snapped photos with Morgan Freeman, Betty White and Katie Couric at the White House Correspondents' Association Dinner at the Nation's Capitol as a guest of NBC. And most recently, the U.S. Ski Team athlete shook hands with Oprah Winfrey, Patrick Robinson of the Gap, and Anna Wintour, Editor-in-Chief of Vogue, who hosted of the Gala and Exhibition last Monday in New York City.

Vonn, along with husband Thomas, attended the event as a guest of fashion designer Tory Birch, whom she met last fall. Her table at the Met included Burch, music mogul Russell Simmons and New York Giants quarterback Eli Manning and his wife Abby. Pop superstar Lady Gaga was the headline performer.

"These opportunities are absolutely incredible and certainly wouldn't have been possible for me without skiing," said Vonn, who wore a gown personally designed for her by Burch. "I'm a big fan of Tory's style, especially her shoes and handbags, and was lucky enough to meet her last fall. Then after the Olympics, she invited me to the Met Gala. It's been such a surreal spring for me and I'm enjoying every second of it."

Her Facebook fan page has rapidly become a gallery of Vonn rubbing shoulders with celebrities from film, music, politics and fashion.

"I feel like I've met every famous person that I've ever seen on TV or in a magazine in the last few weeks," she said. "Sarah Jessica Parker was standing right next to me on the Met red carpet, then I turned around and there was J-Lo and Hugh Jackman. It's been pretty cool."

Founded in 1937, the Met Costume Institute boasts a collection of over 80,000 costumes and accessories, however due to the fragile nature of the items, the museum doesn't have a permanent installation and instead opts for two annual themed shows – the biggest being the annual fundraising gala.

"I'm truly honored that Tory asked me to attend the event and even more excited that she made a gown for me," said Vonn. "She showed me some sketches a while back and then we did a final fitting the day before the event. My wardrobe is definitely expanding lately."

Vonn said she has a few more weeks of "rest" before jumping back into her normal workout routine in preparation to defend her three consecutive Audi FIS Alpine World Cup overall titles and two World Championship gold medals during the upcoming 2011 season.

"I've still been hitting the gym a few times a week, but I haven't started really getting into it yet. This time of year is perfect for letting my body get a break, but I'll be ready to start training full-time shortly," she said.

But first, it was off to Los Angeles for the 17th Annual Race to Erase MS charity event on May 6 featuring live performances by Avril Lavigne and Heart, plus a celebrity fashion show by Tommy Hilfiger. The featured presenters: none other than actress Kristen Bell and Lindsey Vonn.


Submit a comment on "Snow just keeps falling; Völkl rep Rash helps land Mancuso; Lindsey still rocking the red carpet"
---

David O. Williams, left, and Colorado Oil and Gas Conservation Commission executive director Dave Neslin on the PBS show "Colorado State of Mind."
Courtesy of Rocky Mountain PBS
rmpbs.org
Blog Tools
Comments
Permalink
By David O. Williams
May 9, 2010 — Thursday I drove down to Denver in yet another spring snowstorm to tape the Denver PBS roundtable-style show "Colorado State of Mind." The topic was "The Future of Oil and Gas in Colorado."

Covering energy and environmental issues for the Colorado Independent is my day job. Covering skiing and the Vail Valley for RealVail.com so far has mostly been a labor of love.

When I came back Thursday afternoon it was still pounding snow at the Eisenhower Tunnel, and I woke up Friday morning to another three inches of fresh snow in West Vail, nearly three full weeks after Vail Mountain shut down for the season.

It's hard to think about global climate change when you're in the midst of the kind of Rocky Mountain spring the Vail Valley has been enduring. But back in the early 90s I remember it snowing on the Fourth of July, so maybe things are getting warmer. Just not here; just not now.

Regardless, it was an interesting afternoon in Denver, where the topic was the state rules regulating natural gas drilling in Colorado's high county. Natural gas burns 50-percent cleaner than coal and is being touted as the ideal bridge fuel to the "New Energy Economy."

However, in northwest Colorado drilling for gas is an industrial activity in an area a lot of people value for hunting, fishing, recreating and just plain living. There have been impacts to water and air quality, wildlife habitat and the quality of life of quite a few human residents of the Western Slope.

It was my second appearance on the show hosted by veteran Colorado broadcast journalist Cynthia Hessin, and I was joined by panelists David Neslin, executive director of the Colorado Oil and Gas Conservation Commission (COGCC); Jim Spehar, former Grand Junction mayor and current columnist for the Grand Junction Free Press and High Country News; and Michael Brown, former FEMA director and current KOA-AM (Denver) radio host.

Yes, that Michael Brown.

Topics of discussion ranged from the COGCC's one-year-old set of environmentally tougher oil-and-gas drilling regulations – including the political ramifications - to the ongoing cleanup in the Gulf of Mexico in the wake of the Deepwater Horizon oil spill.

Brown made headlines Monday when he accused President Barrack Obama of playing politics with the spill by responding slowly in order to turn public opinion against offshore drilling. There has been a major push by environmentalists and some Democratic lawmakers to ban offshore drilling in the wake of the spill.

Or at least make Obama backtrack on last month's proposal to open up more than 200 million acres of coastal waters off the Atlantic coast and in the Gulf of Mexico to offshore drilling. Tea Partiers are trying to gain traction by calling the Gulf spill "Obama's Katrina."

Besides the fact the administration appears to have responded quickly and appropriately, the comparison is bogus for a lot of other reasons – not the least of which is the obvious fact that humans dying in the wake of a natural disaster don't equate to seabirds and turtles dying in the wake of a man-made calamity.

Government dithering and failing to regulate extractive industries (or rescue hurricane victims), however, is a valid criticism. And time will tell how well the feds mitigate this disaster and move to make sure the next spill isn't nearly as severe.


Submit a comment on "PBS appearance highlights regulatory issues facing increased domestic energy production"
---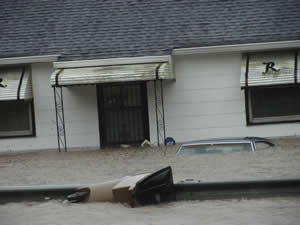 Think it was wet in the Vail Valley over the weekend with around two feet of new snow between Thursday and Sunday? Try nearly 14 inches of rain in two days. This pic was snapped by my brother Dan in his neighborhood in Nashville. Storms claimed at least 18 lives across the state.
By Dan Williams
Blog Tools
Comments
Permalink
By David O. Williams
May 4, 2010 — And then there was one.

Loveland and Echo Mountain closed last weekend, an incredibly snowy few days documented in my last post, leaving Arapahoe Basin as the only ski area in the state still open.

Ironic that as Vail Resorts touts the inclusion of Las Leńas ski resort in Argentina (see The O. Report before last) on its already six-mountain Epic Pass – using a website called www.epicisendless.com and the promise of endless winter – that's actually what we seem to be enduring here in the Vail Valley.

Except the lifts aren't running. You either have to drive over Vail Pass to A-Basin or jump on a plane to Argentina to make turns. Or go the backcountry route and risk a misadventure like the one some skiers at Copper Mountain suffered through over the weekend.

One skier was partially buried and injured in an avalanche and a friend called 911 for a rescue. Good thing there was cell service or those guys would have been screwed: Can you hear me now?

Anyway, I'll get over to A-Basin for a couple of more "Beach" days before all is said and done, but for now I'm content to hang out in the deserted Vail Valley and bitch about the weather.

But if you think it was bad here over the weekend – cancelling town cleanup days and kids' soccer games – at least you weren't in Nashville. My brother Dan lives there and watched his neighbors' homes and cars disappear under nearly 14 inches of rain over the weekend (see his photo accompanying this blog).

You can blame that on Biblical vengeance or aliens, but to me it looks like Mother Nature punching back for the endless abuse we heap on her, ie, Gulf Coast oil spills to rival the Exxon Valdez disaster in Alaska. But that's a topic for another O. Report.

Let me end this one by urging anyone still interested in at least watching skiing – even if they can't participate until the White Ribbon of Death greets us next November – to tune into Fox SportsNets's next episode of Athlete 360, featuring Vail's 2006 Olympic bronze medal mogul skier, Toby Dawson.

According to Toby's Facebook page, the episode airs again at 4:30 p.m., MST, on Saturday, May 8. Ski Racing Magazine reports the show's host, Dr. Mark Adickes, breaks down Dawson's numerous injuries leading up to his medal-winning run in Italy and discusses what the seven-time World Cup winner had to overcome mentally and physically to realize his dreams.

Should be good.


1 Comment on "Can't stand the weather? At least we don't live in Nashville"

Submit and read more comments on "Can't stand the weather? At least we don't live in Nashville" now!
---
Read More Blog Entries
Previous
Next
Last
Blog entry 9 through 12 of 327 total entries
Bloggers Profile and Information