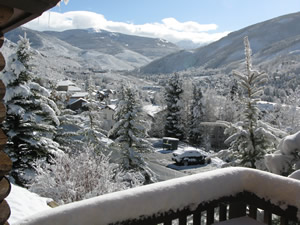 The West Vail Deck Cam revealed this snowy scene looking east toward Vail proper on Wednesday morning. Sources close to where actual snow falls divulged that nearly 170 inches of snow have fallen since April 1.
Blog Tools
Comments
PermaLink
Snow just keeps falling; Völkl rep Rash helps land Mancuso; Lindsey still rocking the red carpet
By David O. Williams
May 12, 2010 — I heard an unofficial report over the weekend that Vail Mountain received 117 inches of snow (nearly 10 feet) in April and has already had more than 50 inches so far in May, including the 7 or 8 that dropped overnight Tuesday into Wednesday.

I will not complain about the weather. I choose to live at 8,000 feet in the central Rockies, and there are some huge benefits that accrue from that lifestyle choice. Slogging around in the mud during an endlessly snowy spring – nearly a full month after the chairlifts shut down – is not one of them.

The upside? Rafting companies and river outfitters in general are ecstatic that the high mountains are actually still loading up with snow instead of melting rapidly under the intense Colorado sun in an overly rapid runoff that ends the boating season before it really even begins. That won't be the case this year, unless something really ridiculous happens.

There's also the fact that we're not talking about fire danger yet, or worried about water supplies in river drainages that were all well below average at the end of March. The 170 inches or so of snow Vail has seen since April 1 is nearly half of the seasonal average. It's just too bad it didn't all drop in January, February and March when we could have blown off our jobs and powder skied 30 or 40 straight days.

Speaking of skiing (you can still actually do it inbounds at A-Basin, which reported a scant 2 new this morning), kudos to local Marker Völkl rep extraordinaire Todd Rash, who reportedly flew to Austria to help land the most decorated American female ski racer of all time, Julia Mancuso.

While Mancuso (one Olympic gold in 2006, two silvers and a bronze in 2010) is a California girl, she has a connection to the Vail Valley that goes beyond Rash. Dr. Marc Philippon, of Vail's world-renowned Steadman Clinic, got Mancuso back on skis with hip surgery a couple of years back.

Just 26, Mancuso looks poised to extend her Olympic and World Championship (three career medals) success to the regular World Cup circuit this season, especially if she's riding Völkls. I'm not just saying this to get a good deal this coming season, but Völkl really doesn't make a bad ski.

As for the three-time World Cup champion with the much more concrete Vail connection, Lindsey Vonn, she has been on what can only be described as the red-carpet tour, dropping the Vail name in some very high places indeed. But I'll let U.S. Ski Team spokesman Tom Kelly describe Vonn's travels in the release he sent out Sunday:

NEW YORK (May 9) – Olympic gold medalist and World Champion alpine skier Lindsey Vonn (Vail, CO) kept her red carpet streak alive last week at the 2010 Met Costume Institute Gala Exhibition in New York, one of the Big Apple's most exclusive events.

Post Vancouver, she's presented at the Academy of Country Music Awards and snapped photos with Morgan Freeman, Betty White and Katie Couric at the White House Correspondents' Association Dinner at the Nation's Capitol as a guest of NBC. And most recently, the U.S. Ski Team athlete shook hands with Oprah Winfrey, Patrick Robinson of the Gap, and Anna Wintour, Editor-in-Chief of Vogue, who hosted of the Gala and Exhibition last Monday in New York City.

Vonn, along with husband Thomas, attended the event as a guest of fashion designer Tory Birch, whom she met last fall. Her table at the Met included Burch, music mogul Russell Simmons and New York Giants quarterback Eli Manning and his wife Abby. Pop superstar Lady Gaga was the headline performer.

"These opportunities are absolutely incredible and certainly wouldn't have been possible for me without skiing," said Vonn, who wore a gown personally designed for her by Burch. "I'm a big fan of Tory's style, especially her shoes and handbags, and was lucky enough to meet her last fall. Then after the Olympics, she invited me to the Met Gala. It's been such a surreal spring for me and I'm enjoying every second of it."

Her Facebook fan page has rapidly become a gallery of Vonn rubbing shoulders with celebrities from film, music, politics and fashion.

"I feel like I've met every famous person that I've ever seen on TV or in a magazine in the last few weeks," she said. "Sarah Jessica Parker was standing right next to me on the Met red carpet, then I turned around and there was J-Lo and Hugh Jackman. It's been pretty cool."

Founded in 1937, the Met Costume Institute boasts a collection of over 80,000 costumes and accessories, however due to the fragile nature of the items, the museum doesn't have a permanent installation and instead opts for two annual themed shows – the biggest being the annual fundraising gala.

"I'm truly honored that Tory asked me to attend the event and even more excited that she made a gown for me," said Vonn. "She showed me some sketches a while back and then we did a final fitting the day before the event. My wardrobe is definitely expanding lately."

Vonn said she has a few more weeks of "rest" before jumping back into her normal workout routine in preparation to defend her three consecutive Audi FIS Alpine World Cup overall titles and two World Championship gold medals during the upcoming 2011 season.

"I've still been hitting the gym a few times a week, but I haven't started really getting into it yet. This time of year is perfect for letting my body get a break, but I'll be ready to start training full-time shortly," she said.

But first, it was off to Los Angeles for the 17th Annual Race to Erase MS charity event on May 6 featuring live performances by Avril Lavigne and Heart, plus a celebrity fashion show by Tommy Hilfiger. The featured presenters: none other than actress Kristen Bell and Lindsey Vonn.


Comment on "Snow just keeps falling; Völkl rep Rash helps land Mancuso; Lindsey still rocking the red carpet" using the form below