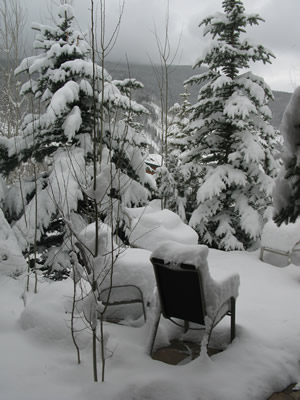 Good thing I got the patio furniture out. It's May Day Eve and this is what West Vail looks like after the latest winter storm hammered the valley.
By David O. Williams
Blog Tools
Comments
Permalink
By David O. Williams
April 30, 2010 — All right, this is ridiculous.

It's been snowing pretty steadily for two days in Vail, with easily another two feet falling on top of two feet last Friday and Saturday. We're talking, unofficially, about more than four feet of new snow in the last week.

A month or two earlier and we'd be in the midst of the most epic powder cycle on Vail Mountain in years. Instead, with the lifts shutting down April 18, we're just up to our eyeballs in wet spring snow.

I will seriously poleaxe the next person who comments on how we needed the moisture.

And the ultimate cruel irony is that the few ski areas still open for business in Colorado's high country - Arapahoe Basin, Echo Mountain and Loveland - are posting modest snow totals compared to what we're seeing here in Vail.

I've long argued that the ski industry is way too focused on driving early season skier traffic in order to create a buzz and sell vacation packages and season passes.

Instead of draining creeks for snowmaking at their lowest and most vulnerable time of the year - October and November - in order to cover a white ribbon of death that's hardly worth skiing, ski resorts should wait till legitimate natural coverage occurs (usually by mid-December at the latest).

Thanksgiving is a blip on the revenue chart anyway. Forget about the early openings and market the hell out of the late season.

Skiers are more savvy these days, waiting for big dumps and traveling on a moment's notice anyway. They may be playing golf on the Front Range these days, but they'd be up here powder skiing in droves if the lifts were actually running, even on a limited scale.

The lack of flexibility to at least open up for occasional weekends in late April and even early May has cost everyone in the Vail Valley and many, many ready, willing and able Front Range skiers the best skiing of what was otherwise a very week snow season.

April 6-7 saw more than 30 inches of snow - absolutely the best skiing of the season - but then we were done on April 18, and since then more than four feet have fallen from the skies.

Hike Vail Mountain this weekend and you'd be greeted by insane amounts of snorkel snow. And how often is closing day one of the better powder days of the season?

It is a serious problem in the ski industry that areas often open with the worst snow of the season and close with some of the best.

2 Comments on "Opening with low or no snow and closing with epic amounts of April fluff makes no sense"

Submit and read more comments on "Opening with low or no snow and closing with epic amounts of April fluff makes no sense" now!
---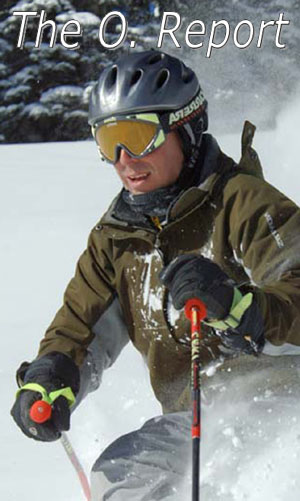 Blog Tools
Comments
Permalink
By David O. Williams
April 28, 2010 — Vail Resorts' revolutionary Epic Pass has gone global, offering free skiing in Las Leņas, Argentina, this summer and next for anyone buying or renewing for next ski season.

The $599 pass – chided by some as the death of skiing as we know it and lauded by most as the salvation of the sport – was already an interstate deal offering unlimited, unrestricted skiing at Heavenly (Calif.) and Vail, Beaver Creek, Breckenridge, Keystone and Arapahoe Basin in Colorado.

Now Epic Pass holders can head to the Southern Hemisphere and ski free in the Andes at the legendary Las Leņas resort, although they have to stay in certain properties as part of the partnership deal. For the geographically challenged, June through October is the dead of winter in that part of the world, so diehards can literally enjoy endless winter.

And to sweeten the deal, VR is giving away a trip to Las Leņas, including airfare, to some lucky new Epic Pass buyer or someone re-upping for next season. Check out www.EpicIsEndless.com for more details.

Personally, I'm somewhat over ski season – a feeling cemented by my drive back from Denver last Sunday after attending a Colorado Rockies game at Coors Field. I had six 9 and 10-year-old boys in the car and was greeted by a total whiteout on Vail Pass, reducing speeds to 20 mph and tightening my death grip on the steering wheel even more than it already was.

I did look a little longingly at the powder coating the slopes of Loveland Ski Area as we went through the Eisenhower Tunnel, but only for a moment. Seriously, I want to start doing to some hiking, biking, camping and kayaking.

That being said, Las Leņas has always been high on my list of places to ski. I've had heard amazing things about the terrain, the snow and the Argentine beef for dinner.

Needless to say, the best deal in skiing just got a lot better. I have met people from the Bay Area on the slopes in Vail who bought Epic Passes to ski Heavenly and then jetted out to Colorado to use their four days here (to ski some real snow). I could see people actually taking advantage of the Argentine angle. And no, I wouldn't cry for them.


3 Comments on "Vail Resorts adds Argentine ski area Las Leņas to Epic Pass"

Submit and read more comments on "Vail Resorts adds Argentine ski area Las Leņas to Epic Pass" now!
---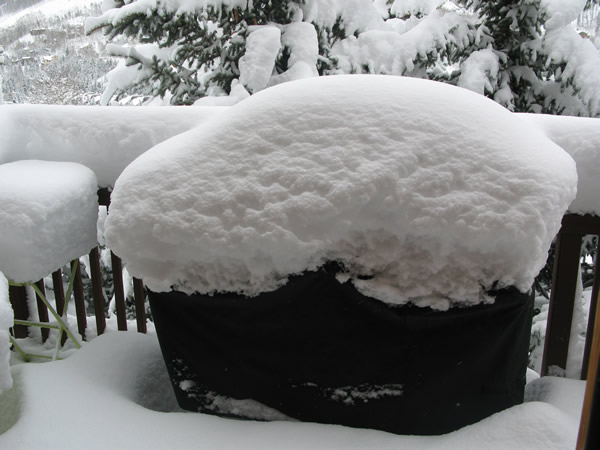 The West Vail Deck Cam reveals two feet of new snow on the old barby Saturday morning. A few resorts are still open, but not Vail.
By David O. Williams
Blog Tools
Comments
Permalink
By David O. Williams
April 24, 2010 — The only thing more wasted than a massive powder dump after the mountain has closed is a first-round draft pick on a college quarterback who likely won't even be able to play the position in the pros.

Yes, the ruination of the Denver Broncos courtesy of Josh McDaniels is nearly complete with the selection of Tim Tebow, who will join a long and not-so-illustrious list of Heisman Trophy busts. But on the upside he's a tentative skier whose family used to vacation at nearby Breck.

So when Tebow flames out at QB, he'll be able to hit the slopes. Even this late in the season.

The lifts shut down at Vail last weekend with yet another spectacular Spring Back to Vail celebration, complete with a killer free concert Saturday night with Wyclef Jean at Ford Park. Highline Sports and Entertainment continues to outdo its own promotional prowess.

Closing day, Sunday, April 18, was spectacular and sunny, with the longtime locals chilling on Wildwood deck and the amateurs congregating at the top of Chairs, 4, 5 and 11. People kept diving into the super-slushy Back Bowls for that final run on the old triple Chair 5, which will be replaced for next season with a high-speed quad.

I wasn't among that group. Not only will I not miss the interminable lines caused by the old, creaky lift, but I wanted my last memory of the old Chair 5 to be the unbelievable ski day on Wednesday, April 7, when more than 30 inches of new snow fell on Vail over the course of two days. By far the best skiing of what was largely a mediocre season (see video evidence below).

And for more photographic proof (since Vail is no longer producing a ski report) of what the latest storm delivered all day Friday, April 23, check out the accompanying pic from my West Vail deck cam, where at least two feet of heavy spring snow piled up by this morning (Saturday, April 24).

A Basin, Aspen, Echo Mountain and Loveland are still open (and reporting 11, 12, 4 and 9 new, respectively), but I'm done for the season. If Vail had Aspen's flexibility to open up for select weekends, conditions permitting, that might motivate to me to keep the skis out a couple more weeks.

But I guess cranking up a couple of lifts for a handful of locals doesn't rate with our local skico. Hey, I've even offered to volunteer lift op, but whatever, apparently it's golf season in the Vail Valley.

Anyway, the Boys of Summer are in full swing already, and likely our only local pro team to still be in action by the end of the month (Nuggs are pathetic, Avs overachieving). I'm heading to the Rockies game in Denver Sunday, where it better not be snowing and no one better say, "Well, we really needed the moisture."





Submit a comment on "Best snow of the season: too bad Vail's lifts are shut down"
---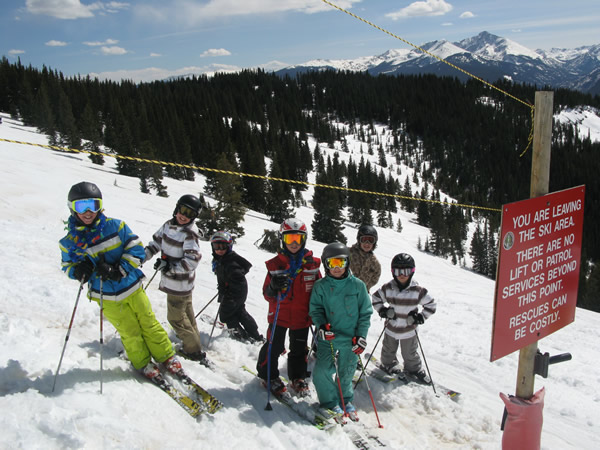 A group of local kids (with adult supervision, not pictured) shredded the Minturn Mile route off the backside of Vail Mountain Sunday.
By David O. Williams
Blog Tools
Comments
Permalink
By David O. Williams
April 15, 2010 — What a great week it's been at Vail after a mostly below-average ski season, a big chunk of which I missed while standing in the rain at Whistler for five weeks leading up to and during the Olympics.

Now comfortably back at my home mountain for the last five or six weeks, I'd only enjoyed a couple of minor powder days before finally getting the big payoff last week: 30 inches of new snow in two days and 4 feet in a week.

Vail closes Sunday with its best base of the season, and following that jolt of snow and return of full-on winter last week things have been typically balmy. I closed out the season at Beaver Creek last Saturday, my boys and I skiing mashed potatoes on Grouse Mountain and in Larkspur Bowl.

Then on Sunday my oldest son's friend turned 10 and a pack of 9 and 10 year olds headed out of bounds (with plenty of adult supervision) to ski the Minturn Mile. It was an awesome – if somewhat sloppy – day, highlighted by lots of gooey snow and some serious mud near the bottom.

The payoff there was a birthday party at the Saloon after a great day hanging out in the backcountry with a group of rowdy kids. That's essentially what Vail Mountain will be like this coming weekend (only hundreds of bigger and far rowdier kids), although the Powder Predictor says it won't be quite so sunny.

Regardless, with another stellar (and free) Spring Back to Vail lineup (Wyclef Jean on Saturday and Guster on Sunday), closing weekend is not to be missed. And neither is this video of a self-described dumbass at Vail nailing some rocks in the Back Bowls during one of those kick-ass powder days. Enjoy.




Submit a comment on "Vail goes out with a bang: big powder dumps, skiing 'The Mile,' and stellar Spring Back lineup"
---
Read More Blog Entries
Previous
Next
Last
Blog entry 13 through 16 of 327 total entries
Bloggers Profile and Information