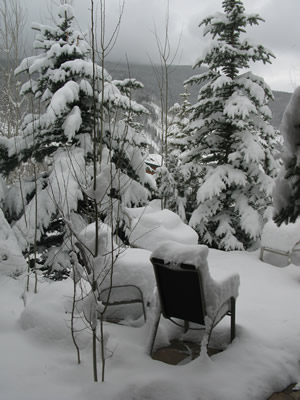 Good thing I got the patio furniture out. It's May Day Eve and this is what West Vail looks like after the latest winter storm hammered the valley.
By David O. Williams
Blog Tools
Comments
PermaLink
Opening with low or no snow and closing with epic amounts of April fluff makes no sense
By David O. Williams
April 30, 2010 — All right, this is ridiculous.

It's been snowing pretty steadily for two days in Vail, with easily another two feet falling on top of two feet last Friday and Saturday. We're talking, unofficially, about more than four feet of new snow in the last week.

A month or two earlier and we'd be in the midst of the most epic powder cycle on Vail Mountain in years. Instead, with the lifts shutting down April 18, we're just up to our eyeballs in wet spring snow.

I will seriously poleaxe the next person who comments on how we needed the moisture.

And the ultimate cruel irony is that the few ski areas still open for business in Colorado's high country - Arapahoe Basin, Echo Mountain and Loveland - are posting modest snow totals compared to what we're seeing here in Vail.

I've long argued that the ski industry is way too focused on driving early season skier traffic in order to create a buzz and sell vacation packages and season passes.

Instead of draining creeks for snowmaking at their lowest and most vulnerable time of the year - October and November - in order to cover a white ribbon of death that's hardly worth skiing, ski resorts should wait till legitimate natural coverage occurs (usually by mid-December at the latest).

Thanksgiving is a blip on the revenue chart anyway. Forget about the early openings and market the hell out of the late season.

Skiers are more savvy these days, waiting for big dumps and traveling on a moment's notice anyway. They may be playing golf on the Front Range these days, but they'd be up here powder skiing in droves if the lifts were actually running, even on a limited scale.

The lack of flexibility to at least open up for occasional weekends in late April and even early May has cost everyone in the Vail Valley and many, many ready, willing and able Front Range skiers the best skiing of what was otherwise a very week snow season.

April 6-7 saw more than 30 inches of snow - absolutely the best skiing of the season - but then we were done on April 18, and since then more than four feet have fallen from the skies.

Hike Vail Mountain this weekend and you'd be greeted by insane amounts of snorkel snow. And how often is closing day one of the better powder days of the season?

It is a serious problem in the ski industry that areas often open with the worst snow of the season and close with some of the best.

2 Comments on "Opening with low or no snow and closing with epic amounts of April fluff makes no sense"