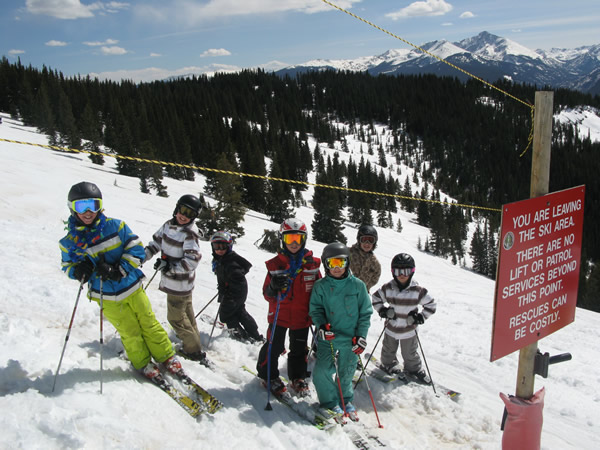 A group of local kids (with adult supervision, not pictured) shredded the Minturn Mile route off the backside of Vail Mountain Sunday.
By David O. Williams
Blog Tools
Comments
PermaLink
Vail goes out with a bang: big powder dumps, skiing 'The Mile,' and stellar Spring Back lineup
By David O. Williams
April 15, 2010 — What a great week it's been at Vail after a mostly below-average ski season, a big chunk of which I missed while standing in the rain at Whistler for five weeks leading up to and during the Olympics.

Now comfortably back at my home mountain for the last five or six weeks, I'd only enjoyed a couple of minor powder days before finally getting the big payoff last week: 30 inches of new snow in two days and 4 feet in a week.

Vail closes Sunday with its best base of the season, and following that jolt of snow and return of full-on winter last week things have been typically balmy. I closed out the season at Beaver Creek last Saturday, my boys and I skiing mashed potatoes on Grouse Mountain and in Larkspur Bowl.

Then on Sunday my oldest son's friend turned 10 and a pack of 9 and 10 year olds headed out of bounds (with plenty of adult supervision) to ski the Minturn Mile. It was an awesome – if somewhat sloppy – day, highlighted by lots of gooey snow and some serious mud near the bottom.

The payoff there was a birthday party at the Saloon after a great day hanging out in the backcountry with a group of rowdy kids. That's essentially what Vail Mountain will be like this coming weekend (only hundreds of bigger and far rowdier kids), although the Powder Predictor says it won't be quite so sunny.

Regardless, with another stellar (and free) Spring Back to Vail lineup (Wyclef Jean on Saturday and Guster on Sunday), closing weekend is not to be missed. And neither is this video of a self-described dumbass at Vail nailing some rocks in the Back Bowls during one of those kick-ass powder days. Enjoy.




Comment on "Vail goes out with a bang: big powder dumps, skiing 'The Mile,' and stellar Spring Back lineup" using the form below