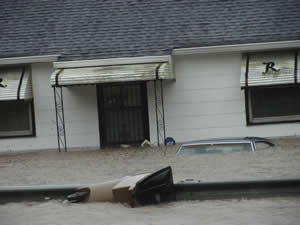 Think it was wet in the Vail Valley over the weekend with around two feet of new snow between Thursday and Sunday? Try nearly 14 inches of rain in two days. This pic was snapped by my brother Dan in his neighborhood in Nashville. Storms claimed at least 18 lives across the state.
By Dan Williams
Blog Tools
Comments
PermaLink
Can't stand the weather? At least we don't live in Nashville
By David O. Williams
May 4, 2010 — And then there was one.

Loveland and Echo Mountain closed last weekend, an incredibly snowy few days documented in my last post, leaving Arapahoe Basin as the only ski area in the state still open.

Ironic that as Vail Resorts touts the inclusion of Las Leņas ski resort in Argentina (see The O. Report before last) on its already six-mountain Epic Pass – using a website called www.epicisendless.com and the promise of endless winter – that's actually what we seem to be enduring here in the Vail Valley.

Except the lifts aren't running. You either have to drive over Vail Pass to A-Basin or jump on a plane to Argentina to make turns. Or go the backcountry route and risk a misadventure like the one some skiers at Copper Mountain suffered through over the weekend.

One skier was partially buried and injured in an avalanche and a friend called 911 for a rescue. Good thing there was cell service or those guys would have been screwed: Can you hear me now?

Anyway, I'll get over to A-Basin for a couple of more "Beach" days before all is said and done, but for now I'm content to hang out in the deserted Vail Valley and bitch about the weather.

But if you think it was bad here over the weekend – cancelling town cleanup days and kids' soccer games – at least you weren't in Nashville. My brother Dan lives there and watched his neighbors' homes and cars disappear under nearly 14 inches of rain over the weekend (see his photo accompanying this blog).

You can blame that on Biblical vengeance or aliens, but to me it looks like Mother Nature punching back for the endless abuse we heap on her, ie, Gulf Coast oil spills to rival the Exxon Valdez disaster in Alaska. But that's a topic for another O. Report.

Let me end this one by urging anyone still interested in at least watching skiing – even if they can't participate until the White Ribbon of Death greets us next November – to tune into Fox SportsNets's next episode of Athlete 360, featuring Vail's 2006 Olympic bronze medal mogul skier, Toby Dawson.

According to Toby's Facebook page, the episode airs again at 4:30 p.m., MST, on Saturday, May 8. Ski Racing Magazine reports the show's host, Dr. Mark Adickes, breaks down Dawson's numerous injuries leading up to his medal-winning run in Italy and discusses what the seven-time World Cup winner had to overcome mentally and physically to realize his dreams.

Should be good.


1 Comment on "Can't stand the weather? At least we don't live in Nashville"