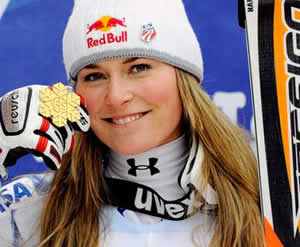 Blog Tools
Comments
PermaLink
Vail's Vonn shines on 'Law & Order,' continues to cash in on post-Olympic hype
By David O. Williams
May 20, 2010 — Lindsey Vonn was 5 years old when NBC's iconic crime drama "Law & Order" debuted in September of 1990. Now she's trying to save the show from cancellation with a Facebook page while appearing on the final broadcast network episode on this coming Monday.

Some may be sick of the Ski and Snowboard Club Vail product's overexposure in the wake of her gold- and bronze-medal-winning performances at the 2010 Winter Olympics in Vancouver, but no one can deny she is absolutely making the most of her 15 minutes of fame and fortune.

A World Cup ski racer in the U.S. has to do that since Americans tune the sport out for four years and only pay attention during the Olympics. Vonn has made herself into a multi-media star - one who happens to be a spokeswoman for Vail Resorts – so every red-carpet appearance is an impression for our local ski company. Gotta love her from that standpoint.

And given the quality of her performance on "Law & Order" – check out Access Hollywood (below) for a sneak preview – you've gotta love her as a budding thespian. Seriously, she questioned her own performance in a U.S. Ski Team press release, but I thought she was a real pro playing an administrative assistant at a teacher's union.

"I was supposed to be a serious character that is ratting out her boss, and I just couldn't stop smiling. I think the producer was scratching his head a little bit," Vonn said. "All the other actors were able to joke around between takes and then as soon as they called 'Action' they were serious. I was still just smiling. I don't know if I did a great job."

Don't worry, Lindsey, you were spot-on. Much better than your somewhat embarrassing appearance on "The Colbert Report" during the Olympics, a giggle-fest that was understandable given the dead-pan comic's "probing" yet ridiculous questions.

In fact, someone needs to start a Facebook page to advocate for Vonn replacing Sharon Stone on "Law & Order: Special Victims Unit." Stone is bloody awful on SUV, which unfortunately is surviving at NBC while the flagship show gets the axe. Stone is wooden as an actress and plays her DA role as a shrill, shouting hard-ass who has that show rapidly jumping the proverbial shark.

Vonn also did decently throwing out the first pitch and singing "Take Me Out to the Ballgame" at a recent Colorado Rockies, Chicago Cubs game at Wrigley Field. She could have given the Rocks a little more love during her in-game booth time with Fox Sports Rocky Mountain – and her winning ways didn't rub off on the Colorado squad – but still, for a ski racer she continues to shine off-piste this off-season.

And her passion for "Law & Order" earns her even more points in my book. The show and its minimalist, clanking theme-music intro have been the background noise for the majority of my adult life: marriage, three kids and a healthy obsession with televised mayhem and murder.

My wife Kristin – a closet forensic pathologist wannabe – turned me onto the show in about its third season, when it was at its absolute height with Chris Noth as detective Mike Logan, the late Jerry Orbach as Lennie Briscoe, Sam Waterston as ADA Jack McCoy and Jill Hennessy as his sidekick Claire Kincaid.

The show goes out tied with "Gunsmoke" as the longest running TV drama, and I hope it does land somewhere on cable. It deserves a better fate.

As for Vonn, her whirlwind tour of Hollywood and New York appears to be winding down and it's back to the training grind of six to eight hours in the gym six days a week for the three-time defending overall World Cup champion.

A few malcontents in Vail actually protested the renaming of Vail Mountain's "International" ski run "Lindsey's" in honor of arguably the greatest American ski racer of all time. I personally think some of that was a reaction to just how many media opportunities Vonn has seized on post-Olympic.

I think she's been brilliant in taking virtually any chance she gets to make more money, get more exposure for the sport (and Vail) and secure her future beyond racing – which can end in a flash at 80 mph on an icy downhill course.

I talked a little bit with former racing great Phil Mahre about how the Olympics have changed since his medal-winning performances in 1980 and 1984. He decried the cult of personality and the NBC hype machine that focuses too much on individual athletes and fringe, judged X-Games-style sports instead of the traditional events.

"I remember a day when the Olympics were about the Games and the events and the performances," Mahre said. "Now it seems it's all hype and about individual athletes. New events, mostly Gen X and judged – subjective at best - have taken some luster away from the Olympics. It starts to get watered down - marketing maybe?

"[Lindsey's] medals will be meaningful to her and those interested in skiing, but beyond that, one can only guess. The problem we have today is everyone has to have an image. Some made-up, hyped-up persona that sells oneself to the media and public. Boring! Like being yourself isn't good enough."

Mahre made his comments before the Games, and he wasn't suggesting Vonn is a phony, but he makes an interesting point about the ridiculous overemphasis on individual stories even as the races themselves were edited down to half-hour, pre-recorded clips. Through no fault of her own, Vonn was the overhyped face of the "Vonn-couver" Olympics, but she's the rare athlete who didn't wilt under the pressure.

Now she's taking advantage of the opportunities to appear everywhere from Letterman to "Law & Order," and I for one think it's awesome. Anybody seen Bode these days?




Comment on "Vail's Vonn shines on 'Law & Order,' continues to cash in on post-Olympic hype" using the form below