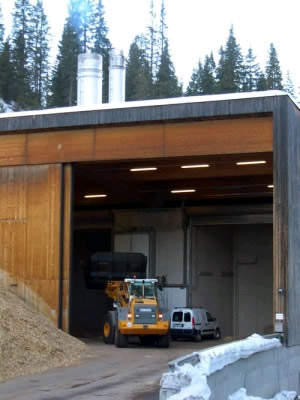 A biomass power plant like this one in Lech, Austria, sister resort of Beaver Creek, is being proposed in Vail. Holy Cross Energy, which currently backs the proposal, is in the midst of a key board election.
Courtesy of Brian Sipes
Blog Tools
Comments
PermaLink
Colorado's energy future in hands of electric co-ops like Holy Cross, which faces key board election
By David O. Williams
May 18, 2010 — A very important piece of mail showed up in my box on Monday - my Holy Cross Energy board election ballot. You probably already tossed yours in the trash.

Do yourself a favor if you're a Holy Cross member (customer) living in the rural electric co-op's service territory that stretches from East Vail to Aspen: go out to the garage, sift through the egg shells and coffee grounds in your trash can and find that ballot.

You may think you're already pretty damn civic-minded. You voted in the last town council election – later asking yourself, what's the point since they never seem to get anything done? – and you may have even taken the time to vote in recent water district or recreation district elections.

But nothing is more critical in this day and age than determining how we generate and distribute electricity, and rural electric associations (REAs) like Holy Cross have a huge say in that debate.

Electric co-ops started in the 1930s to push the power grid out to rural areas that otherwise couldn't afford the transmission lines. They are member-owned and controlled and largely unregulated by the state. But for decades co-ops operated as the personal fiefdoms of a good-old-boy's network of farmers, ranchers and miners whose sole purpose was to keep rates as low as humanly possible.

We now know there are environmental and economic consequences associated with overreliance on one type of energy source, particularly sources that foul our air and water, adversely impact wildlife habitat and otherwise encroach on our outdoor recreation lifestyle here in the Rocky Mountains.

Holy Cross has seen a steady transformation in recent years, with more progressive board members replacing longtime incumbents, but not before the co-op rather quietly invested $100 million of ratepayer funds in Xcel's new Comanche 3 coal-fired power plant in Pueblo. On the surface that may have seemed like a safe bet.

Coal is cheap, coal is plentiful, but coal is also the dirtiest way to generate power. Colorado, despite Gov. Bill Ritter's "New Energy Economy," gets about 70 percent of its electric power from coal-fired plants. That could have severe economic consequences if cap-and-trade or a carbon cap is passed in pending federal climate change legislation

Tiered electrical rates, percentages of the co-op's load generated by renewable sources, smart-grid technology – these all critical issues shaping the current election. The two newly elected board members – to be determined by that mail-in ballot or in person at the co-op's June 5 annual meeting in Glenwood Springs – will help make those key decisions.

For instance, the latest version of a Vail biomass power plant, which would convert chipped-up, beetle-killed pine trees into electricity and heat, reportedly made the final cut for a $26 million U.S. Department of Energy grant.

First reported by RealVail.com in 2009, Vail's currently proposed biomass plant would use high-heat wood gasification to power boilers that would then pump hot water to lodges, hotels, snow-melt systems beneath streets and sidewalks and public buildings throughout the town of Vail. It would also generate some amount of electricity for the overall grid.

Widely used in some European countries such as Austria and Denmark, the wood gasification concept in Vail has the backing of Sen. Mark Udall, the Denver Water Board, Vail Resorts and Holy Cross Energy.

According to a recent story in the Vail Daily, the grant request made the final cut of three potential projects out of a total of 80 applications. The $26 million DOE grant would fund a 28-megawatt biomass power plant likely located on town-owned land in East Vail.

The project is seen as a green way to deal with the ongoing mountain pine bark beetle epidemic, which is expected to kill more than 90 percent of the mature lodgepole pine trees in the Vail Valley. Denver Water is concerned that massive forest fires resulting from the epidemic will adversely impact reservoirs and other infrastructure around the state.

But not everyone is convinced a biomass plant is the best way to deal with the epidemic. Even some environmentalists are worried about the impacts of harvesting dead and dying trees from the national forests. And there are concerns about road building, access to fuel supplies in steep and daunting terrain and truck traffic to and from the plant from an off-site wood-chipping facility.

Candidates in the Holy Cross Energy board election all say they have serious questions about the Vail biomass power plant.

The rural electric coop would most likely serve as a guaranteed customer for the power generated from the facility, but could also be asked to contribute funding for either the initial capital costs or running and maintaining the facility.

The current Holy Cross election pits progressive green engineer Erik Lundquist and more conservative former telecommunications and automotive executive Bill Maxwell against incumbent banker Michael Glass in the Northern District, which includes most of the Vail Valley. Glass, likely the more moderate of the three candidates, is the president at Alpine Bank in Vail and currently serves as the Holy Cross treasurer.

I've talked to all three and will do a story in the coming days detailing where each of them stands on the biomass plant and other key issues facing the co-op in the coming years.

In another race for the Southern District, progressive David Munk is taking on incumbent Robert Starodoj. Munk has the backing of the Aspen Skiing Company, which has lobbied hard for climate change legislation and alternative energy and conservation measure at both the state and federal level.

And the co-op is also seeking voter member input on whether the bylaws should be changed so that members only vote for board candidates in their own geographic district rather than at-large in the entire service area, even though board members make decisions that have impacts for the whole co-op.

Giving yourself less voting power and say in how the co-op is run doesn't make much sense to me. Tossing your ballot in the trash (only 6 percent of co-op member bother to vote) makes even less sense.

Go to the Holy Cross website and click on the Annual Meeting and Report Edition of the newsletter (pdf) for more information on the board election. And check back with RealVail.com for interviews with the candidates.



Comment on "Colorado's energy future in hands of electric co-ops like Holy Cross, which faces key board election" using the form below