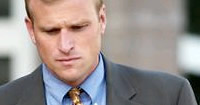 Blog Tools
Comments
PermaLink
Mountain politicians feeling heat from Tea Party candidates, teacher-tenure bill
By David O. Williams
May 26, 2010 — Mark Hurlbert, who will forever be known in these parts as the "Kobe DA" for his unsuccessful prosecution of NBA superstar Kobe Bryant on sexual assault charges in Eagle County in 2003, had a really bad weekend.

The 5th Judicial District Republican DA was trounced 71 percent to 29 percent by the Tea Partier Tim Leonard in his bid to reach the primary ballot for state Senate District 16, meaning Hurlbert has until May 27 to collect 1,000 valid registered Republican signatures if he goes the petition route.

That's a process he apparently started Monday at the Frisco Safeway, according to the Ex-Pat Ex-Lawyer blog, which purports to have an email from Hurlbert soliciting support and rallying people to come out to the Safeway again on Tuesday.

Hurlbert is portrayed as a RINO (Republican In Name Only) on that blog and was painted an anti-gun, anti-Second-Amendment career politician at the SD 16 assembly in Loveland Friday. His resounding defeat at the hands of former American Constitution Party member Leonard prompted SD 8 state Sen. Al White to tell Hurlbert, "I'm sorry Mark," according to the Denver Post.

White, a moderate himself, and the state senator for our district, was clearly lamenting the fact that Hurlbert would have been electable in the independent-minded mountain communities of Summit County, where Hurlbert lives in Breckenridge. Now the Dems would appear to have a leg up holding onto the seat now occupied by Dan Gibbs, who's quitting to run for Summit County commissioner.

Former public health nurse and Gilpin County Commissioner Jeanne Nicholson, who lives in Gilpin County just outside of Golden Gate State Park, is the Democratic pick. Leonard, whose 11-year-old son is his campaign manager, lives in Jefferson County.

Lately, Hurlbert has been taking heat for his handling of bib-swapping case in last year's Leadville 100 mountain bike race. He issued felony charges to two Vail women, one of whom wound up pleading guilty to a misdemeanor Tuesday. He also was embroiled in some small-town controversy in Leadville swirling around a sheriff's deputy who Tasered high school students at their request.

Meanwhile, the teacher tenure bill crafted by Vail native Mike Johnston, a state senator down in Denver, may cost our state House Rep., Democrat Christine Scanlan of Dillon, a shot at Speaker of the House, according to the Denver Post.

The paper reports Democrats who voted for the controversial bill, which makes it easier to get rid of teachers who under-perform, could elicit some political payback from the teacher's union.



Comment on "Mountain politicians feeling heat from Tea Party candidates, teacher-tenure bill" using the form below