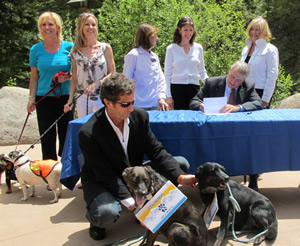 Gov. Bill Ritter signs House Bill 1214 Wednesday at Vail's Donovan Pavilion - a bill that creates a new fund to help offset costs for spaying and neutering animals and creates a new Adopt a Shelter license plate.
Blog Tools
Comments
PermaLink
Ritter signs biomass bill in Vail; Holy Cross Energy co-op flips to majority green board
By David O. Williams
June 10, 2010 — Gov. Bill Ritter Wednesday was in Vail – sometimes derided as an I-70 truck stop with a ski area (mostly by snooty Aspenites) – to sign a so-called "Roadkill Bill" meant to improve safety and reduce wildlife carnage along Colorado roadways. The bill-signing ceremony was held at Donovan Pavilion right off the interstate that's surrounded by red and dead beetle-killed pine trees.

So Ritter also signed a bill sponsored by another mountain lawmaker that's meant to provide tax incentives to companies removing and disposing of lodgepole pine trees killed in a massive and ongoing mountain pine bark beetle epidemic.

State Rep. Christine Scanlan, D-Dillon, has become the bug queen, battling hard for state and federal dollars to mitigate the impact of the beetle epidemic, which has hit particularly hard in her Summit County home. Ritter's choice of locales was no coincidence.


Tuesday night, the U.S. Forest Service and town of Vail officials held an open house to tout a proposed biomass power plant that would use extremely high heat to gasify chipped-up beetle kill wood and produce 26 to 28 megawatts of heat and 6 to 8 megawatts of electricity.

The proposal made the final cut of three projects eligible for a U.S. Department of Energy grant and has wide-ranging support from Vail Resorts, the local electrical cooperative, Holy Cross Energy, and state and federal lawmakers. But there are still a lot of tough questions swirling in the community, such as the noise, traffic and air-quality impacts.

Biomass power plants in the Northwest have been met with community and environmental resistance to using trees and wood products to produce power. In Vail, though, many view the project as a logical way to consume trees that will either fall and burn in a wildfire, biodegrade or have to be removed and disposed of in landfills at great expense.

Also signed Wednesday was state Sen. Gail Schwartz's "Roadkill Bill," which she hopes will cut down on the number of dead deer, elk, bears and other critters killed along mountain roadways in her sprawling and scenic Senate District 5, which includes Aspen and its so-called "Killer 82" stretch of state highway.

Ritter couldn't have chosen a better spot. Wildlife officials call I-70 the "Berlin Wall" for animals looking to move from northern Colorado to the southern part of the state or vice versa. Several reintroduced Canada lynx have been struck and killed along I-70 near Vail Pass. The bill provides for significantly more wildlife crossing signage as well.

Also on Wednesday, Holy Cross Energy, which supports the biomass plant proposal and is making strides toward increasing its overall renewable energy portfolio, saw a partial remaking of its board of directors.

The board of directors of the rural electric cooperative with more than 40,000 members between Vail and Aspen, has officially "flipped" from old-school conventional-energy conservatives to a majority of progressive directors favoring a greater mix of renewable energy.

Green candidate David Munk defeated incumbent Robert Starodoj 2,115 votes to 1,292 in the co-ops's Southern District, and incumbent Michael Glass - a moderate, green-leaning Vail banker - turned back two challengers in the Northern District. Glass got 1,683 votes to 1,179 for environmental engineer Erik Lundquist and 589 for retired telecommunications CEO Bill Maxwell. Four of the seven co-op board members now could be considered progressive.

However, the board president is still Carbondale rancher Tom Turnbull, who gets some credit for nudging Holy Cross down the "New Energy Economy" road but also is criticized by environmentalists for the co-op's $100 million investment in the Comanche 3 coal-fired power plant and for some of his comments on climate change and his support of incumbents in the most recent board election.

In what some observers say was a blatant bid to dilute the "Aspen-ization" of the board, Holy Cross asked members if they favored a by-law change to make voting in-district only instead of across the entire service area. The very vocally environmental Aspen Skiing Company has backed several green candidates in recent elections.

Members voted 1,849 to 1,709 not to recommend a bylaw change.






Comment on "Ritter signs biomass bill in Vail; Holy Cross Energy co-op flips to majority green board" using the form below