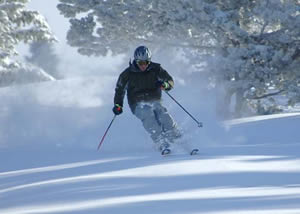 Earl's Bowl often offers freshies when the rest of Vail Mountain has long since been tracked out.
By Dan Davis
trekkerphoto.com
Blog Tools
Comments
PermaLink
Deep freeze keeps snow light, lines short
By David O. Williams
December 16, 2007 — Days 12 and 13 of my '07-08 ski season (Friday and Saturday) can best be summed up by two words: freaking cold.


When I jumped on the Vista Bahn on Vail Mountain Friday around 9:30, the mercury was loitering in the neighborhood of 5 degrees Fahrenheit (-15 Celsius for our international readers). Two "warm-up" runs in Northwoods produced the exact opposite effect, and in fact resulted in a patch of frostbite on my face.


But skiing being a sport of sacrifices, I pushed on through and started to heat up a bit after pounding down Milt's, followed by Genghis Khan. The snow on those exposures (more south and east) was a bit chunked up, but a quick jaunt into the north-facing environs of Blue Sky Basin generated some soft and sometimes untracked fluff.


Since an anticipated storm Thursday night fizzled and produced a mere dusting – although a friend pointed out we shouldn't get greedy, since three weeks ago we were on strips of man-made surrounded by mud – all the snow on Friday was a holdover from an 8-inch storm Wednesday.

Incredibly, Earl's Bowl in BSB was untracked in large sections two days after the storm, something rarely seen at Vail. The next day, the temps were even lower, and there was still some untrammeled snow.


My wife and I dropped off our oldest son in Vail Devo Saturday and jumped on Chair 6 with the thermometer showing a brisk two degrees. After a few chilly cruisers we hit Yonder trees in Sun Up Bowl around 11 a.m. on Saturday and found great snow and zero line at Chair 5, owing largely to the zero temps. The snow should still be nice Sunday, and the crowds likely fairly light.


Friday has replaced Sunday as a high-traffic day for some reason, either because people would rather play hooky than miss a Bronco game (even though they hardly bear watching this season). But for whatever reason, Sunday is usually a great day to get out – and the temps will be much more conducive, with highs approaching 30.


The next shot of snow should be coming in mid-week, so we may be looking at a repeat of last week with a Wednesday powder day and virtually no lines. If that's the case, you'll want to be here because there's nothing better.


Comment on "Deep freeze keeps snow light, lines short" using the form below