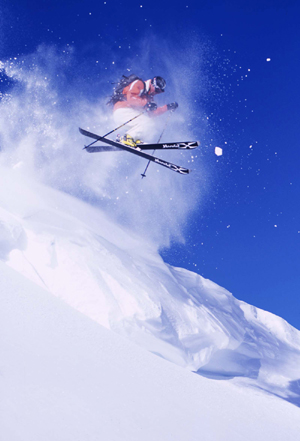 Realvail.com launches itself onto computers around the globe tonight from 5-7 p.m. (Friday, Dec. 21) with a party at Samana Lounge in Vail Village. First 50 through the door get a free drink. So come early and come often.
By Dan Davis
trekkerphoto.com
Blog Tools
Comments
PermaLink
Realvail.com launch party kicks off the season tonight at Samana
Stop by for live music, drink specials, giveaways and good times galore
By David O. Williams
December 21, 2007 — Every day is a powder here at realvail.com … and every night is an après party.


So it's fitting that on the day we celebrate the official launch of realvail.com with a public party at Samana Lounge in Vail Village from 5-7 p.m., the snow gods have smiled on us with a frosting of 5 inches of new snow Thursday and a bunch more flakes falling as of Friday morning.


So if you're reading this in a drive-time (or Gulfstream-time) market, get up here today (Friday), ski some freshies in the afternoon, then stop by Samana (the basement place by Russell's right by the Covered Bridge … used to be Nick's, used to be the Keg) and join us for $5 Vodka 14 drinks, $3 Pilsner Urquells, live music and swag giveaways from Roxy and Performance Sports. First 50 guests get a drink on us.


See our full-page ad on page A18 of Friday's Vail Daily for more details, and click on either Giveaway or Newsletter on our the upper navigation bar to register for our new Real-E newsletter and a chance to win a $700 pair of Surefoot ski boots.


Our party will be going on mere steps from Vail's annual tree-lighting celebration at 6 p.m. in Slifer Plaza just across the Covered Bridge. Families can start out in Lionshead with free caroling from 5 to 5:30 p.m., followed by a light procession from Lionshead to Slifer Plaza and then the main event at 6. Then head across the bridge to Samana.
And all the new snow comes at a perfect time for the Christmas crush next week. We hadn't any significant accumulations since the 8 inches that fell on Dec. 12, but the temps stayed cold enough for the last week to keep our 30-inch base nice and soft.


And now it looks like we're back in the storm cycle. Snow is in the 10-day forecast every other day for the next week or so, with the next 40-percent shot headed our way on Sunday and then again on Tuesday.


Get up, get out there and enjoy!


Comment on "Realvail.com launch party kicks off the season tonight at Samana" using the form below