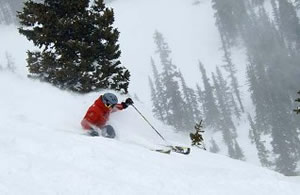 Scot Schmidt, shown here ripping the backcountry near Monarch a couple of seasons ago, always preferred fast, controlled skiing and big air to first descents on super-exposed routes.
By Dan Davis
www.trekkerphoto.com
Blog Tools
Comments
PermaLink
Learning avy caution the hard way
Snow safety sense sometimes hits you like a ton of bricks
By David O. Williams
February 22, 2008 — A couple of years ago I returned to the scene of a college crime I committed that forever changed my philosophy on skiing.


My journey back to Monarch Mountain Resort, where some friends and I cat skied with '80s ski-film legend Scot Schmidt, was a surreal trip back in time on several different levels. Click here to read more about the trip back to Monarch.


As freshmen at Gunnison's Western State College (Wasted State to those in the know) in 1983, my buddies and I selected Monarch over Crested Butte as our mountain of choice because of its abundance of snow (350 annual inches) and relatively benign backcountry routes.


My friends and I would duck rope on the western edge of Monarch and ski some incredible glades before dropping down onto Highway 50 and skiing back to the resort. It was the legendary snow season of 1983-84, and the snowplow walls along the highway were six to eight feet high.

One day I opted to get a few more precious turns on a steep 60 to 80 foot open face just before that snowplow wall. My two friends took a more conservative line. My first turn on the 40-degree pitch cut the whole slab loose and dropped me onto the highway like a cable snapping in an elevator shaft.


I actually hit the asphalt before most of the snow did, luckily landing on my skis and not my un-helmeted head, and then all the snow packed down on top of me, trapping me up to my chest on a major U.S. highway with semis coming from either direction. They managed to brake, my buddies dug me out, and we got out of there fast before the sheriff arrived.


In those days, such a stunt could earn you a couple hours of lost freedom, a long lecture by the sheriff and ski patrol and maybe even a fine for leaving the ski-area boundary via a closure. But it also could have earned me a trip to the hospital.


Suffice to say, the winter of '83-84 was a learning experience for a young bump skier from Denver who had grown up pounding the VW-sized moguls of Mary Jane's Outhouse and had no concept of snow safety – other than the occasional backcountry trip off the top of Berthoud Pass.


After that experience I never looked at a huge, steep and untouched snowfield with quite the same level of eagerness. I've lived in Vail since 1991 and never skied the East Vail Chutes. Not because I think they're a forbidden zone that should never be explored, but basically because I ski weekday mornings, mostly powder days, when there's so much good snow inbounds.


I much prefer my backcountry experiences be more controlled (see my various cat skiing and heli skiing adventures in our Real Travel section), although I know the danger can never be totally removed, even by the most experienced and cautious guides. I'll forever respect a guide at Dean Cumming's H20 operation in Valdez, Alaska, who flew us off a slope that was self-sloughing in the intense late-spring heat.


I totally understand and appreciate the allure of the backcountry, of testing yourself in remote and wild circumstances where the rewards are huge and so are the risks, but ever since that day at Monarch I've tried hard to limit my exposure, especially now that I have three kids.


In reading Tom Boyd's blog about the Denver Post story and video about the death in East Vail earlier this year of local snowboarder Jesse Brigham, I was haunted by the choices made and the tragic consequences. I was also left wanting more – not in a prurient, Faces of Death way, but in a cautionary tale sort of way.


I wanted the Denver Post writer, Jason Blevins, an experienced skier who lived in Vail for several years, to report on why the video stops short of showing the avalanche itself and the panicked rescue-attempt aftermath. That fear and those consequences would maybe give skiers that same sense of caution I earned the hard way in the Monarch backcountry.


Skiing with Scot Schmidt at Monarch a couple of years ago, I was intrigued by his take on the death of his contemporary, Doug Coombs, and the whole first-descent, big-mountain obsession with skiing seemingly unskiable "trophy" lines.


I'll go out of my way, into exceedingly tight trees, to get untracked snow – even low-angle powder poaches – because I'm into the quality of the turns and the indescribably good feeling of soft snow underfoot. But my days of big air and exposed lines were snubbed out decades ago.


Maybe that explains why I chose the mellow pitches of Monarch over the legendary steeps and chutes of Crested Butte when I was in Gunnison that epic season.


RealVail blogger Scott Proper seems to have made his own journey of self-discovery in the East Vail Chutes a few years ago, and Louie's blog about avalanche escapades in the '50s and '60s is riveting reading.


But I took my crash course at Monarch in the 1980s, discovering the allure of snow-choked backcountry glades and coming away from Western State after just one year with a degree in powder skiing and only three gym credits. The most valuable lesson of all, though, was learning the dangers of sliding of snow.


1 Comment on "Learning avy caution the hard way"