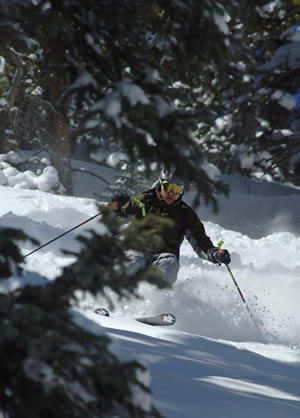 Tree skiing scenes like this one of the blogger in Stone Creek Chutes at Beaver Creek won't go away in the next decade as more and more lodgepole pines succumb to the mountain pine beetle, but they will change dramatically.
By Dan Davis
trekkerphoto.com
Blog Tools
Comments
PermaLink
Snowpack keeps getting deeper; beetle kill keeps getting worse
By David O. Williams
March 7, 2008 — A few blustery storm systems over the past week have dropped another 18 inches of snow on Vail Mountain, bringing the total snowpack to 352 inches as of Friday, March 7. Thatís four inches more than the seasonal average of 348 inches, with 36 days of ski season left.


For those of you still in denial over global warming, the potential for a record-breaking snow season does not bolster your case (and yes, the moon landing was real, too); it merely bolsters the case for a lot of moisture coming our way this ski season.


We still havenít had the prolonged cold snap (10 to 14 days of minus-10 Fahrenheit nighttime temperatures, which last happened in Vail in 1989) needed to end the beetle-kill epidemic that is in the process of killing more than 90-percent of the mature lodgepole pines in the Vail Valley.

The recent wild weather parallels the storm of denials flying around about a story I wrote that first appeared on the front page of the Rocky Mountain News on Saturday, March 1, and is now posted on this site under Real Biz.


An East Coast company called Arborjet is touting an experimental tree injection process that could save some key lodgepoles in certain critical areas on Vail and Beaver Creek mountains from the ongoing but quite natural beetle-kill epidemic. Former Vail COO Bill Jensen is quite interested in this possible chemical solution to losing every mature lodgepole in and around Colorado ski areas.


But the product is untested and not yet approved by the EPA, so the story in the Rocky caused a bit of a stir when federal officials were bombarded by phone calls and in turn called Vail Resorts, which then cancelled a March 3 informational meeting with Arborjet.


Then the Vail Daily, which initially ran an erroneous Associated Press rewrite of my story on Monday, March 3 (it incorrectly stated a deal had already been struck between VR and the Massachusetts-based Arborjet firm), ran a follow-up story on Tuesday indicating VR would never use the product/process even if the EPA does approve it. It also quoted a Forest Service official who said it flat-out doesnít work.


Iím unable to find the original AP story on the Daily site, but hereís a direct quote: ďThe company (Vail Resorts) has hired Arborjet of Massachusetts to inject a repellent, emamectin benzoate, into the trunks of healthy lodgepoles to try to kill the rice-sized beetles, the Rocky Mountain News reports.Ē


Wrong. If you read my story, youíll see that I made it clear the ski company was merely discussing the process with Arborjet and that the product still needs to be approved by the EPA.


In the follow-up story in the Daily, the Forest Service statement contradicted the Forest Service official I quoted in my story and also seems a bit premature given that the safety and effectiveness of the injection process is what the EPA is currently reviewing.


Also curious is the ski companyís backing off from a potential tool in a losing battle to preserve some pockets of critical trees on Vail Mountain Ė trees that might serve as wind breaks for lifts and certain trails and also have an aesthetic value for tourists and real estate investors.


Iím wondering how much of that is the current VR administration wanting to distance itself from the policies of Jensen (Vail Resortsí go-to guy on beetle-kill issues for the past decade) now that heís jumped ship to become CEO of Intrawest, Vailís in-state rival with ownership of Steamboat and Copper Mountain and management of Winter Park.


Personally, I hope that any and all tools and resources that can be brought to bear on the problem are at least given a fair shake, or we will wind up with the potential for an enormous wildfire that could create the Front Bowls of Vail, as well as the potential for a massive blow-down that would pile stacks of deadwood on our favorite ski trails and cost a fortune to clean up.


Iím not advocating using anything harmful to the environment, but if this process works, letís at least consider using it so we donít wind up losing every lodgepole on the front side of Vail Mountain the way Brian Head, Utah lost every spruce tree on the upper half of the mountain in the mid-1990s (theyíre still dealing with wind issues as a result).


Residents, business owners and politicians in the Vail Valley are freaking out about the long-term impacts of this epidemic, and many people already feel like the federal government and the ski company have not been aggressive enough in dealing with the situation, so discounting this possible tool for political reasons before itís fully tested seems unwise at this stage of the game.


Iíll be doing a follow-up story in the near future to clarify everyoneís position, so stay tuned.

2 Comments on "Snowpack keeps getting deeper; beetle kill keeps getting worse"