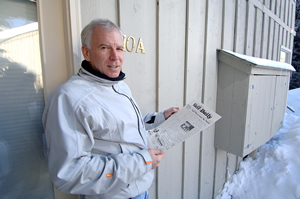 Jim Pavelich, founder of the Vail Daily, told the blogger he's launching a new daily newspaper in Eagle County. He just needs a couple of good reporters.
By Dan Davis
trekkerphoto.com
Blog Tools
Comments
PermaLink
New daily paper launching in Eagle County
By David O. Williams
April 7, 2008 — Incredibly, itís been almost eight years since Vail and Eagle County last had two competing daily newspapers. That, apparently, is all about to change.


Iíll string this out a little longer so my former competitors and, in some cases, coworkers over at the Vail Daily can experience heart palpitations for just a few more seconds.


One such former coworker told me a few months ago that when my partners and I launched realvail.com in September it sparked a company-wide staff meeting at the Eagle-Vail Taj Mahal (aka the Vail Daily offices) - a strategy session to plot our certain and crushing defeat.


Well, weíve made it a ski season, and the only thing thatís getting crushed is our server due to increasing visits to the site. But donít worry Dailyites, RealVail isnít going to a print version (at least not yet), but rather, your competition will be coming from your esteemed founder.

Many of you working there now will have no idea who the hell Iím talking about, but his name is Jim Pavelich, and heís the guy who in 1981 had the brilliant idea of starting what amounted to a flyer at the time. It was one sheet, front and back, with Town Talk on the front.


I ran into Pavelich (aka JP) at the Starbucks in Edwards the other day, and he let fly that heís starting a new daily paper in Eagle County. His non-compete after selling the Vail Daily to Swift in the mid-1990s has expired and heís going for it.


He told me it was no secret and that I could shout it from the highest mountaintop, so rather than scale any peaks I thought Iíd just toss it into my blog. JPís looking for a couple of good reporters willing to bring it without any bias, and then itís off to the presses.


For me, such ventures kindle a little nostalgia. When I mentioned itís been almost eight years since Eagle County readers and advertisers had any choice in local newspapers, I know this because I was editor of the last competing daily: The Daily Trail.


It was a daily offshoot of the Knox familyís Vail Trail, and it lasted about two and a half years. We started it in June of 1998 and pulled the plug in December of 2000. Critically acclaimed but financially doomed, it was a fun and frenetic couple of years.


Pavelich, who owns suburban dailies in California and a LoDo throw-down called the Denver Daily News in Denver, is facing some long odds with his new startup, but this guy has the Midas touch when it comes to free dailies, so who am I to doubt him?


I worked for JP for a few years in the early 1990s, when the VD was still in the old Crossroads building and we kept our skis by our desks and a bottle of Jagermeister in our desk drawers. The bad old days, but a hell of a lot of fun.


Now that the new, corporate VD has acquired every bit of local media in the valley, I've been relegated to the Web, where I think I'll hang for a while(at least for now).


Editor's Note: read more about this story by clicking HERE.


7 Comments on "New daily paper launching in Eagle County"