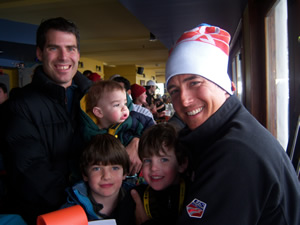 The Williams clan collects an autograph from Olympic gold medalist Jonny Moseley at Los Amigos in Vail Village last Friday. Moseley was in town for Spring Back to Vail.
By Amy Hornyak
www.gohighline.com
Blog Tools
Comments
PermaLink
2007-08 officially the second snowiest season in Vail history
Honoring Olympians and other media notes
By David O. Williams
April 17, 2008 — A quick blast of snow on Thursday seemed like a last reminder that maybe the mountain should still be open – at least for a weekend or two – but no way to know how much snow fell since no one's really counting anymore. For the record, seemed like a couple of inches on my deck.


I did get the final numbers on the season, though. As of closing day on Sunday, April 13, Vail got 463 inches of snow this past ski season (or more than 38 feet), making it officially the second snowiest season in Vail's 45-year history.


The best season ever? In 1977-78 Vail tallied 492 inches as of April 13, but back then they measured snowfall at PHQ atop the mountain instead of Mid-Vail - where they measure it now – so that's and oranges-to-apples comparison.


One final note on closing weekend: my son Nick is impressed with medal-winning Olympians, particularly ones who pick up their hardware on the snow. He collects their autographs (having snagged Bode Miller's in Italy in '06), so when I told him 1998 moguls gold medalist Jonny Moseley would be signing at Los Amigos last Friday, Nick jumped at the opportunity.
Moseley, who was probably more famous for finishing fourth in Salt Lake in '02 despite his patented Dinner Roll maneuver, could not have been a nicer guy – very cool to my three boys (see accompanying photo), and by all accounts a great host for the Bacardi World Pond Skimming Championships on Saturday. Thanks, Jonny.


And on the subject of Olympians, rumor has it a statue in tribute of local Olympians will be part of the new Mountain Plaza at the base of the Vista Bahn chairlift next ski season. Let's hope it pays a little homage to our most recent success stories: '06 bronze medal mogul skier Toby Dawson and World Cup overall champion Lindsey Vonn, a Ski Club Vail product.


For a good read on Vonn, check out this recent story in The New York Times.


And as long as I'm sending you off our site to good reads, I thought this blog on the Denver alternative weekly Westword's website put an interesting spin on the whole Kaye Ferry debacle.


Finally, I thought the way the Vail Daily handled the Ferry episode was a little strange. They basically ignored it until they were handed the resignation story (no, I didn't expect to get that scoop), as if to make the statement that they don't cover stories generated from the blogisphere. Much the way they ignored our story on a competing Eagle County daily newspaper as long as possible.


There seems to be an almost studious effort on the part of the Daily to ignore RealVail and the other site I write for, www.ColoradoConfidential.com, which is a remarkable contrast to the previous editorial regime of Don Rogers, which would have leaped at the chance to question my credibility.


Not sure how I feel about the new approach – honored or insulted – but I did find it interesting.

1 Comment on "2007-08 officially the second snowiest season in Vail history"