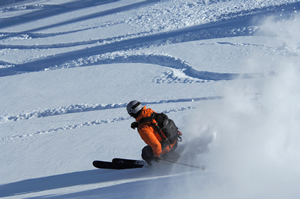 A skier blasts the pow in the Wasatch backcountry recently. Ski Utah and other groups are working hard to attract Colorado skiers.
By Dan Davis
trekkerphoto.com
Blog Tools
Comments
PermaLink
Utah ski industry keeps relentlessly wooing Colorado ski media
Western neighbors looking to chip away at Centennial State's market share
By David O. Williams
June 11, 2008 — It was just a few ski seasons ago that Utah first cracked the 4-million-skier-day threshold, capitalizing to some degree on the success of the Salt Lake City Winter Olympics in 2002. Now the Beehivers are getting greedy.

The state that popularized polygamy clearly understands that more is also better when it comes to snow riders, and so it's actively and aggressively going after Colorado skiers and snowboarders.

"I think our ski industry is very hungry. They see that we are now in a position where we can begin to steal market share from Colorado," Utah Gov. Jon Huntsman told the Associated Press in 2005.


To put things in perspective, 4 million skier days (defined as one skier skiing any part of one day) are fewer than the four Colorado ski areas owned by Vail Resorts do in a single season combined. Overall Colorado averages around 12 million skier days a season, by far the most in the nation.

But increasingly crowded slopes and near-gridlock conditions along Interstate 70 on peak ski days have combined to send some weekend warriors from Colorado's Front Range jetting off to Salt Lake City in search of cheaper lift tickets, less crowded slopes and more untracked snow.

And Utah's ski industry marketing gurus have been hosting more media events in Colorado in recent years in hopes of coaxing favorable press from the state's "ski journalists." For instance, the Salt Lake City Convention and Visitors Bureau held a "Ski Salt Lake" media event at the Colorado Rockies game Wednesday, offering the two things guaranteed to lure ski writers: free dinner and beer.


Comment on "Utah ski industry keeps relentlessly wooing Colorado ski media" using the form below