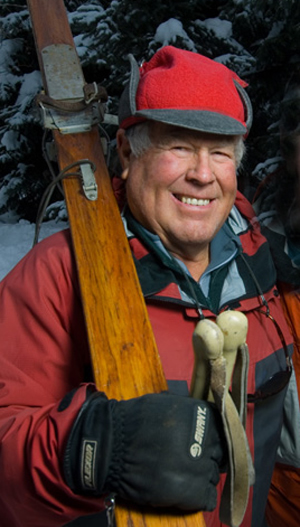 Steve Boyd of Vail argues there's no need for a boating ban being considered by the Eagle County sheriff in the wake of recent rafting accidents on the Eagle River.
By Dan Davis
trekkerphoto.com
Blog Tools
Comments
PermaLink
Vail's Boyd has a long history of battling for boaters' rights
Eagle County sheriff considers imposing restrictions on non-commercial rafters
By David O. Williams
June 12, 2008 — Vail's Steve Boyd knew seven years before the Beastie Boys started singing about it that "you gotta fight for your right …" to run rivers.

Nearly 30 years later, Boyd is still battling for boaters' rights, blasting the Eagle County sheriff Wednesday for considering a boating ban in the wake of several nonfatal rafting accidents on the Eagle River this spring.

Boyd in '79 was called in by the sheriff to assist in the rescue of two women who had capsized in a private raft on the snow-melt-swollen Eagle River. A kayaker since '69, Boyd was rankled that he was on the river in violation of the sheriff's boating ban while searching for rafters who were later found drowned near Gypsum.


When the sheriff refused to talk to Boyd about the situation, he and a friend decided to make a point by putting their kayaks into the Eagle River near the home of the Minturn police chief, who called the sheriff's office and had the two ticketed.

"We could have had it thrown out of county court," Boyd told realvail.com. "They said they would let us out of it without a fine, and we said, 'No, we want to take this as far as it needs to go.'"

The case wound up before the Colorado Supreme Court, which ruled the boating ban was unconstitutional. The law was later clarified to exclude kayaks, canoes and commercial rafts, but the sheriff retains some regulatory power to ban certain boaters in emergency situations to save lives and avoid costly rescue operations.

Boyd, also a former ski patroller at Vail, said it's the same principle at backcountry skiing. The Forest Service can strongly urge people not to ski out of bounds in extreme avalanche conditions, but ultimately that decision has to be left up to the individual.

"It's the Darwin theory," Boyd said. "You can't protect all the morons from themselves, and so be it. It's natural selection."


Comment on "Vail's Boyd has a long history of battling for boaters' rights" using the form below