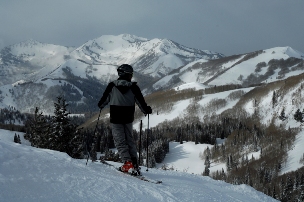 The ski terrain at Deer Valley and in and around the entire Park City complex is good, but not even the best in Utah, according to the author (pictured). Little and Big Cottonwood Canyons offer much more interesting and challenging terrain, but nowhere near the services of Deer Valley, which recently supplanted Vail at #1 in the Ski Magazine Top 50 Resort Guide
Photo by Dan Davis
trekkerphoto.com
Blog Tools
Comments
PermaLink
Will the real #1 please stand up?
By David O. Williams
September 9, 2007 — I waited eagerly on Friday, repeatedly clicking Send/Receive on my email, but it never came.


Last year it arrived from several different points in cyberspace: ďVail #1 for 14th time in 19 years in Ski Magazineís Top 50 Resort Guide.Ē


But this year a press release reading ďVailís #2, Vailís #2!Ē never quite made it into my inbox.


Thereís a certain smell associated with being #2, and itís definitely something you donít want to shout from every rooftop Ė or chairlift.


As Iíve said all along of the annual and somewhat silly exercise of polling readers of the various ski magazines, if you live by the sword, you occasionally will be forced to fall on that sword.


And Vail has indeed wielded its annual dominance of the Ski Magazine survey like a double-edged marketing cutlass.


In fact, even the $2 billion-plus redevelopment of Vail is being justified as a critical process in maintaining our #1 status, instead of simply labeling it good business Ė a means of meeting and surpassing guest expectations and increasing market share.


I mean, please tell me weíre not enduring all of this construction pain in order to pander to the steadily shrinking number of ski publication readers Ė particularly ones so out of touch they would vote Deer Valley, Utah, as the #1 resort in the nation.


Itís a vote based mostly on customer service - earning Deer Valley the nickname Deer Valet - and from the point of view of pampering, the place probably does have Vail beat, although from my limited experience Iíd say Beaver Creek tops Deer Valley in the luxe, boutique resort category.


But itís really apples to oranges because when it comes to ski mountains itís laughable to even try to compare Vail and Deer Valley.


I spent two days skiing Deer Valley last season and was largely underwhelmed by the terrain. To me, it wasnít even the best mountain in the Park City area. Iíd give the nod there to the Canyons. And Snowbird is by far the best mountain in Utah.


However, to be fair, Vail has garnered the top spot so often largely because it is all things to all people Ė a massive and diverse mountain that pleases all types of snow riders. It doesnít necessarily have the most intense terrain, even in Colorado, let alone all of North America.


But Vail combines that massive mountain Ė Euro-sized expanses of endless bowl terrain and countless high-speed lifts Ė with tons of amenities and a fun town at the base.


I thought Deer Valley had an interesting but limited mountain (less than half the skiable acres of Vail) and not much of a base area to speak of, although the best ski town in Utah (Park City) is not too far away.


In the 1990s Whistler/Blackcomb in Canada used to once in awhile slip in and knock Vail off its perch with an occasional #1 ranking, and given the size and scale of that resort, not to mention a pretty rocking base area (although frequently god-awful weather), I always thought Whistler a more worthy comparison to Vail.


The selection of Deer Valley, which doesnít allow snowboarding, limits skier days and prides itself on pampering, says more about the average age of Ski Magazine readers than the actual merits of any of the mountains in the top of the rankings.


To me, Deer Valley isnít even #1 in Utah when services are part of an overall package that includes a large and diverse ski mountain.


But some would argue Vail isnít even #1 in Colorado. All of which points to the arbitrary and capricious nature of these polls, and the inherent dangers in a resort basing so much of its marketing on the rankings.

Comment on "Will the real #1 please stand up?" using the form below