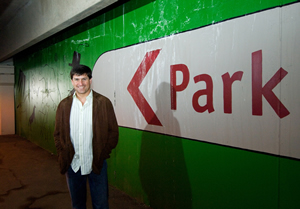 Mark Masinter of Open Hospitality wants to bring a Central Hockey League team to Eagle County.
By Dan Davis
trekkerphoto.com
Blog Tools
Comments
PermaLink
Water ban evaporates, but Vail hockey tradition has new hope
Minor league team could play in new arena in Eagle County, but will it be in Vail?
By David O. Williams
June 29, 2008 — Even as an outdoor watering ban and limitations on indoor use dried up Sunday, talk of flooding an arena with H2O and freezing it for the sake of a bunch of minor-league puck-heads surfaced over the weekend.

The Avon water treatment facility is back online after an accidental over-pumping of a coagulant (hate when that happens) triggered a water emergency over the weekend. The coagulant has been purged and water users from East Vail to Cordillera can rejoice. And my family can celebrate my first shower in days.

And if you're a hockey fan – and who in this valley isn't? – you can rejoice to the news that Mark Masinter of Dallas-based Open Hospitality wants to bring a Central Hockey League squad to the valley.

There are a couple of CHL teams in Colorado already – one in Broomfield and one in Loveland – and Vail has a long history of supporting hockey, from the club-level Vail Mountaineers, which featured some ex-NHLers, to a short-lived Junior A (17-year-olds) squad.

Dobson Ice Arena also has hosted early-season training camps for teams ranging from the Pittsburgh Penguins (back in the early-90s Stanley Cup days with Badger Bob at the helm) to the St. Louis Blues to the Dallas Stars to the Montreal Canadiens (owned by Vail resident George Gillett). We turn out for hockey in this town.

But Masinter is playing it coy and a little hard to get on this front, shopping his CHL squad and a new, state-of-the-art $50 million multi-purpose arena around the valley and maybe even to Summit County.

Make no mistake, though, this deal looks like sweetener for his $600 million Lionshead Parking Structure deal, in which he wants to partner with Ross Perot Jr.'s Hillwood development corporation (builders of the American Airlines Arena in Dallas – home to the Stars and NBA Mavericks) to sink the parking underground and top it all with a W. Hotel, St. Regis, and lots of high-end shops and condos.

That deal's stalled by negotiations over a deed restriction held by Vail Resorts on the town-owned parking garage and the ski company's timing on getting a new parking structure at Ever Vail underway, but the hockey deal could get the ball rolling again, and the town of Vail shouldn't play hard to get the way it did on the Timber Ridge housing deal Masinter proposed.

Dobson is an obsolete facility and Vail is in dire need of an indoor arena for sporting events and concerts. The concert-hall venue was taken out of Masinter's Lionshead Parking Structure plans, but it shouldn't have been.

If a resort wants to be truly world-class, it should offer the highest level of entertainment to guests after the lifts shut down. Beaver Creek can do that with the amazing Vilar Center, but Vail is down to one live music venue (in a West Vail strip mall), no movie theaters and a subpar ice rink.

Not to mention sporadic water shortages. Damn, now I have to shave again … and maybe even do the dishes.


Comment on "Water ban evaporates, but Vail hockey tradition has new hope" using the form below