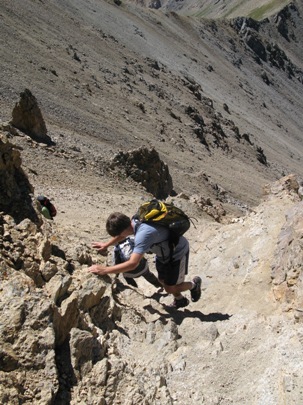 Seventeen-year-old Corey Austin from Warrenton, Va., scramble across a scree field near the summit of Missouri Mountain on an outing with the Beaver Creek Hiking Center
By David O. Williams
realvail.com
Blog Tools
Comments
PermaLink
Age matters in pursuit of peaks
By David O. Williams
September 11, 2007 — VICKSBURG, Colo. – The question of age wasn't rattling around too much in my head on the way up 14,067-foot Missouri Mountain Aug. 9, but it certainly was a source of preoccupation on the way down.


The old climbing cliché, "the summit is only halfway," never rang truer for me as I reached the top with relative ease only to have each step toward the bottom of the 10-mile, 4,400-vertical-foot hike send jolts of pain up through my calves, knees and thighs.


At 42, I've been ascending the state's 54 highest peaks – collectively known as fourteeners – at a very leisurely pace since I was 16 in 1981. Missouri was just my 23rd fourteener in 26 years – a glacial rate of less than a peak a year.


Compare that to the speed record of 10 days, 20 hours, 26 minutes for bagging all 54 and … well, there really is no comparison. At this rate I'll be 73 when and if I climb them all, and that won't even qualify as an age record. Older guys have done them all.
Tips for climbing fourteeners with kids


Teach them to respect the mountains by starting their climb early (in order to be off the peak by noon); being prepared (plenty of warm, waterproof clothing, a map, compass and extra food and water); and knowing when to turn back.

Keep them entertained. As in any endurance endeavor with kids, keep up the patter, make up games along the way (give them climbing poles, binoculars and maybe a disposable camera), point out interesting geology, flora or fauna, and don't balk at taking breaks to snack and chug water.

Teach them that the climb is what matters, not attaining the summit. Don't badger them into reaching the top; you'll both regret that experience.

Don't do the baby in the backpack thing. After all, who really benefits from that experience? Your 8-month-old won't remember it, and they can't tell you if they're cold or in distress due to altitude. And if things go wrong, do you really want an infant that far from medical attention?

Research your climb. Some good ones with kids: Sherman, Quandary, Belford, Democrat.

Adolescents contribute their muscle and enthusiasm to the Colorado Fourteeners Initiative, a preservation group that rerouted the trail on Missouri. Go to www.14ers.org/page.php for more information.

The Beaver Creek Hiking Center guides hikes on Missouri and several other fourteeners. Go to
http://beavercreek.snow.com, click on activities and then hiking, or call (970) 754-5373.


So clearly I'm not going for any records, but in the back of my mind all these years I've harbored the notion that I will one day climb them all. It's just that the soreness I experienced coming down Missouri made me wonder for the first time if I really will.


I started using hiking poles a few years ago on an outing with the Beaver Creek Hiking Center (after years of scoffing at pole users) and discovered they really do lessen the impact to skiing-battered knees, especially on the way down. On Missouri I climbed without poles for some reason and was shocked by how much shock those poles absorb.


After briefly contemplating my own mortality, my thoughts turned to my kids. It would be easy to blame my three boys born over the past seven years for limiting my time in the high country, but at some point your kids can join you and become a motivating factor.


My parents first introduced me to peak bagging when they dragged me up Grays and Torreys in 1981. Eighteen years later at the age of 64 my Dad declared Mount Sherman his final fourteener after enduring punishing leg pain on the way down.


On that climb my wife, Kristin, pregnant in the first trimester with my oldest son, Nick, nearly made it to the top of her first fourteener. A little light-headed for obvious reasons, she stopped short of the top but close enough to count it in my book.


And to many, counting the climbs is what it's all about. My realization on Missouri the other day was that bagging them all is not as important as the experience of meeting a challenge with friends and family.


On the Missouri climb, 17-year-old Corey Austin from Warrenton, Va., whose parents sent him out with the Beaver Creek Hiking Center, reached the summit of his first fourteener, maybe a year or so older than I was on my first summit. He wasn't too high-school cool to admit what an awesome experience it was.


"My family doesn't do well with long hikes and lots of elevation gain so I quite enjoyed the change of pace and the challenge," Austin said. "The scenery was also something you don't often find on an easier hike. It was fantastic and I can't wait to get out there and climb the rest."


Our guide, Nick Fickling, told me he got his daughter up a fourteener at the age of 8 (a 7-year-old holds the age record for all 54) and said it really depends on the kid and to some degree the parent – their level of skill, fitness and ability to keep their kid motivated and having fun.


I thought of my own 7-year-old son, Nick, and realized he's fit enough but would probably be bored by the trudge, which might prompt me in my peak-bagging mindset to push him too hard and ruin it for him. Maybe next year, after we've both picked up a bit more wisdom.

Comment on "Age matters in pursuit of peaks" using the form below